Theodore TOO Tugboat visiting Cornwall
July 2, 2021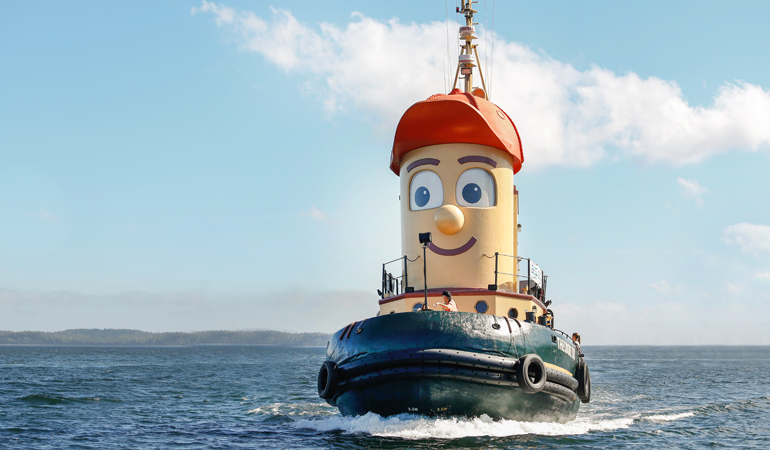 Canada's famous and beloved tugboat, Theodore TOO, will be stopping in Cornwall as part of his journey from Halifax to his new home in the Port of Hamilton.
It's anticipated the vessel will arrive at the Cornwall Harbour (off of Harbour Road) in the late afternoon on Tuesday, July 6th and remain on Wednesday, July 7th before departing on Thursday, July 8th. Please note dates and times are subject to change and are dependant on weather and water levels.
In the interest of public safety, there will be no tours of the tugboat, however members of the public will have an opportunity to take photos from the harbour.
Covid protocols will be put in place to ensure it remains a safe and enjoyable experience for all. To that end, the entrance to the harbour (off of Harbour Road) will be closed to vehicle traffic and visitors will be encouraged to wear masks, maintain physical distancing from people outside of their household and to continue moving along after taking their photos. People should also consider coming at non-peak times – there will be plenty of time to see Theodore!
Theodore will be arriving in Cornwall from Montreal. After his stop in Cornwall, he will continue his voyage through the locks at Iroquois before making stops in Prescott, Brockville, Kingston, Oshawa, Toronto and Hamilton.
For updates on Theodore's travels, please follow the vessel's Facebook and Instagram pages.
As part of his sustainability efforts in collaboration with Swim Drink Fish, Theodore TOO hopes to collect 100,000 watermarks over the next year. Members of the public can take part in the watermark project designed to collect personal stories of people on their local waterways. This crowd-sourced initiative, THEODORE TOO Watermarks allows individuals to help researchers identify waters where people swim, drink, or fish, so that those uses can be protected in the future while building a legacy of connecting Canadians to the water.
In Kingston, a temperature sensor will be added on board Theodore TOO. It will take surface water temperatures at his subsequent ports of call and will feed real time location and surface temperatures that inform a water quality guide for 8,000 beaches. This guide can be found at www.theswimguide.org.
About Theodore TOO
Theodore TOO was built at Snyder's Shipyard in Dayspring, Nova Scotia and launched on April 19th, 2000, while his official birthday (certificate day) is May 5th, 2000. Theodore TOO, a 65-foot tugboat, is a reproduction of the original TV character Theodore Tugboat from the beloved CBC series 'Theodore Tugboat.' Theodore TOO is owned by Blair McKeil. Previously, Theodore TOO acted as Ambassador of the U.S. National Safe Boating Council and Mascot to the U.S. Coast Guard, participating in several tall ship events. In addition to being a proud ambassador to the Maritimes, Theodore TOO's job profile will support him as a champion for Canada's marine industry which includes creating awareness of the diverse and inclusive employment opportunities for Canadians that are vital to propel the industry forward in Canada and globally. Theodore TOO is also an Ambassador to rallying Canadians around a clean water strategy including restoration and protection of our waterways and Great Lakes.
The vessel is currently on a journey from Halifax to the Port of Hamilton where the vessel will make his new home. A 4-person crew pushed off from Halifax June 10th. Theodore TOO is scheduled to arrive in the Port of Hamilton where he will be converted to biodiesel signalling his future efforts as a sustainability champion.
For additional information, please click here.
#ExploreCornwallON
Looking for other fun things to do in Cornwall? Check out the Explore section of our website for other fun-filled activities to keep you busy. Better yet, consider extending your stay with a night at one of our great accommodations!
Got a question?
Got questions? Need recommendations? We're here to help! Call or text us at 613-938-4748 or email us at info@cornwalltourism.com and we'll be pleased to help you with any questions you may have!
Also make sure to check us out on Facebook and Instagram for updates and more great reasons to visit Cornwall!