Tourism information now available in 3 NEW ways
August 18, 2020
Finding visitor information is now easier than ever before. Cornwall Tourism has implemented three brand new ways of making visitor information available to residents and visitors alike. Although COVID-19 put a bit of a damper on the tourism industry and on traditional ways of providing visitor information, Cornwall Tourism got creative and is excited to announce the new and improved ways of accessing visitor information.
In addition to www.CornwallTourism.com, calling the office or stopping by, you can now get information on what's going on and what to see and do in 3 new ways.
"We are excited about our new services and are positive it will make sharing information with visitors and residents easier and more effective" says Kevin Lajoie, Tourism Officer for the City of Cornwall. "Not only does this allow us to be in more places at one time, but we can also track data that will assist us in growing and rebuilding the tourism industry, an essential piece of the local COVID recovery plan."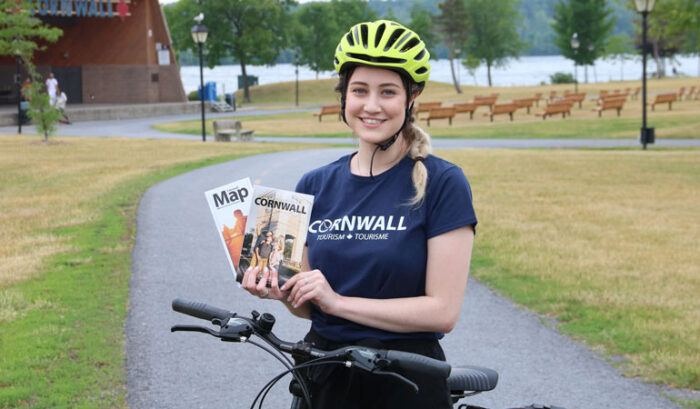 Mobile Tourism Ambassador
Meet Olivia along the Waterfront Trail! The Cornwall Tourism mobile ambassador is a new position for the tourism summer student. Olivia will be rolling along the Waterfront Trail as well as downtown offering visitor information, holding special giveaways and attending special events. With the interest in cycling on the incline, we are meeting more tourist where they are, rather than making them come to us. Follow Olivia's adventures on the Cornwall Tourism Instagram stories and find out where she will be popping up.
Call or TEXT
Need some quick info? Just shoot us a text at 613-938-4748. Adding the text services allows us to quickly and easily connect with tourists looking for more information while they are out and about the community. The new text service also allows the Cornwall Tourism office to be contacted, and respond to queries outside of regular business hours making it a much more tourist friendly way of discovering what to do next.
Visit a Tourism Ambassador Business
A number of businesses throughout the city have signed up to be certified tourism business ambassadors. You can recognize them from their badge placed on the front door. These ambassador businesses are equipped with informative materials, up to date details on what's going on and just a general passion to help promote our beautiful city. You will find the ambassador decal in several downtown businesses, hotels and attractions. For a complete list click here.
Locals and tourists are encouraged to take advantage of the many ways to access information on what's going on, and make the most of your time in Cornwall.