Tourism staff promoting region at trade shows
February 24, 2023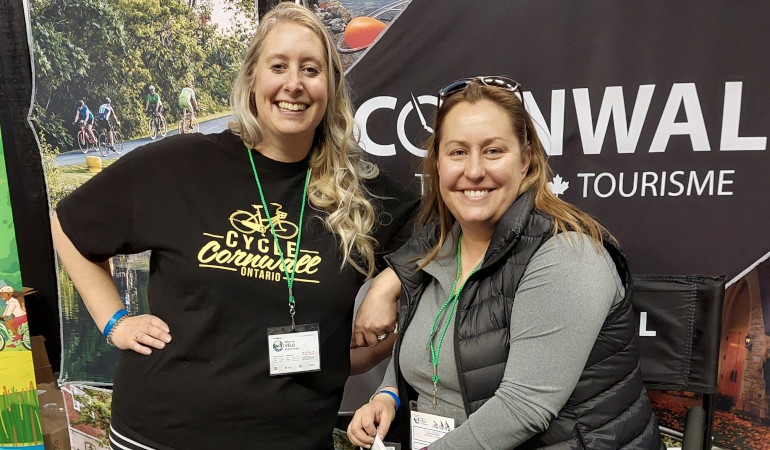 Tourism staff from Cornwall and SDG Counties are hitting the road to promote the city and region's amazing outdoor adventure opportunities.
Cornwall Tourism and SDG Tourism are partnering to showcase the area's rich offering of outdoor experiences at a series of consumer trade shows in the coming weeks.
The effort begins this weekend with Cornwall Tourism showcasing the region's exceptional cycling amenities at the Montreal Bicycle Show at Olympic Stadium while SDG Tourism will be promoting all things outdoors at the Outdoor Adventure Show at the International Centre in Toronto.
"We have amazing outdoor experiences in Cornwall and SDG Counties and we continue to see growth in the number of visitors who are coming to our area for these types of activities," said Kevin Lajoie, Tourism Officer with the City of Cornwall. "We're thrilled to be partnering with SDG Tourism to raise the profile of our region in Ontario and Quebec."
In addition to the two trade shows this weekend, Cornwall Tourism and SDG Tourism will be jointly attending three additional trade shows in the near future – the Gatineau-Ottawa Bicycle Show in Gatineau (March 10-12), the Outdoor Adventure Show in Montreal (March 25-26) and the Outdoor & Adventure Travel Show in Ottawa (April 15-16).
"These shows give us a chance to speak directly with potential visitors about all of the great things we have to offer in our region," said Karina Belanger, Tourism Coordinator with SDG Counties. "Our beautiful amenities and convenient location make us an ideal destination for cyclists and outdoor enthusiasts in search of a day trip or weekend getaway."
During the shows, staff will be handing out visitor guides, cycling maps, camping guides and other information related to Cornwall and SDG Counties.
#ExploreCornwallON
Looking for other fun things to do in Cornwall? Check out the Explore section of our website for other fun-filled activities to keep you busy. Better yet, consider extending your stay with a night at one of our great accommodations!
Got a question?
Got questions? Need recommendations? We're here to help! Call or text us at 613-938-4748 or email us at info@cornwalltourism.com and we'll be pleased to help you with any questions you may have!
Also make sure to check us out on Facebook and Instagram for updates and more great reasons to visit Cornwall!