The Ultimate Summer Patio Guide
June 7, 2019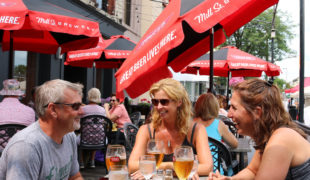 As the old saying goes, 'April showers bring May flowers.' This year, it was more like 'May showers bring June flowers.'
With June and it's blooming flowers comes double-digit weather, fantastic summer beers and bright, beautiful patio weather. If you're like us, you're probably tired of sitting inside and missing out on that essential Vitamin D; you're craving sun, good company, summery booze, and blue skies.
So where should you go? In order to help you decide, Cornwall Tourism has created an ultimate guide to summer patios in Cornwall and area. Read on and enjoy the sunshine!
158 Pitt Street
(613) 938-8844
Schnitzels is one of the hottest places to be this summer. They have seventeen different beers on tap, a myriad of vodkas, whiskeys, liqueurs, and wines, and offer mouth-watering food options. Monday to Friday, they have hoppy hour and offer cheaper drink selections. They also have live music on weekends and a patio that is both cozy and bumbling.
Hours:
Monday-Wednesday: 11:30am-9:00pm (Bar & Café open until 11pm)
Thursday-Saturday: 11:30am-10:00pm (Bar & Café open until 1am)
Sunday: Closed
155 Pitt Street
(613) 933-9112
Truffle's patio is cool and trendy. It's hidden by trees and nestled against the building, giving you and your dinner guests a pause and privacy from the busy street it's located on. The drinks are delicious and the restaurant offers a wide variety of innovative and unique burgers. If you're feeling adventurous and you want a cool place to spend your sunny afternoon, why are you still reading this? Head over to Truffles now.
Hours:
Tuesday-Wednesday: 11:00am-10:00pm
Thursday: 11:00am-11:00pm
Friday-Saturday: 11:00am-Close
Sunday: 11:00am-9:00pm
317 Pitt Street
(613) 935-5333
Summer weather, flavourful pizza and patios: it's so perfect you almost want to cry. Esca's patio is charming and hip, and offers just the right amount of shade. Their food is beautiful to look at, tastes amazing and will easily impress your friends and family if you post a photo of it online. A definite must. I recommend you bring your date here and impress them – it almost guarantees you a second date.
Hours:
Monday – Wednesday: 11:30am-9:00pm
Thursday – Friday: 11:30am-12:00am
Saturday: 12:00pm-12:00am
Sunday: Closed
18396 County Road 2, Summerstown
(613) 931-1720
Blue Anchor offers a breathtaking view of the St. Lawrence River as you eat pub fare, and share laughs with your family and friends. It's no wonder this restaurant is known as having "the patio with the most beautiful view." Take in the stunning view, and satisfying sounds of the waves crashing as you eat, drink and watch boats pull up to the dock.
Hours:
Sunday-Thursday: 11:30am-8:00pm
Friday-Saturday: 11:30am-9:00pm
903 Brookdale Avenue
(613) 936-0322
Eight Zero Zero's sophisticated menu and modern setting make it a staple for Cornwall fine dining. Their large patio wraps around the building, making it both spacious and perfect for socializing. Their patio's sleek atmosphere makes this restaurant an excellent choice for an anniversary, date, family occasion, or business meeting.
Hours:
Sunday-Wednesday: 4:00pm-10:00pm
Thursday: 4:00pm-11:00pm
Friday-Saturday: 4:00pm-12:00am
1950 Montreal Road 
(613) 936-5086
If you're looking for a cozy patio that's perfect for quiet deep conversations while you have a casual drink, then you've found your match. Located at the NAV Centre, Jet Set Pub's patio is hidden away in a private courtyard, with beautiful tall trees that give you just the right amount of sun. Their food is excellent and they have lots of yummy craft beers on tap. As an added bonus, Jet Set is open seven days a week from 3pm to 2am.
Hours:
Monday-Sunday: 3:00pm-2:00am
1600 Vincent Massey Drive
(613) 938-3706
Casa Paolo's fresh and impeccable dishes helped this local gem make the patio list. Their menu consists of excellent Italian cuisine, which will be sure to please your taste buds. Their patio and food will exceed your expectations and remind you why patio season is the best season.
Hours:
Monday-Saturday: 4:00pm-10:30pm
Sunday: Closed
101 Montreal Road
(613) 932-2000
Enjoy a cold one with friends at one of Le Village's landmark locations! The Remington's patio offers a cool vibe and a fun night life scene. A garage door opens up to bring the indoors outside, creating a fun atmosphere both inside and out.
Hours:
Monday: Closed
Tuesday, Wednesday: 11 am – 12 am
Thursday-Saturday: 11 am – 2 am
Sunday: 11 am – 12 am
110-705 Cotton Mill Street
(613) 938-2844
Enjoy the ambience of one of Cornwall's most historic neighbourhoods at The Stomping Grounds. Located in the weave shed building in Cornwall's cotton mill district, The Stomping Grounds is the perfect place to enjoy a drink and a meal with friends while surrounded by charming architecture. It's trendy, fun and beautiful – and it's just steps away from the celebrated Waterfront Trail.
Hours:
Sunday: Closed
Monday-Tuesday: 7:30 am-4pm
Wednesday-Friday: 7:30am-9pm
Saturday: 10:00am-9pm 
240 Water Street West 
(613) 932-5334
Similar to the Blue Anchor, this large outdoor patio overlooks the St. Lawrence River. It's big, beautiful and the landscape is mesmerizing. Eat pub fare and have a few drinks while watching bikers, and families stroll the walking path by the water, and then later join them. And if it's a Friday, you're in luck – the Wing hosts live events every Friday starting at 5pm.
Hours:
Monday-Sunday: 1:00pm-9:00pm
15968 County Road 2, Long Sault
(613) 534-2113
Visit Nautica Grill & Wine in Long Sault for a unique breakfast and lunch experience. Next to the Long Sault Marina, the patio sits next to the water, where you can take countless Instagram-able pictures of the yummy dish you ordered. Its comfort food for food lovers, and well worth the drive – especially in the summer when you can drive with the windows down listening to your favourite tunes.
Hours:
Monday-Sunday: 8:00am-2:00pm
Take advantage of the summer weather and enjoy one of these nine lovely patios. And don't worry about the rain – all of these places have beautiful spaces inside as well!
Additional Events
Looking for other fun things to do in Cornwall? Make sure to check out our Events page for info on upcoming events in the area!
Stay with Us!
Planning to explore Cornwall? Extend your stay at one of our many great accommodations! For a listing of local accommodations, click here.
Additional Information
Planning a visit to Cornwall? Cornwall Tourism can help. Email us at info@cornwalltourism.com to request a copy of our Visitor Guide or contact us at (613) 936-0842. You can also stop by our seasonal Visitor Information Centre inside the Cornwall Community Museum in Lamoureux Park. The Museum is located at 160 Water Street West, just steps away from the children's splashpad and play structure. Free parking is available immediately north of the Museum along Water Street.
The seasonal Visitor Information Centre is open seven days a week (8:30 am to 4:30 pm) through the summer months.
Follow Cornwall Tourism on Facebook
Follow Cornwall Tourism on Twitter
Article by Chelsea Jodoin
www.CornwallTourism.com