Upper Canada Village opens for 2019 season
May 2, 2019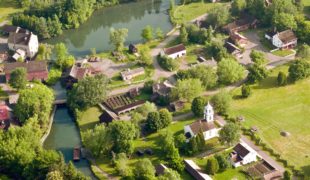 The smell of fresh-baked bread. Horse wagon rides along tree-lined streets. The steady buzz of Beach's Sawmill. The beautiful gardens of Loucks Farm. A scenic ride on The Mocassin train.
There's something special about Upper Canada Village, a place where a unique sight, sound, smell or experience awaits around every corner. And it all comes to life again this weekend as the heritage park opens its doors for the 2019 summer season.
One of Canada's largest living-history sites, Upper Canada Village gives visitors a chance to travel back in time to experience what it was like to live and work in the 1860s. The attraction features over 40 historical buildings – farms, mills, workshops and much more – many of which were moved from the Lost Villages during the St. Lawrence Seaway Development Project. The buildings together with costumed interpreters help bring the village to life and provide a one-of-a-kind experience.
10 Can't Miss Village Events
Upper Canada Village will be open daily (9:30 am to 5 pm) from Friday, May 3 to Monday, September 2. It's a fun experience any day of the week, but if you are looking for even more reasons to visit, then check out our list of 10 can't-miss events at the Village this season!
1 Spring Field and Garden Days
May 18 & 25, June 1
Village farmers will be out with their horses, ploughing, harrowing, disking, seeding and rolling the land. Marvel at the skill of teamsters and the different types of horse-drawn machinery. Experienced horticultural interpreters will be on hand to answer seeding, transplanting and other gardening questions. Included in Village admission.
2 Mother's Day
Sunday, May 12
Treat mom to a visit to Upper Canada Village this Mother's Day! All mothers get in for free!
3 Queen Victoria Birthday Celebrations
Sunday, May 19
Sing 'God Save the Queen', hear historical patriotic speeches, see grand military manoeuvres, lace up for the 1860s athletic games, watch the village's 'Queen' in action (a hand-pumped fire engine) and enjoy a piece of birthday cake! Included in Village admission.
4 Sheep Shearing Days
May 28 & 29, June 4 & 5
Try your hand at sheep shearing and meeting the new lambs! Check the washing of fleece and carding, spinning and weaving of wool at McDiarmid House and at Asselstine's water-powered Woolen Mill. Included in Village admission.
5 Medieval Festival
June 8 & 9
A colourful cast of medieval warriors, musicians, buskers, artisans, falconers, archers, merchants and jousting knights in shining armour will converge at Upper Canada Village. This festive encampment of tents, mini-stages and livestock quarters will also feature 'weapons of war' demonstrations, children's games and a medieval marketplace! Special rates apply.
6 Father's Day
Sunday, June 16
Treat dad to a fun outing this Father's Day at Upper Canada Village! All dads get in free for the day!
7 Civil War Re-Enactment
June 22 & 23
Re-enactors from Canada and the United States join together to represent aspects of this important historical conflict during the 1860s. Included in Village admission.
8 Celebration of Canadian Music
August 10
Enjoy special programming that will bring to life a fantastic variety of 19-century song, dance and instrumental music. Tune in to music performed, consumed and composed in pre-Confederation Canada, take part in an old-fashioned singing school and try your hand (and feet!) at a 19th century dance! Included in Village admission.
9 Horse Lovers' Weekend
August 31 to September 2
Celebrate our special relationship with the noble Canadian Horse, first introduced to Canada in the 1600s (New France at the time). Upper Canada Village will proudly feature the versatile Canadian Horse, Canada's National Horse, and a variety of community partners will help host the event. This three-day festival showcases riding, driving and working horses. Included in Village admission.
10 1860s Fall Fair Weekend, Quilt Show and Upper Canadian Beard Championship
September 14 & 15
Participate in the excitement of a wonderfully recreated 1860s Fall Fair using 1860s fair categories and rules as a guideline. Public entries are welcome! Then step up to the plate and proudly show off your facial hair at the fourth annual Beard and Moustache Championship! Also, enjoy an amazing array of contemporary works from quilting guilds across eastern Ontario. Antique quilts and historical reproductions from Upper Canada Village's own collection will be on display. Included in Village admission.
Additional Information
In addition to the events listed above, there are numerous other special events and programs taking place at Upper Canada Village throughout the summer months. There's also the amazing Pumpkinferno and Alight at Night festivals in the fall and winter months that should not be missed!
For more information on these and other events, please visit the Upper Canada Village website or the events calendar at www.CornwallTourism.com.
Village Admission
Admission to Upper Canada Village is $22 for adults and seniors, $16 for students, $13 for youth and free for children 5 and under.
About Upper Canada Village
Founded in 1961, Upper Canada Village is one of the largest living-history sites in Canada. Featured are over forty historical buildings, many moved here prior to flooding of the Lost Villages during the St. Lawrence Seaway Development Project. These include homes, functioning mills and trades workshops. The Village is located on County Road 2 just east of Morrisburg and a short drive from Cornwall. For more information, please click here.
Additional Events
Looking for other fun things to do in Cornwall? Make sure to check out our Events page for info on upcoming events in the area!
Stay with Us!
Planning to explore Cornwall? Extend your stay at one of our many great accommodations! For a listing of local accommodations, click here.
Additional Information
Planning a visit to Cornwall? Cornwall Tourism can help. Email us at info@cornwalltourism.com to request a copy of our Visitor Guide or contact us at (613) 933-0074. You can also stop by the Cornwall Tourism office inside the Cornwall Civic Complex at 100 Water Street East. The office is open Monday to Friday from 8:30 am to 4:30 pm.
Follow Cornwall Tourism on Facebook
Follow Cornwall Tourism on Twitter
Article by Kevin Lajoie
www.CornwallTourism.com
Photo courtesy St. Lawrence Parks Commission