Upper Canada Village opens for season
June 14, 2021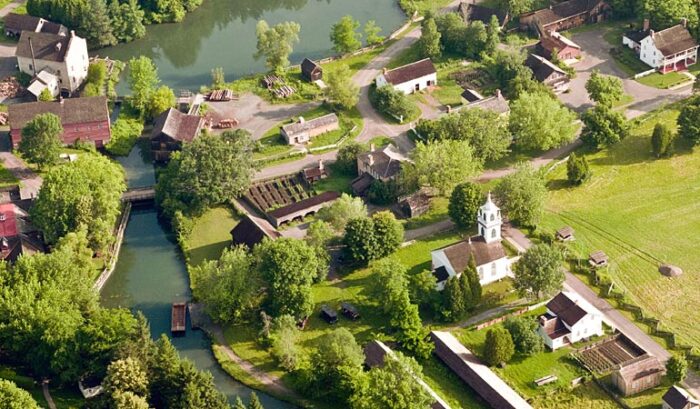 One of the region's most popular attractions is set to open its doors on Thursday, June 17th with modified programming.
The St. Lawrence Parks Commission has announced that Upper Canada Village will reopen on Thursday in a modified version that is in line with the Ontario government's recent move into step one of its Roadmap to Reopen Ontario plan. The historic village will be offering outdoor walking tours in step one.
Beginning Thursday and running to June 30th, Upper Canada Village invites guests to enjoy the beauty and serenity of its site as a living history museum as a sneak peek before the village opens fully later in the reopening framework. A 90-minute guided walking tour will take guests through the village presenting exciting historic facts and scenic views. Please note, during this time, heritage buildings will be closed and the only interpretation on-site will be the walking tours.
Safety remains a top priority as the village embarks on a new season. Guests are asked to plan ahead and be prepared. Staff will be relying on the cooperation of all to adhere to physical distancing and onsite guidelines.
More details will follow as Upper Canada Village prepares to open with additional features on July 1st following all Covid-19 protocols.
What guests need to know
– Tickets must be purchase online at www.UpperCanadaVillage.com prior to arrival as this will be a time-ticketed experience with limited tickets available
– General admission is $15 (includes HST) and children under 5 are free
– Tours run from 12 pm to 3 pm until June 30th
– Parking is available on site at no charge
– Guests will be required to self assess their health and will be encouraged not to visit if there is any possibility that they may have contracted or have come into contact with Covid-19. Guests will be pre-screened prior to entering the site by a staff member
– All guests will have to follow physical distancing rules as mandated by the Ontario government. Guests must stay two metres or 6 feet away from others. Staff will monitor and educate guests on physical distancing rules
– Cleaning practices have been enhanced throughout the tour route and restrooms
– Guests may bring their own personal protective equipment such as gloves, masks and/or face coverings, hand sanitizer and disinfectant cleaning products if they wish
About Upper Canada Village
Founded in 1961, Upper Canada Village is one of the largest living-history sites in Canada. Featured are over forty historical buildings, many moved here prior to flooding of the Lost Villages during the St. Lawrence Seaway Development Project. These include homes, functioning mills and trades workshops. The Village is located on County Road 2 just east of Morrisburg and a short drive from Cornwall. For more information, please click here.
Additional Events
Looking for other fun things to do in Cornwall? Make sure to check out our Events page for info on upcoming events in the area!
Stay with Us!
Planning to explore Cornwall? Extend your stay at one of our many great accommodations! For a listing of local accommodations, click here.
#ExploreCornwallON
Looking for other fun things to do in Cornwall? Check out the Explore section of our website for other fun-filled activities to keep you busy. Better yet, consider extending your stay with a night at one of our great accommodations!
Got a question?
Got questions? Need recommendations? We're here to help! Call or text us at 613-938-4748 or email us at info@cornwalltourism.com and we'll be pleased to help you with any questions you may have!
Also make sure to check us out on Facebook and Instagram for updates and more great reasons to visit Cornwall!
Photo courtesy St. Lawrence Parks Commission