Vantage Points exhibit arrives at Cline House Gallery
May 19, 2022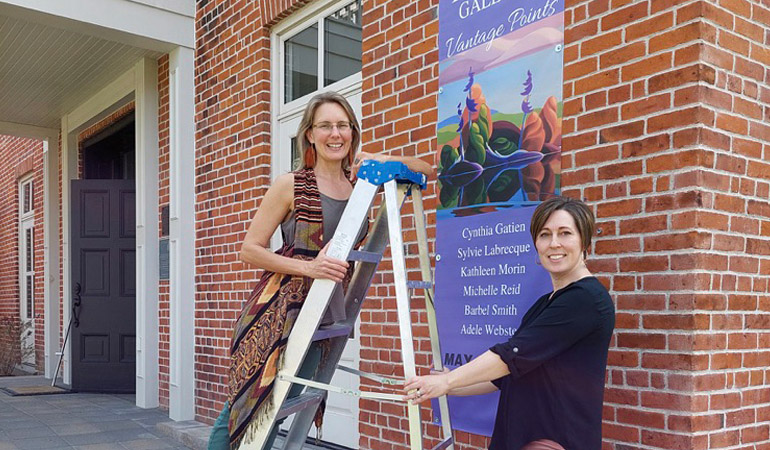 The Cline House Gallery's first exhibit, Vantage Points, is set to open on Thursday, May 19th.
Vantage Points features the work of six talented artists who apply varying methods and imaginative processes for perceiving, interpreting, and translating the reality of nature into the language of art.
"Through their unique expression of line, colour, form and pattern, each artist invites us to escape into the natural world, calling us to explore the idea of what landscape represents and how we observe the magic in the space around us," said Emily MacLeod, Visual Arts Coordinator with the City of Cornwall.
Vantage Points will be at the Cline House Gallery from May 19 to July 2, 2022. Visiting the gallery is free and parking is available.
Workshops
The Cline House's first workshop is planned for May 28. Workshops typically are 3-4 hours in duration and participants are provided with all of the materials necessary to complete the project. Upcoming workshops include:
May 28: Mystical Methods in Watercolour with Linda Norton
June 6: Tulip Dance Acrylic Painting Workshop
June 11-12: Let it Glow! Acrylic Glazing Workshop (two day workshop)
Open Studio
In addition to the workshops, the Cline House will also be offering local artists the chance to book an easel in the Open Studio sessions. Artists bring their own materials and work at their own pace on their own projects. Open Studio sessions are booked in 3 hour blocks, starting May 26.
Registration
Workshops and Open Studio sessions via the City of Cornwall's PerfectMind booking portal.
This new initiative is funded through the generosity and support of an anonymous donation in partnership with the City of Cornwall.
Additional information
The Cline House Gallery is located at 204 Second Street East in Cornwall and is open from Thursday to Saturday from 10 am to 4 pm.
For additional information, check out the Cline House Gallery & Studio website or follow the gallery on Facebook.
#ExploreCornwallON
Looking for other fun things to do in Cornwall? Check out the Explore section of our website for other fun-filled activities to keep you busy. Better yet, consider extending your stay with a night at one of our great accommodations!
Got a question?
Got questions? Need recommendations? We're here to help! Call or text us at 613-938-4748 or email us at info@cornwalltourism.com and we'll be pleased to help you with any questions you may have!
Also make sure to check us out on Facebook and Instagram for updates and more great reasons to visit Cornwall!