Watch Tower Convention arrives this weekend
June 5, 2019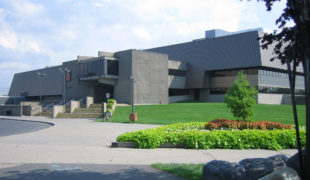 Congregations of Jehovah's Witnesses from Ontario and Quebec are coming to Cornwall for their 22nd time for a three-day convention running from Friday, June 7th to Sunday, June 9th.
This year's exclusive francophone convention is being held at the Cornwall Civic Complex in the Ed Lumley Arena for up to 3,200 delegates. The English regional convention has combined several convention groups and moved to the Canadian Tire Centre in Ottawa this year – July 12th to July 14th.
"Cornwall is truly a convention City, and no matter at what level you find yourself, the visitor gets the 'down home' feeling, and is looking forward to coming again," said Christian Rousseau, local media contact for Watch Tower.
The theme of this year's convention is "Love Never Fails!" The three-day program consists of many presentations that will include talks, audio dramas, interviews and short videos.
It's estimated the economic spin-off in the community from the convention is in excess of $2.25 million.
"We are delighted to host this important event once again," said Janice Robinson, Facilities Rental Coordinator at the Civic Complex. "The organizers work very hard each year to put on such a successful convention. We have been so fortunate to work with Watch Tower since 1998. They have truly become a part of our community."
The Witnesses have been extending an open invitation to as many people as they can contact in their traditional house to house work, because they want the public to know that this is not just an event for Witnesses only. It is part of a worldwide Bible educational work that is for all races, cultures, and languages.
The public is invited to attend any session or the entire program at the Cornwall Civic Complex & Convention Centre. There is no admission fee as the Conventions of Jehovah's Witnesses are supported entirely by voluntary donations.
For more information, visit the Watch Tower web site at www.jw.org.
About the Cornwall Civic Complex
Situated in scenic Lamoureux Park on the banks of the St. Lawrence River, the Cornwall Civic Complex is a highly versatile and modern facility. The heart of the Civic Complex is the Ed Lumley Arena, a modern ice rink that boasts seating for up to 5,800 people for concerts and special events.
The Civic Complex has hosted a number of special events in recent years such as the World Junior Exhibition Game, RBC Cup National Junior A Hockey Championship and concerts by Nickelback, Great Big Sea, Alice Cooper and Blue Rodeo.
For additional information on the Cornwall Civic Complex please click here.
Additional Events
Looking for other fun things to do in Cornwall? Make sure to check out our Events page for info on upcoming events in the area!
Stay with Us!
Planning to explore Cornwall? Extend your stay at one of our many great accommodations! For a listing of local accommodations, click here.
Additional Information
Planning a visit to Cornwall? Cornwall Tourism can help. Email us at info@cornwalltourism.com to request a copy of our Visitor Guide or contact us at (613) 936-0842. You can also stop by our seasonal Visitor Information Centre inside the Cornwall Community Museum in Lamoureux Park. The Museum is located at 160 Water Street West, just steps away from the children's splashpad and play structure. Free parking is available immediately north of the Museum along Water Street.
The seasonal Visitor Information Centre is open seven days a week (8:30 am to 4:30 pm) through the summer months.
Follow Cornwall Tourism on Facebook
Follow Cornwall Tourism on Twitter
Article by Kevin Lajoie
www.CornwallTourism.com