World-class performers ready to jazz up Nativity
June 16, 2019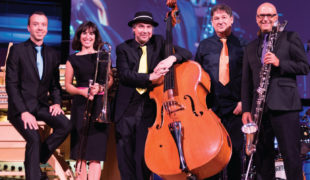 A one-of-a-kind concert experience is coming to Cornwall on Saturday, June 22nd.
The celebrated Classiqu'Arts Productions SDG is launching its 2019 season with a performance by the renowned InSpirations ensemble in one of Cornwall's most beautiful and historic venues – Nativity Co-Cathedral.
Founded in 2015, InSpirations stands out for its unique sound and its interpretations combining classical, jazz, world music and contemporary musical techniques.
The formation features five passionate virtuosos entirely devoted to their art – clarinetist André Moisan (Montreal Symphony Orchestra), organist Jean-Willy Kunz (organist in residence, Montreal Symphony Orchestra), drummer Camil Belisle, trombonist Hélène Lemay and bassist Frédéric Alarie.
"It's a chance to see world-renowned Canadian performers in a truly unique concert venue," said Jean-Roland Tremblay, Executive Director of Classiqu'Arts. "It will be a night of artistic grandeur in a divine setting."
Attendees can expect to hear familiar favourites like 'Fly me to the moon' along with classical and jazz improvisations of Chick Corea and many more. A digital projection screen will be in place for spectators to get an up-close view of all the musicians performing.
The concert begins at 7:30 pm.
For a taste of the InSpirations ensemble's sound, please click here. You can also find out more about the ensemble by clicking here or by visiting the InSpirations website.
Ticket Information
Tickets are $25 and they can be purchased at Cailuan Gallery (225 Pitt Street), Pommier Jewellers (6 Second Street East), Melody Music (104 Pitt Street) or Nativity Co-Cathedral (following regular masses or at the church office, Tuesdays, Wednesdays and Thursdays from 9 am – 12 pm. Call (613) 932-7505 for more info).
Tickets can also be purchased online through the Classiqu'Arts website.
Please note: If you purchase your ticket on our web site, your printed PayPal receipt will serve as your ticket. Please present it at the door.
Limited tickets are available so don't delay in getting yours!
About Classiqu'Arts
The June 22nd performance at Nativity is one of three concerts planned by Classiqu'Arts for its 2019 season.
On Saturday August 17th, Classiqu'Arts returns to Nativity Co-Cathedral for Without Borders featuring the interactive and world-music group Kleztory and unique and delicate performances by Aboriginal composer and performer Barbara Croall, both accompanied by the much appreciated Classiqu'Arts String Orchestra. The event will explore and celebrate the cross-cultural influences that have pervaded classical music from Vivaldi's Four Seasons to Andrew Lloyd Webber's Phantom of the Opera.
The 2019 series will wrap up on the afternoon of Sunday, August 18th with Meditations of Summer in beautiful St. Raphael's Ruins. The concert will again feature Aboriginal composer and flautist Barbara Croall along with performances by other world-renowned musicians and local talents.
For more information on the 2019 Classiqu'Arts series, please visit the Classiqu'Arts website or check them out on Facebook.
Additional Events
Looking for other fun things to do in Cornwall? Make sure to check out our Events page for info on upcoming events in the area!
Stay with Us!
Planning to explore Cornwall? Extend your stay at one of our many great accommodations! For a listing of local accommodations, click here.
Additional Information
Planning a visit to Cornwall? Cornwall Tourism can help. Email us at info@cornwalltourism.com to request a copy of our Visitor Guide or contact us at (613) 936-0842. You can also stop by our seasonal Visitor Information Centre inside the Cornwall Community Museum in Lamoureux Park. The Museum is located at 160 Water Street West, just steps away from the children's splashpad and play structure. Free parking is available immediately north of the Museum along Water Street.
The seasonal Visitor Information Centre is open seven days a week (8:30 am to 4:30 pm) through the summer months.
Follow Cornwall Tourism on Facebook
Follow Cornwall Tourism on Twitter
Article by Kevin Lajoie
www.CornwallTourism.com