Your Ultimate Guide to Cornwall Food Fest
August 6, 2019
Cornwall welcomes Food Fest back on Saturday, August 17th as they take over Pitt St. between Water St. and Third St. There will be a variety of mobile food trucks and local restaurants offering delicious food (including vegetarian options) all day! Vegetarian and/ or vegan food trucks will have a "V" sign displayed on their trucks. Cornwall Food Fest runs from 11:00am-8:00pm and only costs 2$ per person and it's free for children. Incredible local restaurants, trendy downtown shops, live music and entertainment, a Kinsmen Family Zone, amazing sales and specials, and over 30 creative artisans displaying and selling their art – this event is not to be missed!
The proceeds received from the entry fee will go to Beyond 21, a local organization that partners with adults with developmental disabilities to discover their dreams and help them gain the skills and connections needed to achieve them. Beyond 21 will be set up at Food Fest sharing information about the organization and the importance of Food Fest and its impact on the community.
Cornwall Tourism wants you to be prepared for this event, so we've assembled an "Ultimate Guide to Cornwall Food Fest" to enhance your experience. Read through to find out more about this event!
Details
Date: August 17th
Time: 11:00am – 8:00pm
Where: Pitt St Between Water St. & Third St.
Price: 2$ per person/ children are free
How to pay: Some vendors may have debit/ credit, but it's better to bring cash
Which food vendors will be there?
There will be a lot of food vendors this year – in fact, there will be four more than last year! There's easily something for everyone; Food Fest offers a variety of different types of food, ranging from pub-style to sweet to cultural. Click the plus "+" sign to learn more about each of them!
Big D's Dog House & Poutine Emporium

+

Mr. Churritos

+

Sip & Scoop

+

Beaver Tails

+

Sheep Head's Bistro

+

Bacon Wagon

Heavenly Dreams Ice Cream

+

Sula Wok

+

Roost

+

Jambel

+

Thai Khmer Cuisine

+

Thum's Kitchen

+

Marrow & Spice

+

Bonita's Cantina

+
Which artisans and vendors will be there?
There's going to be over 30 artisans and vendors at Food Fest – yet another reason to head downtown on August 17th. Each vendor offers something creative and unique. The following vendors will be set up along Pitt St from First St. to Second St: Custom Designs by Beyond 21, The Soap Shop, Chum Creation Mosaic, Cindy's Handmade Glass & Crystal Jewellery, Caterpillar Feet, West Island Fire, Miss D's Artsy Accessories, Radical Roots Seed Bomb Company, Lambros Quality Products, Love. Montreal Jewellery, Sous la lunde Soap, Phoenix Rising Artworks and Crafts, KD Cloth, Be Charmed, Sweetlegs Cornwall with Melissa, On the Bend Sugar Shack, Lee Ann Lynne Creations, My Recycled Dreams with Maggie McLellan Glass Work, Scentsy, Trees to Treasures, Against the Grain Farms, Living Waters, CCJ Urban Bath Bombs, Knot by Design, Themed Gift Baskets by Linda, Watkins, Jacqueline Milner, Wild, Sea Breeze Design Jewellery, Capener Creations, Sparkle Tattoos by Ashley, Ches J&S Cartistes with Petits Cadeaux and Maizy B. We will be there too! Come see us!
Also, don't forget that our local stores on Pitt will also be open to the public and offering a variety of specials!

Will there be activities for children?
Food Fest is family friendly. From 11:00am-4:00pm, there will be a Kinsmen Family Zone at Pommier Square (6 Second St E) with a variety of fun and engaging activities for children of all ages, including Kids Fitness with Caveman Strong, a "musical zoo" with Ray Lacroix, where children will be able to try out all sorts of instruments, button making with Debbie, face painting with Cassandra, a family photo booth, fairy wands & wish pockets with Beyond 21, crafts with CEPEO and henna with Alisha. View schedule below for times: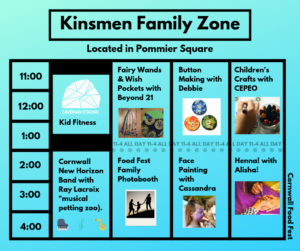 There's more!
Of course there's more! Beyond 21 has organized a large variety of activities, and since the festivities are taking place in downtown Cornwall, there is a lot of restaurants and local businesses you can also check out while you're there; they will have extended hours and specials! Food vendors will be competing for "Best Street Food." There will be a community stage and entertainment stage (live music) at two separate stages (view schedules below) and a draw for 200$ provided by the Downtown Business Improvement Area (DBIA). Fantasy Realm will also have a special guest for Cornwall Food Fest: Pat Pateunaude. Patenaude is a Canadian Cartoonist from Ottawa who works in animation and the creator of The Professor, a daily comic. Local Artist Jacqueline Milner will also be creating loose, lyrical fun sketches. Viscious Varieties will be hosting their second annual Polish Pageant (a car show) with all proceeds going to Beyond 21. These are just some of the things you will find downtown.
What's new this year?
As stated earlier, there are four new food vendors and the largest number of vendors/ artisans to date. There will also be a 'Cornwall Truck Tow!' What's that? Ten teams will come together to pull a Cornwall Fire Services Pumper Truck 100 Feet. There are a multitude of prizes, such as the 'Fastest Pull,' 'The Most Charitable Team,' and the 'Best Team Spirit.' The latter suggests there should be some teams wearing some very awesome costumes since it's encouraged! The challenge is sponsored by Winmar and will take place at 2:00pm on First St. (West of Pitt St). For more information and registration, visit https://bit.ly/2YH27LH.
If you show up with your own cutlery, you will be entered into a draw. Cornwall Tourism sells sustainable cutlery at the Cornwall Tourism Visitor Centre at the Cornwall Community Museum! It's $3.00 per set.
This year promises to be bigger than ever! Head to the heart of downtown Cornwall on Saturday August 17th, and be excited – not only will there be tasty food and more, but you'll also be supporting a great cause. See you there!
Additional Information
For more information on Food Fest, please visit their website or check them out on Facebook.
Additional Events
Looking for other fun things to do in Cornwall? Make sure to check out our Events page for info on upcoming events in the area!
Stay with Us!
Planning to explore Cornwall at Food Fest? Extend your stay at one of our many great accommodations! For a listing of local accommodations, click here.
Additional Information
Planning a visit to Cornwall? Cornwall Tourism can help. Email us at info@cornwalltourism.com to request a copy of our Visitor Guide or contact us at (613) 936-0842. You can also stop by our seasonal Visitor Information Centre inside the Cornwall Community Museum in Lamoureux Park. The Museum is located at 160 Water Street West, just steps away from the children's splashpad and play structure. Free parking is available immediately north of the Museum along Water Street.
The seasonal Visitor Information Centre is open seven days a week (8:30 am to 4:30 pm) through the summer months.
Follow Cornwall Tourism on Facebook
Follow Cornwall Tourism on Twitter
Article by Chelsea Jodoin
www.CornwallTourism.com