10 trails in Cornwall and SDG to hike with your family
June 13, 2021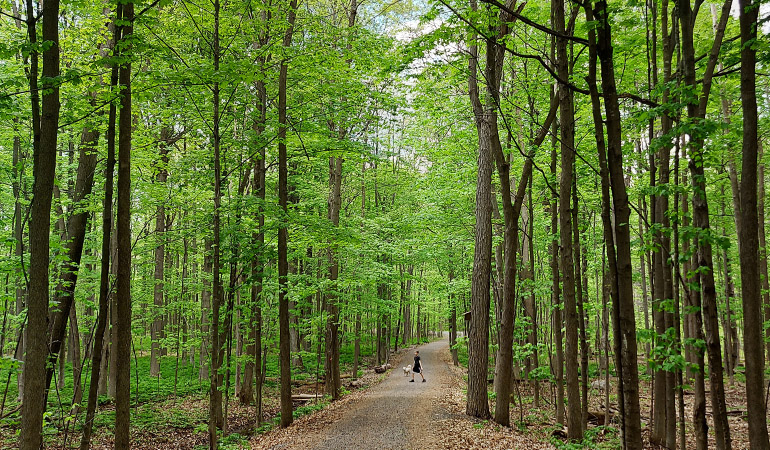 Cornwall and SDG Counties is home to some amazing hiking trails. From scenic waterfront paths to boardwalks through wetlands and trails through beautifully-forested areas, you are sure to find fun outdoor adventures that the whole family will enjoy.
Get outside, enjoy the fresh air and stretch your legs while exploring one of the many great trails in the area. Or better yet, explore them all!
Below is a list of 10 local trails to help get you started – happy adventures!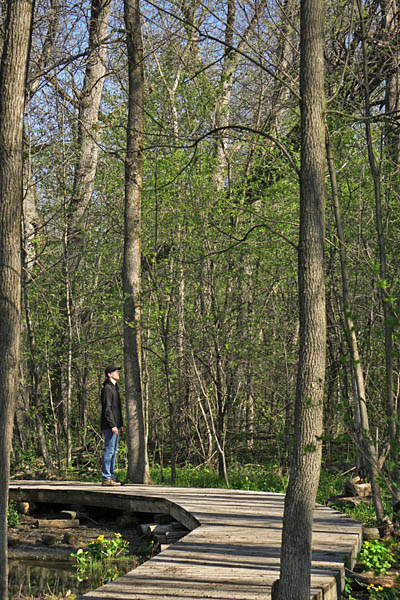 1. The Trails at Guindon Park
Guindon Park is a hidden gem on the western limits of Cornwall that is quickly reaching 'must-visit' status with locals and visitors alike. The 500-acre park features dozens of nature trails that weave through tall trees and ponds, offering a perfect escape into nature just minutes from the city. There is ample parking as well as washrooms that are open daily. Use the eastern entrance off of Vincent Massey Drive / County Road 2 to access the trailhead. Guindon Park is also home to off-road bike trails, a boat launch, the Cornwall BMX Track and it's right alongside the Riverside Trail, making it a perfect place for a day of adventure!
RELATED: The many wonders of Guindon Park
2. Riverside Trail
The scenic Riverside Trail – part of the larger Waterfront Trail network extending across Ontario – stretches over 40 kms from Cornwall all the way to Upper Canada Village, with countless attractions, outdoor spaces and landmarks along the way. The eastern part of the trail in Cornwall will take you right along the river's edge and through Cornwall's historic cotton mill district. Head west and take in the international bridge lookout, the historic Cornwall Canal and the massive RH Saunders Generating Station. There's a tonne of landmarks and scenery along the way to keep the kids entertained.
3. Lamoureux Park
Nestled along the St. Lawrence River in the heart of Downtown Cornwall, Lamoureux Park is Cornwall's showcase park, a place where fun awaits at every turn. The multi-use path will take you on an adventure filled with landmarks and activities to enjoy, from the scenic Marina 200 to the iconic clock tower to the children's splash pad and playground and the Cornwall Community Museum. Make sure to save time for the miniature waterfall and trail in the Rotary Eco-Gardens at the west end of the park! The parking lot at the Cornwall Civic Complex is a great place to start out.
4. Gray's Creek Conservation Area
Nestled at the eastern edge of Cornwall, Gray's Creek offers 6.4 kms of meandering trails that are open year-round, allowing users to enjoy nature in all its seasonal settings. Explore the trails and keep an eye out for the wide variety of animals, songbirds, amphibians and waterfowl that inhabit this significant conservation area. Geocaches are also hidden with the trail system. Visitors can enjoy cycling, hiking and walking their pets both on the nature trails and the paved bike path. There's also a park with a play structure, gazebo and public washrooms.
5. Cooper Marsh
Located 18 km east of Cornwall along County Road 2, Cooper Marsh is part of the larger Charlottenburgh Marsh – one of the most significant wetlands in all of Ontario. Follow the wetland boardwalks to explore the marsh and isolated ponds. Climb the viewing platforms and visit the viewing blinds to enjoy more than 130 species of birds that call Cooper Marsh their home.
6. Glengarry Trails
Located in North Glengarry, the Glengarry Trails features over 13 kms of trails comprised of several loops in booth woodlands and wetlands areas and one 5 km straight trail that is shared with the Glengarry Snowmobile Club in the winter. Breathe in the fresh air, bask in the sunshine and treasure the diversity of the flora and fauna found on the Glengarry Trails.
7. Upper Canada Migratory Bird Sanctuary
The Upper Canada Migratory Bird Sanctuary, located just minutes east of Upper Canada Village, has self-guided hiking trails and many nature awareness programs for campers to enjoy. Our Visitor Interpretive Centre features interesting displays and themed retail merchandise. The sanctuary covers 9,000 hectares of a variety of wildlife habitats, including a mature upland forest, early successional woods, old fields, wetlands and open water. With more than 8 kilometers of self-guided nature trails winding through these natural habitats, the seasoned birder and amateur naturalist alike will have excellent opportunities to view up to 200 waterfowl, raptor, passerine and other bird species with either the naked eye or binoculars.
8. Summerstown Trails
The forest is yours to explore at Summerstown Trails east of Cornwall. Whether you are a bird watcher or a day hiker, there are trails for you at the Summerstown Trails. There are approximately 20 km of hikeable trails that people of all ages and abilities can enjoy. If you feel more adventurous, you can venture on the multi-use trails which are narrower and more challenging.
9. Charlottenburgh Park
To the east of Cornwall in Summerstown, Charlottenburgh Park offers 7 km of self-guided nature trails with interpretive signs to explore and enjoy. They are free to use and can be accessed from the parking lot by the park entrance. Make sure to save time during your visit to relax at the beach which is nestled among beautiful mature trees right along the St. Lawrence River (day passes required).
10. Two Creeks Forest Conservation Area
Biodiversity is heightened in Two Creeks Forest Conservation Area by the presence of coastal ecosystems, grassland flood plains, and lowland forests. Of all the eco-regions in Canada, this type of forest contains the greatest number of living species. Discover who's living here year round by exploring 4.5 km of marked trail in this beautiful outdoor oasis located west of Morrisburg.
Additional trail information
Another great resource to learn more about these trails – and many others in the region – is AllTrails. Search for trails and discover maps, trail info and detailed reviews and photos curated by millions of hikers, campers, and nature lovers like you.
Play it safe!
We all have a part to play in combating the spread of COVID-19. Residents are encouraged to wear masks, practice frequent hand washing and physical distancing, and stay home if not feeling well. For the latest guidelines and restrictions related to COVID-19, please visit the Eastern Ontario Health Unit website.
#ExploreCornwallON
Looking for other fun things to do in Cornwall? Check out the Explore section of our website for other fun-filled activities to keep you busy. Better yet, consider extending your stay with a night at one of our great accommodations!
Got a question?
Got questions? Need recommendations? We're here to help! Call or text us at 613-938-4748 or email us at info@cornwalltourism.com and we'll be pleased to help you with any questions you may have!
Also make sure to check us out on Facebook and Instagram for updates and more great reasons to visit Cornwall!