MUST SEE: The many wonders of Guindon Park
March 9, 2021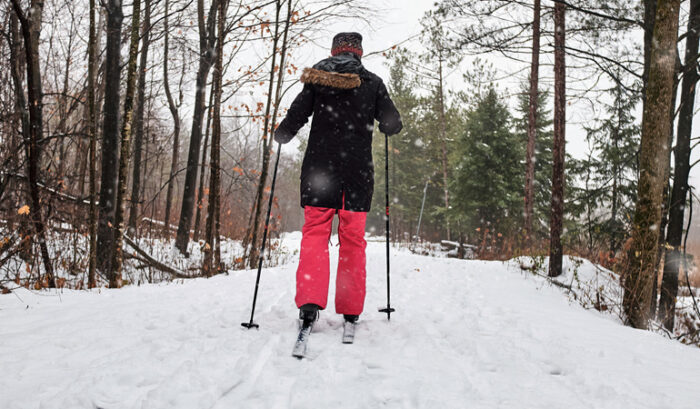 Winter playground, summer oasis. A place to renew spirits and reconnect with nature.
Guindon Park is all that – and more.
The vast outdoor space at the west end of Cornwall has been a haven for outdoor enthusiasts for decades with its dozens of kilometres of cross country and nature trails. Yet given the pandemic and the collective thirst for safe outdoor activities, the park's standing and popularity has never been greater. Waves of new and returning visitors have flocked to the park this winter season to enjoy its many offerings – from cross-country skiing and fat biking to snowshoeing, walking, birdwatching and more.
Local outdoor enthusiast Tom Everson had never stepped foot in the park until this winter and he was blown away by what he discovered. It quickly grew to become a regular outing on his calendar.
"I feel a bit safer (at Guindon Park) because I always know where I am. I know where the river is. It's big enough to keep me busy but small enough to get back to my truck if I need to get to work or home," he said.
For fellow outdoor adventurer Julie Lynn, Guindon Park offers a sense of being transported to a whole other world, just minutes from home.
"The trails are filled with the simple beauty of nature and each one is distinctively different. There is a feeling of tranquility that washes over me as the sun's rays radiate through the trees," she added. "Honestly, my soul is at peace there."
Resident Susan Towndrow believes Guindon Park provided the perfect cure to combat the loneliness and isolation brought on by the pandemic.
"Guindon Park was a life-saver, not only for for our physical health but as well for emotional and mental well-being," said Towndrow, a member of the community group Transition Cornwall+. "For many of us, it became our outdoor living room where we could visit with friends and family, get some fresh air and exercise as we walked, skied and snowshoed while comfortably socially distanced."
Even with winter now bidding goodbye, chances are the interest in Guindon Park will remain as high as ever. It's a perfect place to soak in nature and enjoy a hike while being surrounded by the sights and sounds of wildlife. Pack a picnic or stop in on your next cycling adventure along the Waterfront Trail – the park is right along the way! Check out our Cycling Page to get started!
About Guindon Park
Location
Guindon Park is located along Vincent Massey Drive/Highway 2 at the western edge of Cornwall.
Google Maps
The trails can be accessed via the eastern entrance (there is ample free parking), while the boat launch can be accessed at Trillium Drive and the Cornwall BMX Track is accessible via Floral Drive.
Activities
Mountain/fat biking, nature trails, public boat launch, picnic areas, BMX track, Waterfront Trail, cross-country skiing, snowshoeing, children's play area and more.
Maps
Guindon Park trail map
Guindon Park interactive trail map
Additional Information
City of Cornwall Guindon Park page
Play it safe!
We all have a part to play in combating the spread of COVID-19. Residents are encouraged to wear masks, practice frequent hand washing and physical distancing, and stay home if not feeling well. For the latest guidelines and restrictions related to COVID-19, please visit the Eastern Ontario Health Unit website.
#exploreCornwallON
Looking for other fun things to do in Cornwall? Check out the Explore section of our website for other fun-filled activities to keep you busy. Better yet, consider extending your stay with a night at one of our great accommodations!
Got a question?
Got questions? Need recommendations? We're here to help! Call or text us at 613-938-4748 or email us at info@cornwalltourism.com and we'll be pleased to help you with any questions you may have!
Also make sure to check us out on Facebook and Instagram for updates and more great reasons to visit Cornwall!
Article by Kevin Lajoie
www.CornwallTourism.com