25 things to do this August long weekend
July 28, 2021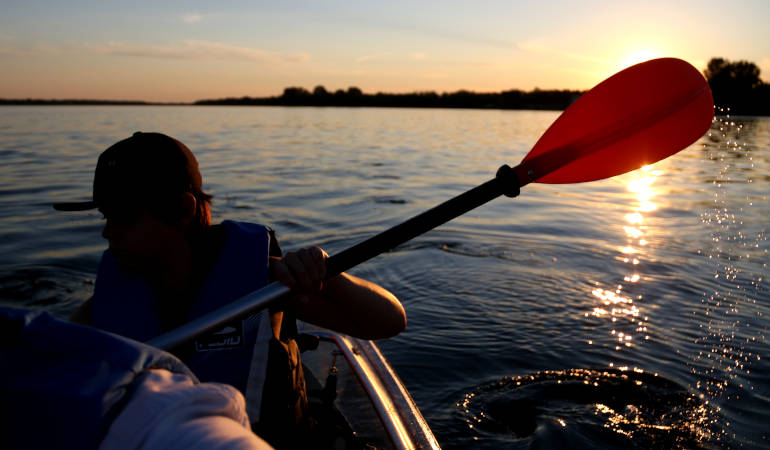 The August long weekend is here and there's no better time to get out and celebrate summer.
It's a perfect chance to set out on that long-awaited road trip and enjoy some new activities and experiences – and Cornwall is the perfect destination!
From new must-try experiences to familiar favourites, makers to markets, outdoor adventure and much more, Cornwall and SDG Counties has plenty to offer this holiday weekend. Check out our list of 25 things to do this holiday weekend and start planning your road trip – you'll be glad that you did!
1. Summer Socials
Craft beer and live music with amazing waterfront views. That's what the Craft Shack is offering up this weekend with its Summer Social series at Pointe Maligne overlooking Marina 200 on Cornwall's waterfront. Enjoy a great selection of craft beer along with live music from Bruce Ciccarelli, Nick Seguin, Tommy Heatley and The County Lads. There are four different times on Friday, Saturday and Sunday but be warned: space is limited and spots are going fast so don't delay!
2. Cornwall Waterfront Farmers' Market
Nothing says summer like a trip to the market. The Cornwall Waterfront Farmers' Market is a great place to get your market fix. It runs every Sunday from 10 am – 2 pm at the Cornwall Civic Complex. Stop by and grab some items from local producers followed by a sunny stroll through Lamoureux Park.
3. Racing at Cornwall Motor Speedway
It's been a long wait but fans are now allowed back in to the Cornwall Motor Speedway for their traditional Sunday night races. The Speedway is a summer tradition in Cornwall. The roar of the engines and the sharp turns around the 1/4 mile track are equal parts exciting and loud… especially loud. Reserve your spot in advance on the Cornwall Motor Speedway website. This Sunday's race card is stacked so you won't want to miss it!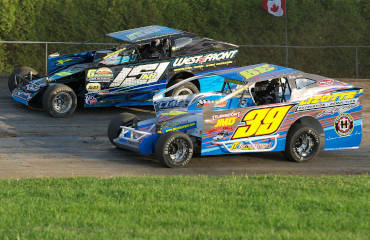 4. Good Things Poppin' Up Downtown
Saturday is a great day to head to Downtown Cornwall for some dining and shopping. Along with the great mix of restaurants and patios to enjoy, you can get your retail fix at local shops like Love & Lee, Kid's Korner, DG Vintage, Life's Little Pleasures, Echo Trends and more. The pop-up shops at First and Pitt streets will also be buzzing Saturday with appearances by Lawrence Ave Jewelry, Little Dove Boutique, I'm Just Clayin and Bud's Records!
5. Art-A-Thon
While you're Downtown on Saturday, make sure to stop by 125 Pitt Street Studios for their first-ever Art-A-Thon, a fundraiser for Art Walk. Local artists will be continually creating art from 8 am to 8 pm to raise funds for the Art Walk! Get ready to enjoy art in the making, in several different forms!
6. Upper Canada Village
Summer isn't the same without a visit to Upper Canada Village, one of the largest living-history sites in Canada. Book your tickets online and take a trip back in time to the 1860s as the re-enactors and authentic buildings bring our history to life! Or, if you prefer to explore the darker side, check out the Ghosts of Upper Canada Village Walking Tour, on Saturday and Sunday nights. Prepare to be scared!
7. Lost Villages Museum
A short drive west of Cornwall you'll find the Lost Villages Museum, which tells the story of one of the largest engineering projects in Canadian history. Learn about the local villages that were inundated to make way for the massive Seaway and Hydro Project of the 1950s and explore buildings that were moved and restored from those villages for future generations to discover.
8. Paranormal Investigations at Sir John Johnson Manor House
If paranormal activity is your thing, you won't want to miss this opportunity. Join Phantoms of Yore as they explore this national historic site in Williamstown in search of paranormal clues. You won't just watch but rather join in the investigation and try to capture evidence from another dimension. Various times are available on Saturday and Sunday and you need to book online first.
9. Kayaking at Guindon Park
The kayaking at Guindon Park is lit – literally. Boatingery Adventure Trends has recently launched glow kayaks that allow paddlers to head out for a sunset trip in a glowing (and transparent) kayak. The vessels are also equipped with bluetooth speakers so you can load up your personal tunes and add an extra level of fun to the journey. The kayaks can be rented for $30 for one hour or $50 for two hours and you can book in advance by calling or texting 514-817-6494.
10. Take a Waterfront Tour
Explore Cornwall's waterfront in a whole new way with a guided pedicab tour from Waterfront Tours. Enjoy amazing views of the St. Lawrence River with stops at key landmarks and places of interest along the way. Enjoy a tour of Lamoureux Park for $40 per ride or take advantage of their brand new dinner tour option which includes a tour and dinner at one of Cornwall's trendy restaurants! Book online at www.WaterfrontTours.ca.
11. Virtual Highland Games
The fairgrounds in Maxville may be empty, but that doesn't mean there won't be ways for people to enjoy a little taste of the Glengarry Highland Games. Whether it's online or in person, there will still be occasions for people to don their kilts and Games t-shirts and celebrate their celtic heritage. The Games will live on this year in a virtual format, with a number of special online screenings planned on the weekend through the Highland Games website.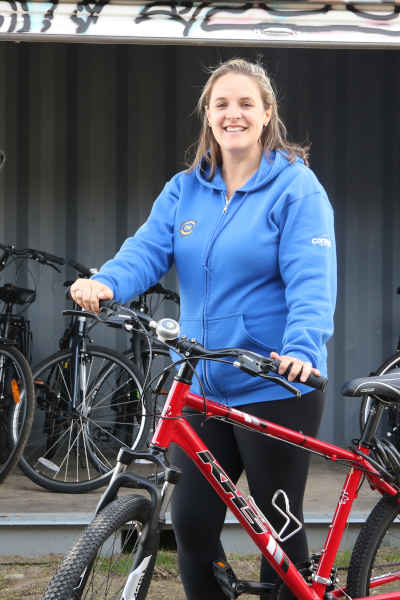 12. Get Rolling
Grab the bicycles and head for a day of cycling along one of the best trails in Ontario! Cornwall has become a premiere destination for out-of-town cyclists seeking a fun waterfront cycling experience and for good reason – there's over 40km of trail stretching from Cornwall to Upper Canada Village (including the beautiful Long Sault Parkway). The Cornwall Civic Complex is a perfect place to start with its free parking and proximity to the trail. If you don't have a ride don't sweat it – bike rentals are available at nearby Marina 200 for just $35 for a full day!
13. Rush Hour Escapes
Gather a group of friends or family and challenge yourselves to escape Code Red, the challenging new escape room at Cornwall's Rush Hour Escapes in Downtown Cornwall. Book online and partner it with a visit to a nearby restaurant for a perfect combination of fun.
14. Archie's
Work on your swing – and your ice cream consumption skills – at another Cornwall institution, Archie's. Earn bragging rights on the mini-putt course and work on your swing at the driving range before treating yourself at the dairy bar and neighbouring Seguin Patate food truck. It's summer, you've earned it.
15. Hit the Beach
Work on the tan and splash the day away in the St. Lawrence at one of the many beaches in the area. It's a perfect recipe for some long weekend relaxation. Mille Roches Beach on the Long Sault Parkway, Charlottenburgh Beach, Glengarry Park and the Morrisburg and Iroquois beaches are some of the local options but be warned, they fill up fast so get there early!
16. Cornwall Food Tours Picnic Tours
Enjoy a picnic featuring an assortment of some of Cornwall's best bites, all packaged and ready for you to pick up and enjoy in a park of your choice! Cornwall Food Tours has you covered with their picnic tours to go! The popular Brunch Picnic is available Saturdays and it's a must-try for foodies, featuring bites from Brunch on Pitt, Simply Jennifer, Tilly's and more! The cost is $40 per person with a portion of sales going to Baldwin House, the local women's shelter.
17. Sample The East
Enjoy a fun-filled day or weekend trip to discover the beauty, the flavours, local growers and hidden treasures of eastern Ontario with Sample the East, a new agri-tourism initiative from the Eastern Ontario Agri-Food Network. The newest tour, Summertime in Cornwall, will take you to local treasures like Cowan's Dairy, Spicy Pearl, Rurban Brewing and beyond – giving you a true taste of what the area has to offer!
18. Rock Around the Park
Add an extra beat to your step while walking or rolling in Lamoureux Park with Rock Around the Park. This new music trivia challenge will keep you guessing and dancing as you visit several planned stops in the park. Try and guess the overall theme at the end of the walk for a chance to win prizes!
19. Fields Of Gold
Stop by one of the newest – and brightest – attractions in the area, Fields of Gold. This new sunflower farm in Monkland features a sea of bright sunflowers that are sure to add some extra brightness to your day. Don't miss out on the fun photo ops that are guaranteed to make smiles bloom.
20. Concerts at the Winery
Enjoy live music in a beautiful setting as Harmony Concerts presents Concerts at the Winery at Stone Crop Acres, the beautiful winery in Morrisburg. The Durham County Poets will take the stage Saturday night (7 pm) while Lynne Hanson will perform on Sunday (7 pm). Tickets are limited so don't wait to get yours!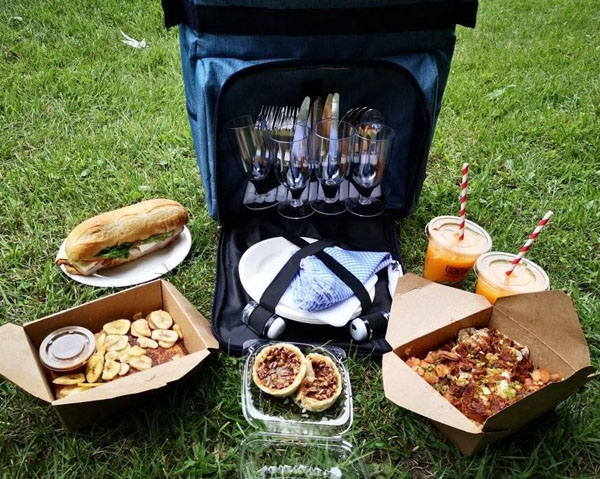 21. Hit A Patio
There's nothing better than a patio get together on a sunny day. And in Cornwall, there's no shortage of outdoor venues to catch some rays and enjoy a drink. Downtown spots like Esca, Truffles Burger Bar, Schnitzels European Flavours, Edward's Bistro, Birchwood and Mexi's are great places to grab a seat. You'll also find great patio spots on Brookdale Avenue (Eight Zero Zero, East Side Mario's, Au Vieux Duluth, Shoeless Joe's, Boston Pizza, Kelsey's). And don't forget Daffodil Pub on Montreal Road, Casa Paolo on Vincent Massey Drive and Rurban Brewing on Cumberland Street. Come to think of it, you may want to save time to visit a few!
22. Sweet Treats
There's nothing better than a sweet treat on a warm day. Chocolate, caramel, ice cream, you name it – if you're in search of a sweet food experience in Cornwall, you are sure to find one. Let your sweet tooth guide you to Fairy Sweet, Happy Popcorn, Sip & Scoop, Cowan's Dairy, Dairy Queen, Menchies and beyond.
23. Countryside Adventures
Countryside Adventures has established itself as a winter wonderland, but it is also quickly becoming a summer hot spot as well. The Moose Creek establishment gives you the ultimate outdoor experience through nature, complete with kayaking, fishing, pedal boating, paddle boating and relaxing on the beach! Purchase your tickets online and get ready to have fun.
24. Family Earth
Connect with your family and with nature at Family Earth, a new outdoor experience centre near Ingleside where families learn, play and build. Sing up for their Campfire Cooking Experience on Friday, Saturday or Sunday and learn to cook a dinner like you've never tasted before!
25. Beans
The Port Theatre is back in business, and they're returning with a bang! This weekend is the debut local screening of Beans, a chronicle of the 78-day standoff between two Mohawk communities and government forces in 1990 in Quebec. The movie stars Kiawenti:io, the incredible local Mohawk actress!
Don't forget to visit us!
Got a question? Need recommendations? Come visit us at the Cornwall Tourism pop-up visitor information centre at the entrance to the Cornwall Civic Complex! We're open seven days a week from 9 am to 5 pm and if the weather is bad, you can find us right inside the front entrance of the Civic Complex. Stop by and pick up a Visitor Guide or get some recommendations on other fun things to see and do during your visit to Cornwall!
You can also text us anytime at 613-938-4748 and we will be happy to assist with any questions you might have.
Also make sure to check us out on Facebook and Instagram for updates and more great reasons to visit Cornwall!
Play it safe!
We all have a part to play in combating the spread of COVID-19. Residents are encouraged to wear masks, practice frequent hand washing and physical distancing, and stay home if not feeling well. For the latest guidelines and restrictions related to COVID-19, please visit the Eastern Ontario Health Unit website.
#ExploreCornwallON
Looking for other fun things to do in Cornwall? Check out the Explore section of our website for other fun-filled activities to keep you busy. Better yet, consider extending your stay with a night at one of our great accommodations!