Rock Around the Park adds new beat to Lamoureux Park
July 14, 2021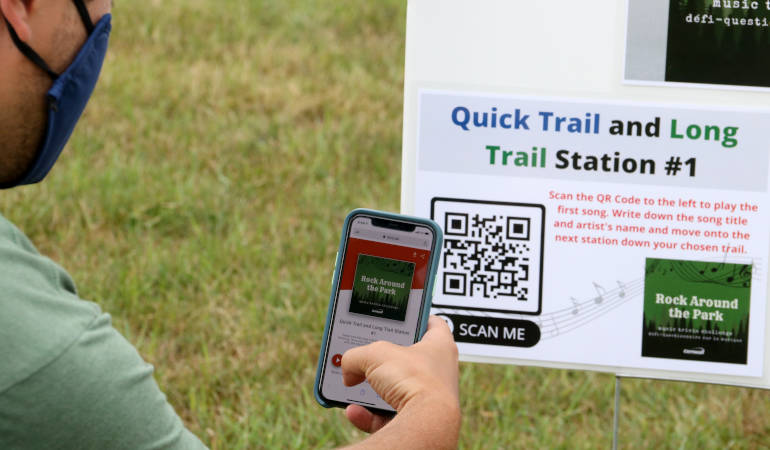 Add an extra beat to your step the next time you go walking or rolling in Lamoureux Park with Rock Around the Park.
The City of Cornwall's Parks and Recreation Department has introduced a fun new music trivia challenge that requires you to test your music knowledge while walking or rolling through Cornwall's beautiful waterfront park.
Here's how Rock Around the Park works:
– Take a walk or go for a bike ride – and don't forget your cell phone!
– Start at the Cornwall Tourism pop-up visitor information centre near the entrance of the Cornwall Civic Complex. Grab a pencil and a gamesheet from the container on the lightstand beside the pop-up centre.
– Use your cell phone's QR Code reader to scan the first sign.
– Listen to the music, and make note of the song.
– Continue through all 8 stations on the trivia challenge trail and guess each song. The goal is to guess the theme that ties all of the songs together.
– At the end of the trail, scan the final sign and submit your guess for the theme that brings all the songs together!
There's both a short route and a long route available and you can plan your route with the handy online map.
"We hope that Rock Around the Park encourages Cornwallites to get outside and exercise both their brain and their body," said Lorne Taillon, Recreation Supervisor.
Songs, and their overarching theme, will change every two weeks. One winner will be drawn at random every two weeks. The prize is a gift card to a local business.
"We won't be giving away too many hints for this session's answer," said Joel Allen, Recreation Coordinator. "Just take your time and enjoy the music for all ages!"
Don't forget to visit us!
While you're in the park, don't forget to stop by the Cornwall Tourism pop-up visitor information centre at the eastern edge of the park near the entrance to the Cornwall Civic Complex! We're open seven days a week from 9 am to 5 pm and if the weather is bad, you can find us right inside the front entrance of the Civic Complex. Stop by and pick up a Visitor Guide or get some recommendations on other fun things to see and do during your visit to Cornwall!
You can also text us anytime at 613-938-4748 and we will be happy to assist with any questions you might have.
Play it safe!
We all have a part to play in combating the spread of COVID-19. Residents are encouraged to wear masks, practice frequent hand washing and physical distancing, and stay home if not feeling well. For the latest guidelines and restrictions related to COVID-19, please visit the Eastern Ontario Health Unit website.
#ExploreCornwallON
Looking for other fun things to do in Cornwall? Check out the Explore section of our website for other fun-filled activities to keep you busy. Better yet, consider extending your stay with a night at one of our great accommodations!
Got a question?
Got questions? Need recommendations? We're here to help! Call or text us at 613-938-4748 or email us at info@cornwalltourism.com and we'll be pleased to help you with any questions you may have!
Also make sure to check us out on Facebook and Instagram for updates and more great reasons to visit Cornwall!