Aultsville Live presents Séan McCann of Great Big Sea
October 1, 2023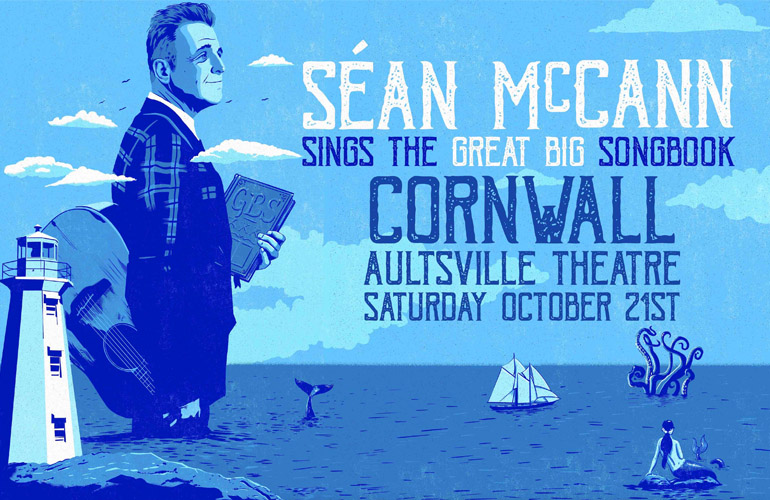 Dive into a wave of nostalgia on Saturday, October 21st as Aultsville Theatre presents the legendary Séan McCann, founding member of iconic Canadian band Great Big Sea, as part of the new Aultsville Live series.
The year 2023 marks three decades since Great Big Sea made waves in the music industry. And what better way to celebrate than with one of its founding members leading the charge.
Known as "The Shantyman," Séan is set to take fans on a delightful musical journey, sharing stories, jokes, and, of course, and those timeless foot-tapping tracks that defined an era.
The concert will be an immersive experience that promises to evoke emotions, spark memories, and create new ones. From the vibrant coasts of Newfoundland to the rhythmic beats that defined a generation, this is an evening you won't want to miss!
Ticket information
The concert is being held on Saturday, October 21st. Doors open at 7 pm and the show starts at 7:30 pm.
Tickets are available in person at the Aquatic Centre (100 Water Street East) or Benson Centre (800 Seventh Street West) or by phone at 613-938-9400.
Tickets can also be purchased online via TicketPro (click here to purchase tickets).
Additional information
For additional information on the concert and other upcoming shows at Aultsville Theatre, please visit the Aultsville Theatre website.
#ExploreCornwallON
Looking for other fun things to do in Cornwall? Check out the Explore section of our website for other fun-filled activities to keep you busy. Better yet, consider extending your stay with a night at one of our great accommodations!
Got a question?
Got questions? Need recommendations? We're here to help! Call or text us at 613-938-4748 or email us at info@cornwalltourism.com and we'll be pleased to help you with any questions you may have!
Also make sure to check us out on Facebook and Instagram for updates and more great reasons to visit Cornwall!