Burger Love: A culinary celebration of classic burgers
November 1, 2023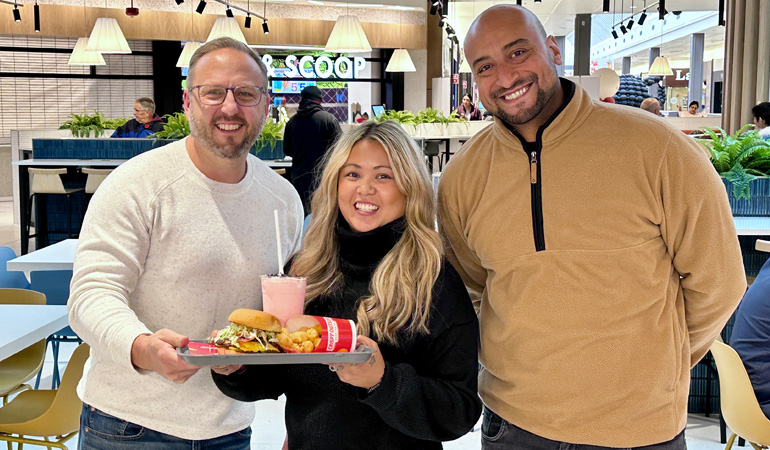 Get ready, burger enthusiasts! The much-anticipated Burger Love event is back, promising 10 days of burger bliss from Wednesday, November 8th to Friday, November 17th.
This year, six of Cornwall's local restaurants are set to showcase their culinary prowess by putting a unique spin on the classic burger.
Each establishment is gearing up to serve their exclusive burger creation, available during the event. From gourmet toppings to innovative buns and sauces, the variety promises something for every palate.
The Burger Love entries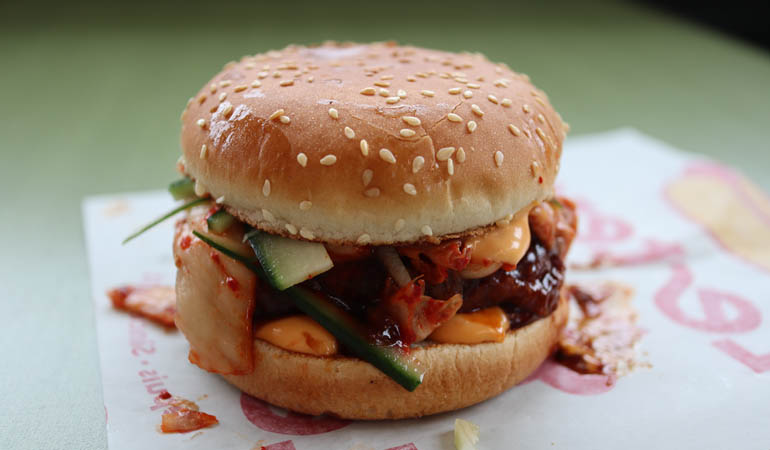 Korean BBQ Chicken Burger
Billy K's
1131 Brookdale Avenue
This tantalizing creation features a succulent crispy chicken generously glazed with a sweet and savoury Korean BBQ sauce. Topped with zesty kimchi and cool, shredded cucumbers for a refreshing crunch, it's all brought together with a dollop of spicy garlic mayo for that extra kick.
$11.50 or $17 Combo
---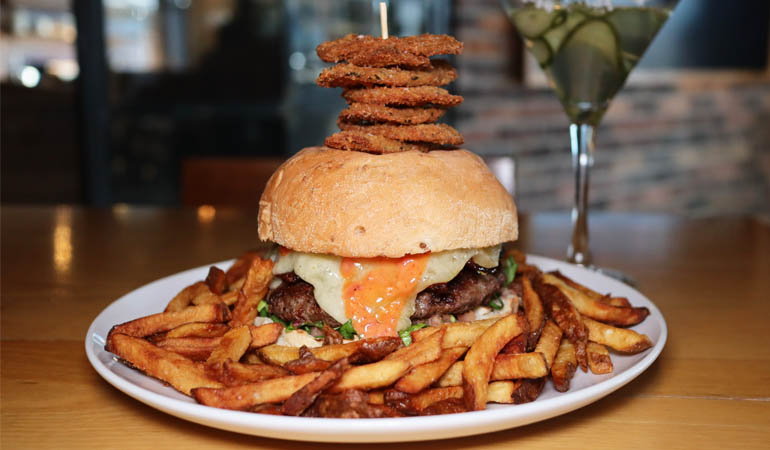 Cali Burger
Esca Gourmet Pizza + Bar
317 Pitt Street
100% ground chuck patty perfectly complemented by the rich flavours of Lankaaster aged cheese. Candied bacon, fresh bruschetta mix, creamy avocado and crisp romaine add a refreshing touch, while their special sauce brings it all together. All of this is nestled within a house-made herb/garlic brioche bun. And for that final gourmet touch? A fried pickle garnish crowns this burger masterpiece.
$24 with side
---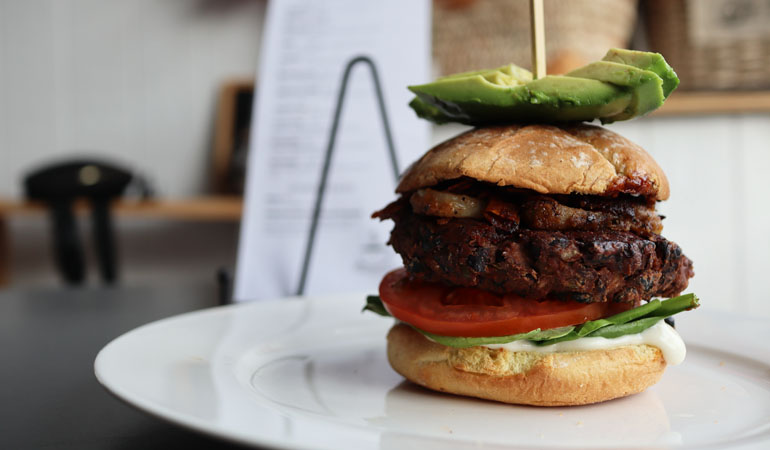 Ultimate Black Bean Burger
Carrots N' Dates
116 Pitt Street
This burger features a hearty black bean patty that is both flavourful and satisfying, forming a perfect plant-based foundation. It's adorned with fresh, leafy spinach and ripe tomato slices. The crispy onions introduce a savoury crunch, while the innovative coconut bacon offers a smoky sweetness that's completely cruelty-free. A dollop of creamy mayo and a drizzle of rich BBQ sauce brings a velvety finish to this delightful ensemble.
$18.50 with side (*Gluten Free bun available)
---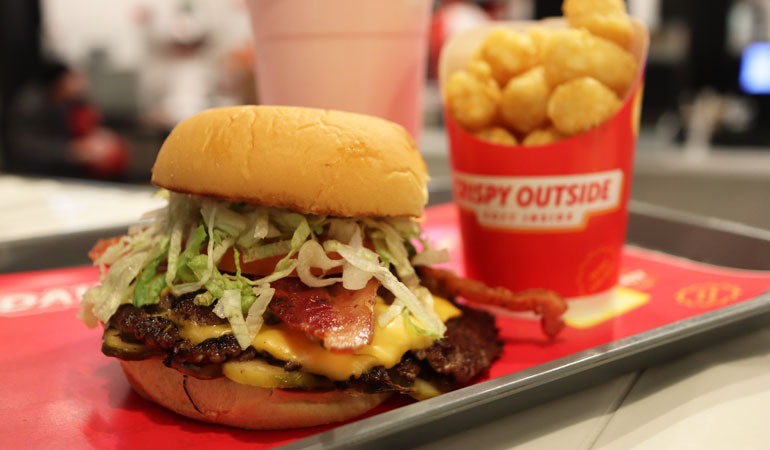 Loaded Chuck
Daily Chuck
1 Water Street East (Cornwall Square)
This burger boasts two irresistibly seared 3oz smashed patties, oozing with the melty perfection of American cheese. Nestled between the patties are four dill pickles, a bed of shredded lettuce, and rings of thinly sliced onions for a crisp bite. Smoky bacon, a thick slice of juicy beefsteak tomato, and a generous slathering of signature Chuck sauce complete this masterpiece.
$10.75 Single or $15 Combo
---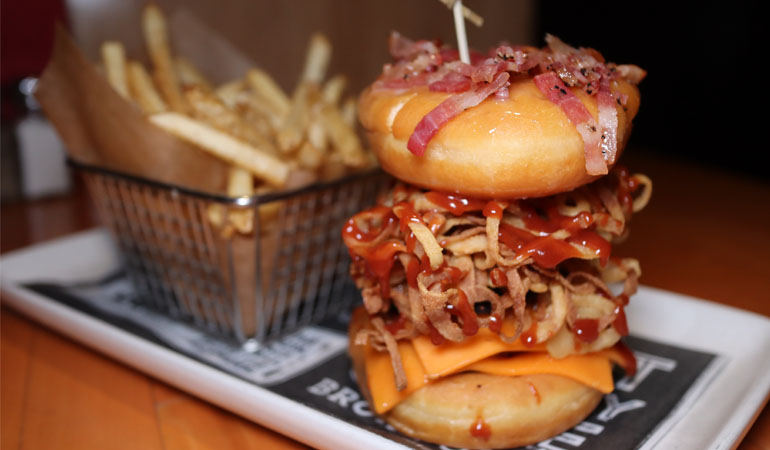 Double Headed Donut Burger
Shoeless Joe's
1110 Brookdale Avenue
This double-stacked marvel starts with two juicy patties, each seasoned with a bold maple peppercorn blend. Layers of smoky bacon and melted cheddar cheese create a rich and hearty flavour profile. Drizzled with BBQ sauce and topped with a heap of crispy onions, each bite offers a satisfying crunch. And the pièce de résistance? Instead of a traditional bun, this burger is cradled between two glazed donuts.
$20 with side
---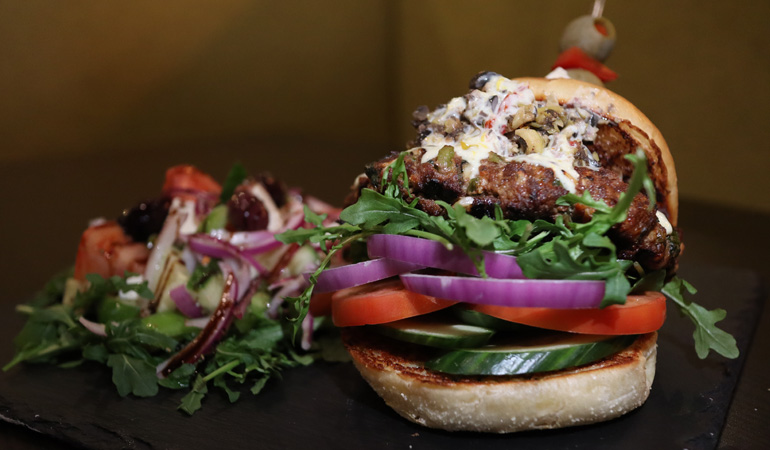 Zeus Burger
Au Vieux Duluth
1140 A Brookdale Avenue
This Mediterranean-style burger starts with a premium sirloin patty grilled to perfection and topped with a bed of fresh spinach, feta, ripe tomato slices, and crisp cucumber. Delicate rings of onion add a sharp contrast, while a generous spread of olive tapenade infuses each bite with a rich, tangy essence. The burger is then finished with a zesty lemon caper aioli. Nestled between a toasted bun, this burger is a delightful escape to the sunny shores of the Mediterranean with every bite.
$20.95 served with Mykonos salad
---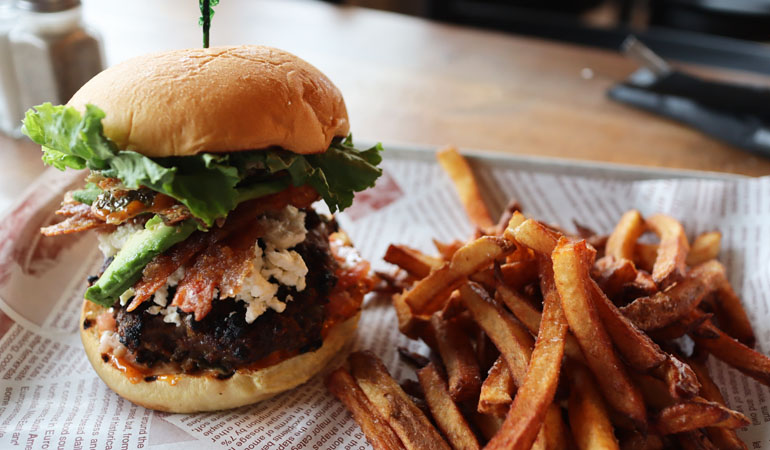 The Mad Paddler
Perch & Paddle
20180 County Road 2 (Summerstown)
At the heart of this burger is a juicy chuck patty, ingeniously stuffed with jalapeños and rich old cheddar, creating a molten core of flavour. It's crowned with a slather of creamy Nashville aioli, crumbled feta, and a bruschetta mix for a fresh twist. Slices of avocado, crisp lettuce, crunchy fried jalapeños, and sweet candied bacon all come together, layer upon delicious layer.
$19.95 with side
---
This event is organized by the Taste Buds and supported by Cornwall Tourism, ensuring that both locals and visitors alike get a taste of what Cornwall's culinary scene has to offer.
"Every year, the creativity of our local chefs blows me away. 'Burger Love' is not just an event; it's a celebration of our community's passion for food," said Taste Buds team member Patrick Larose.
As always, food lovers are not just spectators but play a crucial role in the event. Attendees are encouraged to try out these burger masterpieces and cast their vote for the People's Choice winner. But that's not all! A panel of foodies will also be tasting and judging the burgers, leading to the coveted Judges Award winner.
"We're thrilled to see new faces like Perch & Paddle Pub & The Daily Chuck join the event. It's a testament to the growing culinary landscape of Cornwall," added Taste Buds member Matthew Girgis.
With such enthusiasm from the organizers and participating restaurants, Burger Love promises to be a memorable event. So, mark your calendars, gather your friends, and get ready to embark on a burger journey like no other!
"It's heartwarming to see the community come together, not just to enjoy good food, but to celebrate the talent and hard work of our local chefs," said Taste Buds member Justine Viray-Levac.
Additional information
For additional information on Burger Love, make sure to check out www.yourlocaltastebuds.ca or check out the Taste Buds on Instagram and Facebook.
#ExploreCornwallON
Looking for other fun things to do in Cornwall? Check out the Explore section of our website for other fun-filled activities to keep you busy. Better yet, consider extending your stay with a night at one of our great accommodations!
Got a question?
Got questions? Need recommendations? We're here to help! Call or text us at 613-938-4748 or email us at info@cornwalltourism.com and we'll be pleased to help you with any questions you may have!
Also make sure to check us out on Facebook and Instagram for updates and more great reasons to visit Cornwall!