Carrots N' Dates arrives in Downtown Cornwall
May 6, 2022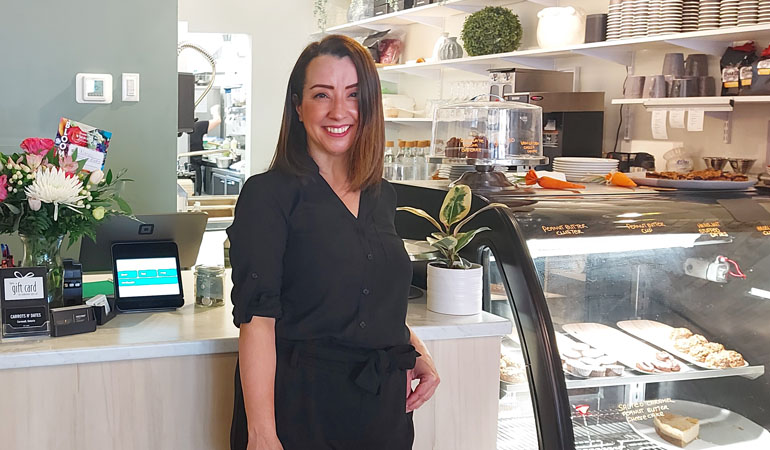 The food at Carrots N' Dates will take you on a journey across three continents that can be tasted in every hand-crafted bite.
The new bistro opened earlier this week on Pitt Street in Downtown Cornwall. It offers healthy versions of common foods made daily from scratch with the best quality ingredients.
"We prep all of our food in house – with no refined sugars, salts, filler or preservatives," says Nancy Vigeant, co-owner. "Our soups, stews, salads, bread, kombucha and desserts are all made in house and served in a loving environment with the intent of people leaving feeling better then when they entered."
Carrots N' Dates offers a bright, modern open atmosphere, with room to dine in and a counter for take out. The 1,650 square foot building was a former retail store and was completely renovated with help from the City's Heart of the City Community Improvement Program.
Cornwall's Carrots N' Dates is the second location for the business that started in the Windsor area. Vigneault had joined the company team nearly two and a half years ago as their General Manager. Her parents live in Cornwall and when the opportunity arose to purchase a building and invest in the city, she leapt at the chance. Owners Troy and Neviana Maleyko were very supportive, and offered her a partnership in Carrots N' Dates.
"I have always loved the peacefulness and scenery of Cornwall, and I am excited to bring this to the Cornwall area," said Vigeant "We believe that now, more than ever, people are focusing more on their health and well being. We believe taking care of our food and environment is the solution. Whether you are in a rush and want some thing to take away, or you are meeting a friend you haven't seen in a while for a nourishing lunch, we have you covered."
About Carrots N' Dates
Carrots N' Dates is located at 116 Pitt Street and is open Monday through Thursday from 10am to 8pm, Friday from 10am to 9pm, Saturday from 9am to 9pm and Sunday 9am to 3pm. Staff can be reached by phone at 613-935-3658.
You can also check them out online by visiting their website or following them on Facebook and Instagram.
#ExploreCornwallON
Looking for other fun things to do in Cornwall? Check out the Explore section of our website for other fun-filled activities to keep you busy. Better yet, consider extending your stay with a night at one of our great accommodations!
Got a question?
Got questions? Need recommendations? We're here to help! Call or text us at 613-938-4748 or email us at info@cornwalltourism.com and we'll be pleased to help you with any questions you may have!
Also make sure to check us out on Facebook and Instagram for updates and more great reasons to visit Cornwall!