Cline House Gallery hosts new show
July 7, 2020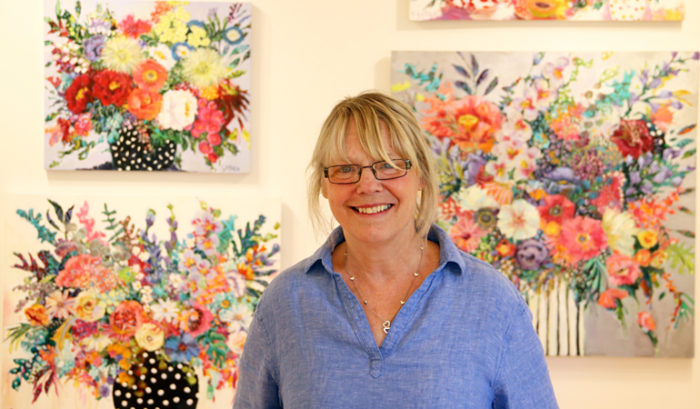 After a very trying few months, there's certainly no better time to stop and smell the roses. Artist Cynthia Gatien is ready to help with that.
The South Glengarry based artist is launching a new two-week show at Cline House Gallery in Downtown Cornwall featuring over 30 of her colourful and inspiring paintings and collages.
Taken together, the impressive collection of floral and landscape creations offers one a sense of hope and optimism – and the exhibition couldn't have come at a better time.
"It's nice to see it all up here (on the walls) together," said the artist. "I'm a happy person generally and I think my art reflects that. I hope it will make other people happy just to get out and see some colourful art."
The collection represents a culmination of work done over the last year by Mrs. Gatien, and it captures the artist in her element. Floral and landscape themes have become her niche – one that allows her to express her passion for art while creating works that appeal to many.
"I always return to flowers," she said with a smile.
The Cornwall native's arts career actually began in decorative painting of floorcloths before gradually turning to paint on canvas. And while it may be described as work, Mrs. Gatien's artistic endeavours are work only in name. From her home-based studio in South Lancaster, the artist makes a point of painting every day (except weekends) while also making time for exercise, reading and other pastimes.
"It's work but I love it," she adds. "(My husband and I) just love working but it doesn't feel like work at all."
The fruits of that labour is a beautiful exhibition that promises to brighten your day and make you feel good – even in these most difficult times.
Show info
The show will run from July 8th to July 18th at Cline House Gallery (204 Second Street East) on Wednesdays to Saturdays from 11 am to 4 pm.
Due to COVID-19, safety protocols have been put in place at the gallery and visitors are asked to wear a mask (masks will be available at the door for those without). Those who may feel vulnerable or wish to arrange a private viewing can do so by contacting the artist at 613-551-5885.
Play it safe!
We all have a part to play in combating the spread of COVID-19. Residents are encouraged to wear masks in indoor public spaces and practice frequent hand washing and physical distancing. For the latest guidelines and restrictions related to COVID-19, please visit the Eastern Ontario Health Unit website.
#exploreCornwallON
Looking for other fun things to do in Cornwall? Check out the Explore section of our website for other fun-filled activities to keep you busy. Better yet, consider extending your stay with a night at one of our great accommodations!
Article by Kevin Lajoie
www.CornwallTourism.com