Cline House Gallery presents 'My Quiet Furor'
September 13, 2023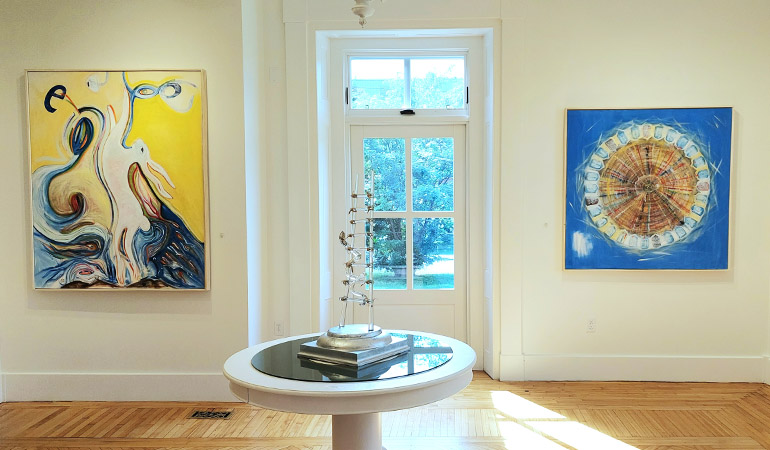 The Cline House Gallery presents 'My Quiet Furor,' a solo exhibition of paintings and sculpture by Alexandria artist Eliska Smiley.
This exhibit is a visual celebration of life's mysteries and enigmas and the power of art to transform the intangible into tangible and give voice to the unsaid.
'My Quiet Furor' traces multi-disciplinary artist Eliska Smiley's journey, beginning with a remarkable collage created when she was just seven years old. This early work, stemming from youthful imagination, foreshadows the themes that have guided her throughout her artistic career.
"Eliska's work invites viewers to engage with the dualities that define our existence- the light and the darkness, fragility and resilience," said Cline House Gallery coordinator Emily Macleod. "These dualities are not opposing forces but rather essential components of our journey and our relationship with the world around us."
Water, a central theme in Smiley's art, embodies the ever-flowing cycle of life, providing solace and reflection. It serves as a profound reminder of our intrinsic connection to the rhythms of nature and the far-reaching consequences of our actions.
"The works are a testament to my emotional tides of intensity and tranquility. They are the 'quiet furor' that simmers beneath the surface as I strive to commune with the essence of existence itself through a multi-disciplinary approach to my creative endeavors," said Smiley.
Opening reception
All are invited to attend the opening reception at the Cline House Gallery on Thursday, September 14th at 7 pm.
The exhibition will run until Saturday, October 28th, providing ample opportunity for art enthusiasts to engage with Smiley's emotionally stirring and thought-provoking creations.
The gallery is open Thursday to Saturday from 10 am to 4 pm. It is free to visit and there is ample parking on site.
About Cline House Gallery
With elegant architecture and rich history, the Cline House — once recognized as "one of the finest homes in all of Cornwall" — provides gallery space for local and visiting artists and also supports visual arts programming opportunities for all. It is located at 204 Second Street East in Downtown Cornwall.
For additional information, please visit the Cline House Gallery website or check out the gallery's Facebook and Instagram accounts.
#exploreCornwallON
Looking for other fun things to do in Cornwall? Check out our Event Calendar for other upcoming activities to keep you busy. Better yet, consider extending your stay with a night at one of our great accommodations!
Got a question?
Got questions? Need recommendations? We're here to help! Call or text us at 613-938-4748 or email us at info@cornwalltourism.com and we'll be pleased to help you with any questions you may have!
Also make sure to check us out on Facebook and Instagram for updates and more great reasons to visit Cornwall!