Cornwall Concert Series returns with stellar music lineup
June 18, 2023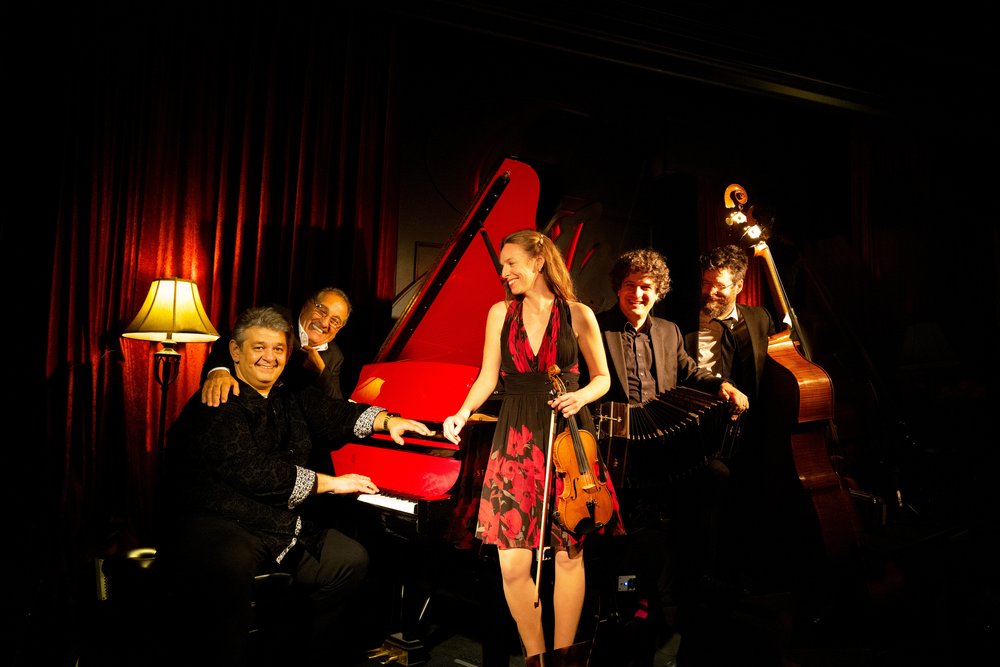 The Cornwall Concert Series announces another stellar season as it continues a 38-year tradition of bringing world-class performances to the Aultsville Theatre stage. 
This year's world-class lineup includes a great variety that is sure to please audiences seeking a unique concert experience in Cornwall's popular music venue.
The 2023-2024 Cornwall Concert Series will feature:
Payadora Tango Ensemble + Pointe Tango
Saturday, September 16th 7:30pm
The season will open on Saturday, September 16th with a performance by Payadora Tango Ensemble together with PointeTango.  Payadora is a contemporary chamber music ensemble that performs Argentinian/Uruguayan tango and folk music and original compositions inspired by that tradition. With PointeTango – dancers that combine the intimacy of Argentine Tango with the precision of Classical Ballet – they have created Tango in the Dark, a story of two lovers discovering each other through a city transformed by the shadows of the night.
"With influences from Argentina to Eastern Europe to the great Astor Piazzolla, Payadora plays the tango like it's meant to be: sultry, steamy, but with grace and precision," read a review in Words + Music Magazine.
Highlights from Payadora's past performances include sold-out shows at the National Arts Centre, Ottawa Chamberfest, Indian River Music Festival in Prince Edward Island, St. Lawrence Centre for the Arts, Harbourfront Centre, Stafford Summer Music, Toronto Music Festival, the TD Toronto Jazz Festival, and for the Canadian Opera Company's World Music Series at the Four Seasons Centre.
JoyRide
Sunday, October 15 2 pm
On Sunday, October 15th, buckle up for a musical JoyRide, with thrilling highs, spontaneous departures and unexpected turns! With Colin Maier on oboe, bass and vocals, and Charles Cozens on accordion and piano, JoyRide is a "jazz crossover" duo that weaves their instruments, improvisation and personalities into a multi-faceted experience. Their music is best classified as jazz crossover which encompasses many styles including jazz, ragtime, blues, tango, gypsy and klezmer.
Shane Cook and the Woodchipers
Sunday, November 5th 2 pm
The fall concert season closes on Sunday, November 5th with Shane Cook and the Woodchippers. Relying on their deep foundation in the traditional music, song and dance of Ontario for the core of their sound, they also draw on styles as broad as Celtic, folk, roots, bluegrass and swing.  Joining Shane as a four-member group of multi-instrumentalists, singers and step dancers, The Woodchippers are Emily Flack (Leahy) on piano, vocals and dance, Joe Phillips (The Art of Time Ensemble) on double bass and guitar, and Kyle Waymouth (five-time national step dance champion) on guitar, tenor banjo, and dance. A Canadian and US national fiddle champion, Shane Cook has distinguished himself as a master of the Canadian old-time fiddle tradition.
The band and album are 2022 Canadian Folk Music Award nominees for Instrumental Group of the Year and Traditional Album of the Year.
"Shane offers up death-defying, acrobatic fiddle precision, soaring through tunes from his beloved Ontario with impeccable clarity," said Claire Lynch, multiple Grammy nominee.
Zodiac Trio
Sunday, April 13th 2 pm
The spring concert season resumes on Sunday, April 13th.  Over the past decade, the Zodiac Trio has established itself as the leading international trio of its kind, heralded by Radio France as "a breathtaking ensemble of virtuosity and sensitivity." Taking advantage of its unusual instrumentation of clarinet, violin and piano, the Zodiac Trio has been on the forefront of innovative programming, presenting 20th century masterpieces alongside new works and acclaimed original arrangements, offering the listener an immersive, musical journey. Zodiac Trio presents "Tales From the Americas", a program that unites the two American continents, highlighting music by George Gershwin, Astor Piazzolla, Arturo Márquez, William Bolcom, and featuring a special Benny Goodman tribute with arrangements by Jean-Marc Brisson!
Weston Silver Band
Saturday, May 4th 7:30 pm
Cornwall Concert Series favourite Weston Silver Band will close out the season on Saturday, May 4th with a concert called Hymn of the Highlands. Three-time North American Brass Band Champions, and now in its 100th season, the 33 brass and percussion players of the Weston Silver Band return for their third appearance with the Cornwall Concert Series.
This evening of music will transport you to the highlands of Scotland – you won't want to miss it!
Ticket information
All concerts are held at Aultsville Theatre.  Subscriptions ($125 for five concerts) and single tickets ($35) for all performances may be purchased in advance (cash or cheque) at these locations: TD Canada Trust (1 Ninth Street East), Jolly Tours (Eastcourt Mall), The Squire Shop (113 Pitt Street), and the City of Cornwall Box Office locations at the Aquatic Centre and the Benson Centre.  
About the Cornwall Concert Series
The Cornwall Concert Series strives to enrich the cultural life of Cornwall by bringing the highest calibre of musical entertainment to Cornwall at an affordable cost. All concerts are presented at Aultsville Theatre. The series is sold by subscription. To encourage an appreciation of music and the arts in young people, the concert series offers free tickets to elementary and high school music and drama students through local teachers, schools and music festivals.
For additional information visit the Cornwall Concert Series website.
#exploreCornwallON
Looking for other fun things to do in Cornwall? Check out the Explore section of our website for other fun-filled activities to keep you busy. Better yet, consider extending your stay with a night at one of our great accommodations!
Got a question?
Got questions? Need recommendations? We're here to help! Call or text us at 613-938-4748 or email us at info@cornwalltourism.com and we'll be pleased to help you with any questions you may have!
Also make sure to check us out on Facebook and Instagram for updates and more great reasons to visit Cornwall!