Cornwall Concert Series returns with diverse roster for 2022-23 season
September 8, 2022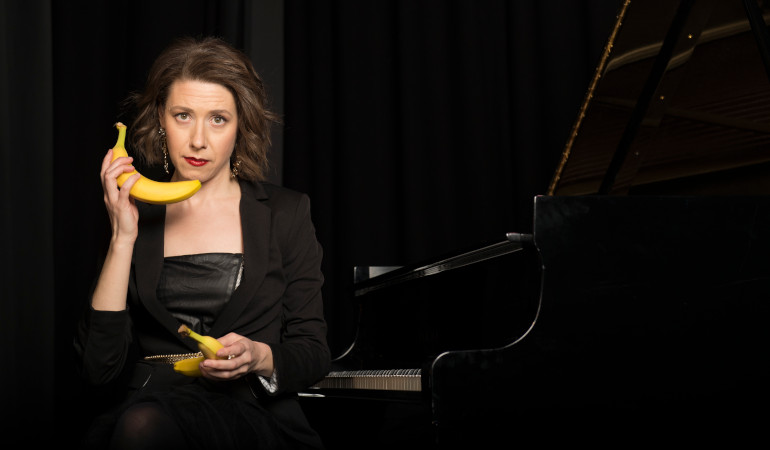 The Cornwall Concert Series is back for the 2022-23 season with an eclectic slate of performers set to take the stage at Aultsville Theatre.
A mainstay of Cornwall's arts scene for decades, the Cornwall Concert Series gives both residents and visitors a chance to see award-winning musical performances that would otherwise only be available in major markets.
This year's lineup features something for everyone, from the renowned Trio Fibonacci and one-of-a-kind Hogtown Brass to the witty Sara Hagen and Joe Trio and east coast charm of Heather Bambrick.
2022-23 Concert Series lineup
Trio Fibonacci – The Season of Minimalists
Saturday, September 10 8pm
Trio Fibonacci made its first appearance on the Canadian music scene in 1998, with the press reporting that "to hear them is to enter into the world of miracles" (Le Devoir, Montreal). Discover a captivating body of works that go straight to the heart of melody. The highlight of this concert: Max Richter's masterly recomposition of the Four Seasons by Vivaldi, which takes you to the edge of the past and the present. Works by Glass and Einaudi complete this programme of spellbinding simplicity.
---
Sarah Hagen – Perk-up, Pianist!
Sunday, October 16 2pm
Often referred to as the next Victor Borge, Sarah Hagen has transformed her award-winning role as "concert pianist" into a stand-up, or rather, sit-down comedy. Pairing anecdotes with music, "Perk up, pianist!" takes audiences deep inside the world of a classical musician as she shares her earnest efforts to keep her spirits up in the midst of troublesome times. Sarah tells the tale of a touring classical musician remaining optimistic in the midst of challenging and ridiculous situations.
---
Hogtown Brass – Old, New, Borrowed, Blue
Sunday, November 6 2pm
Hogtown Brass is a dynamic Canadian ensemble, known for their unique arrangements and new compositions, and collaborations with vocalists and instrumentalists, along with the affinity for both standard and non-traditional performance spaces. Hogtown Brass is on a mission to reinvigorate the entire concert experience for their audience.
---
Joe Trio
Saturday, April 22 8pm
Amply witty, charming, and tremendously musical, Joe Trio leaves audiences with a new appreciation for classical music. Joe Trio is not your average piano trio. They strive for diversity, versatility, and more than a little humour and unpredictability. Their repertoire consists of Papa Haydn to Uncle Shostakovich, new works by contemporary composers, and their own arrangements of popular, jazz and rock tunes. More than virtuosi, the Trio's members are fantastic performers who engage the audience in a way few classical musicians can.
---
Heather Bambrick Quintet
Saturday, May 6 8pm
JUNO and East Coast Music Award (ECMA) nominee Heather Bambrick, has been described as "what happens when Ella Fitzgerald meets Carol Burnett at a Newfoundland Kitchen Party!" As a born-and-raised Newfoundlander, Heather uses her East-Coast charm to welcome the audience. Heather brings together musicians, a wide-ranging repertoire, interesting and unique arrangements, an outstanding stage presence, and humour to create a show that is entertainment at its finest!
---
Ticket information
A full subscription for the 2022-23 season – which includes admission to all five concerts – is available for just $110 for adults and $25 for students!
Single tickets to each concert are available for $35 for adults and $10 for students.
Subscription and single tickets are available at TD Canada Trust (1 Ninth Street East), Jolly Tours (1380 Second Street East) and The Squire Shop (113 Pitt Street).
Tickets can also be purchased at the City of Cornwall Box Office (located at the Cornwall Aquatic Centre, 100 Water Street East) from Monday to Friday, 8:30 am to 4:30 pm, or by phone, 613-938-9400.
Buy online!
You can also purchase tickets online via TicketPro (additional fees apply)!
Click here to purchase tickets online
Day of the concert
Tickets can also be purchase at the Aultsville Theatre Box Office one hour before showtime (subject to availability).
All seating is general admission.
Additional information
The Cornwall Concert Series has been a part of Cornwall and the surrounding communities for thirty years. It is a non-profit, registered charitable organization run by a volunteer management board. The Concert Series strives to enrich the cultural life of Cornwall by bringing the highest calibre of musical entertainment to the city at an affordable cost. All concerts are presented at Aultsville Theatre (once part of St. Lawrence College and now privately run by a volunteer management committee).
For additional information, please visit the Cornwall Concert Series website or Facebook page.
#ExploreCornwallON
Looking for other fun things to do in Cornwall? Check out the Explore section of our website for other fun-filled activities to keep you busy. Better yet, consider extending your stay with a night at one of our great accommodations!
Got a question?
Got questions? Need recommendations? We're here to help! Call or text us at 613-938-4748 or email us at info@cornwalltourism.com and we'll be pleased to help you with any questions you may have!
Also make sure to check us out on Facebook and Instagram for updates and more great reasons to visit Cornwall!