Cornwall Food Tours launches virtual tours
May 17, 2021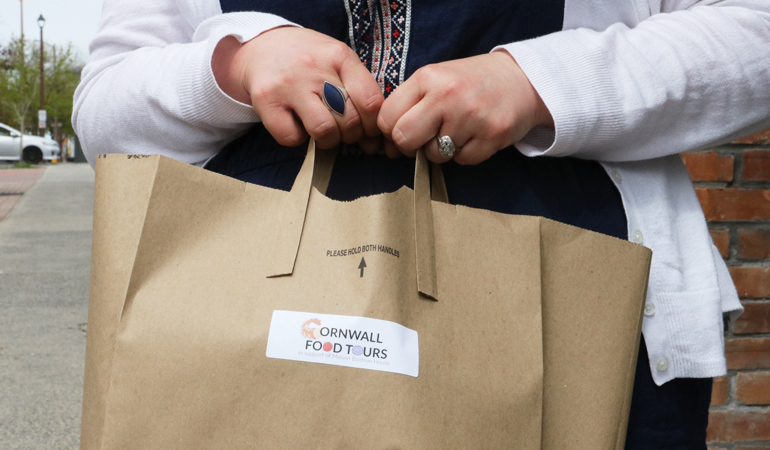 Enjoy some of the best bites in Cornwall from the comfort of your own home with a new virtual food tour being hosted by Cornwall Food Tours.
In light of the pandemic, the local business has pivoted from in-person tours for the time being and will instead offer virtual tours, with the first set for Saturday, May 22nd.
The so-called 'Classic Cornwall Food Tour' will feature generous samples from 6 different Cornwall establishments, all packaged and prepared in advance for pick-up between 12:30 pm and 12:45 pm at Truffles Burger Bar in Downtown Cornwall. Tourgoers can then log in to a special Zoom chat online to learn more about the food items – with a sprinkle of interesting Cornwall facts as well.
"Expect a solid lunch and maybe even some scrumptious leftovers," said Vanessa Leduc, the local foodie and driving force behind Cornwall Food Tours. "We have such amazing restaurants in Cornwall. The whole point of this is to highlight local businesses, showcasing what we have and letting others know about them."
A limited number of tickets are available for $60 (plus tax) and can be obtained by connecting with Leduc through the Cornwall Food Tours Facebook page or via email, info@cornwallfoodtours.com.
Leduc expects to offer additional tours on future weekends as she continues to build a platform to showcase Cornwall's amazing food scene. In addition to supporting local restaurants, the food tours – both virtual and eventually, in-person – a portion of all ticket sales will be donated to Maison Baldwin House, the local women's shelter.
Leduc's idea to establish a food tour enterprise in Cornwall got a kickstart late last year when she became a finalist in the Spark Mentorship & Grants Program, an initiative aimed at generating new tourism ideas and experiences.
Mrs. Leduc submitted her idea and became one of the top five applicants in the program, which was hosted in a partnership between the Ontario Tourism Innovation Lab, Cornwall Tourism, Cornwall Tourism Development Fund and SDG Counties.
Earlier this week, Mrs. Leduc was named one of the three Spark finalists. She received a $3,000 grant and a one-on-one mentorship with a successful tourism business leader to help take her idea to the next stage of development.
Her ultimate goal, once the pandemic ends and restrictions ease, is to offer in-person tours highlighting various spots – and flavours – in Cornwall while also showcasing the fun and interesting people, landmarks and historical notes of the community. Downtown Cornwall will be a natural place to start the tours.
"Within a four or five block stretch, there's so much to explore and enjoy," she added.
Additional information
For additional information on Cornwall Food Tours, please visit the Cornwall Food Tours Facebook page or email info@cornwallfoodtours.com.
Play it safe!
We all have a part to play in combating the spread of COVID-19. Residents are encouraged to wear masks, practice frequent hand washing and physical distancing, and stay home if not feeling well. For the latest guidelines and restrictions related to COVID-19, please visit the Eastern Ontario Health Unit website.
#exploreCornwallON
Looking for other fun things to do in Cornwall? Check out the Explore section of our website for other fun-filled activities to keep you busy. Better yet, consider extending your stay with a night at one of our great accommodations!
Got a question?
Got questions? Need recommendations? We're here to help! Call or text us at 613-938-4748 or email us at info@cornwalltourism.com and we'll be pleased to help you with any questions you may have!
Also make sure to check us out on Facebook and Instagram for updates and more great reasons to visit Cornwall!