Cornwall Girls Hockey Association hosts annual Fall Faceoff tournament
October 25, 2023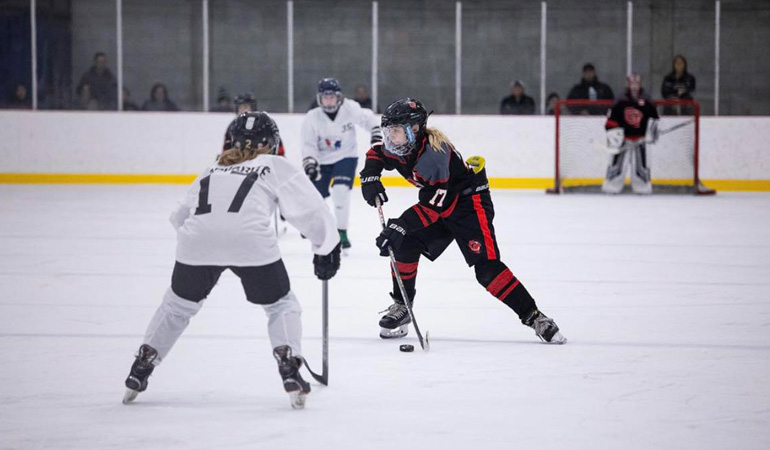 Hockey will take centre stage this weekend in Cornwall as the puck drops on the Cornwall Girls Hockey Association's annual competitive tournament, the Fall Faceoff.
Cornwall will play host to 57 teams in this year's edition, which boast's some of the best young talent from Ontario, Quebec and the United States. Teams from the region will be joined by competitors from Kingston, Peterborough, Lac St. Louis, Massena, North Halton, Oshawa, Smiths Falls, Ottawa, Gatineau, Syracuse and elsewhere.
Games will be played at the Benson Centre, Cornwall Civic Complex and Long Sault Arena, with the action kicking off Friday and running through Sunday.
"The city will be buzzing this weekend with lots to see and lots going on," said Mike Turcotte, President of the Cornwall Girls Hockey Association.
This year's tournament will see teams in as many as 11 different divisions and ages ranging from 9 to 18. Almost 1,000 skaters will hit the ice throughout the weekend.
"Accommodations are full for Cornwall and the surrounding area," Turcotte added.
Now in its 39th year, the Fall Faceoff tournament serves as a kick-off to the hockey season and this year is no exception.
Following this event, the CGHA will quickly shift its focus to its other large-scale event of the season. The annual house league tournament will take place November 10 to 12 and is anticipated to attract more than 60 teams to the city.
Admission is free for those who wish to take in some of the action. The schedule can be found on the CGHA website.
Additional information
For additional information on the Fall Faceoff tournament, please visit the Cornwall Girls' Hockey Association website.
#ExploreCornwallON
Looking for other fun things to do in Cornwall? Check out the Explore section of our website for other fun-filled activities to keep you busy. Better yet, consider extending your stay with a night at one of our great accommodations!
Got a question?
Got questions? Need recommendations? We're here to help! Call or text us at 613-938-4748 or email us at info@cornwalltourism.com and we'll be pleased to help you with any questions you may have!
Also make sure to check us out on Facebook and Instagram for updates and more great reasons to visit Cornwall!