Cornwall hosts Border Town Challenge tournament
April 27, 2023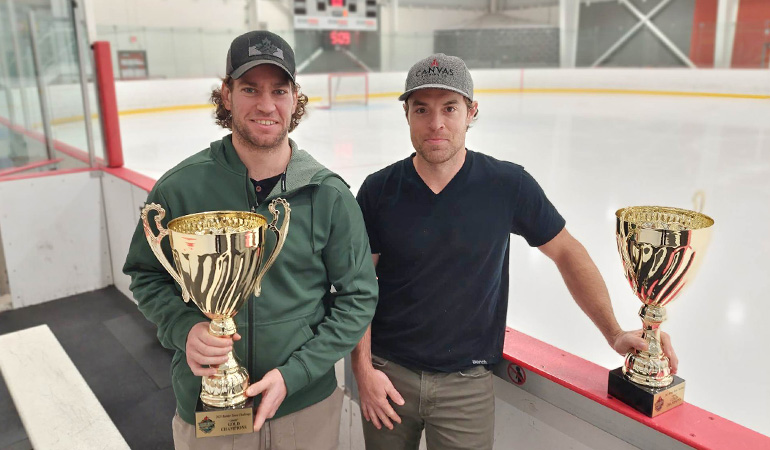 Spring hockey arrives in Cornwall in a big way with the return of Own the Ice Hockey's 2023 Border Town Challenge.
The 8th annual spring AAA tournament takes place over three weekends and the action kicks off this coming weekend with 47 boys' hockey teams ranging in ages from 6 to 15. The action kicks off on Friday, April 28th and runs through Sunday, April 30th with games being played on five ice pads – two at the Benson Centre along with the Cornwall Civic Complex and the Long Sault and Finch arenas.
The second Border Town Challenge tournament will be held on the weekend of May 5 – 7 – with some 50 teams registered – and wraps up with a 35-girls tournament on the weekend of June 2 – 4. All told, an estimated 2,000 players will take part in the tournament over the course of the three weekends.
In eight years, the tournament has grown exponentially and tournament officials believe there is even more room for growth in the future.
"We're really excited to get going with this year's event," said Brock McBride of Own the Ice Hockey, the Cornwall-based hockey training company that runs the Border Town Challenge. "The city facilities have allowed us to grow the tournament and we're really excited about the future."
In addition to the Border Town Challenge, Own the Ice Hockey also hosts the True North Showcase from May 26 – 28 at the Benson Centre. This three-day event gives the top-ranked midget and junior hockey players a chance to showcase their talent in front of recruiters from some of the top NCAA Division 1 hockey programs.
"Cornwall's convenient location and premier sports facilities makes it an ideal spot to host tournaments such as this," McBride added.
Additional information
For additional information on the Border Town Challenge and Own the Ice Hockey, please visit the Own the Ice Hockey website.
#ExploreCornwallON
Looking for other fun things to do in Cornwall? Check out the Explore section of our website for other fun-filled activities to keep you busy. Better yet, consider extending your stay with a night at one of our great accommodations!
Got a question?
Got questions? Need recommendations? We're here to help! Call or text us at 613-938-4748 or email us at info@cornwalltourism.com and we'll be pleased to help you with any questions you may have!
Also make sure to check us out on Facebook and Instagram for updates and more great reasons to visit Cornwall!