Cornwall native turns hometown love into hip fashion line
January 21, 2021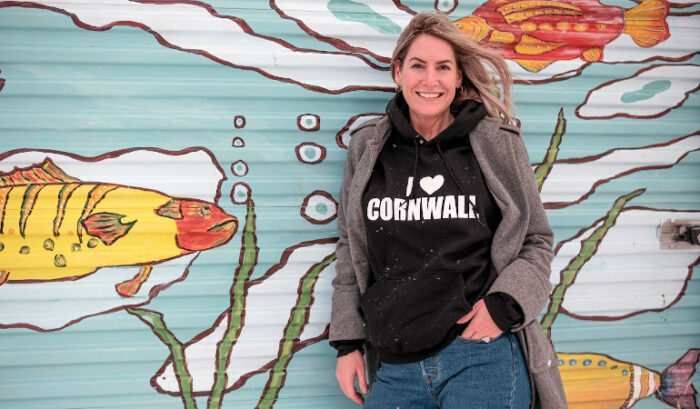 Laurie Lafrance has combined her passion for fashion and love for her hometown to create a new local fashion statement.
The Cornwall native recently launched Trendless Apparel, a clothing venture specializing in loungewear and promising comfort while showcasing personality. To kick things off, she's launched a Local and Proud series, a collection of unisex, bilingual Cornwall-themed sweaters and hoodies that pay tribute to her hometown.
"For me, 2020 was a year of getting back to basics and exploring what makes me happy. With less travel opportunities, it's given many of us the chance to discover and rediscover what our community has to offer. I've always been fond of fashion and I am inspired by the energy in this city," said Mrs. Lafrance. "This line (of clothing) is about having your own souvenir shirt but instead of representing where you've been, it's about being proud of where you live and what you have!"
Born and raised in Cornwall, Mrs. Lafrance felt the Cornwall-themed line was the natural place to start her new venture, especially given the pandemic and the grassroots desire to support local.
"It's my contribution to spreading some positivity and reinforcing a sense of unity," she added.
The business itself is a grassroots effort, with Mrs. Lafrance applying the lettering on each piece of apparel one by one – a true labour of love.
"There is small business and then there is teeny tiny business. I'm the latter," Mrs. Lafrance said. "I work full time but I dedicate myself to this after work and on weekends."
It's baby steps for now, however Mrs. Lafrance has plans to use her creative energy to build other lines of apparel for people to enjoy. There could be other Cornwall-themed items down the road as well.
"I do have other ideas to commemorate this city. As long as people have an interest in it, I will continue to create," she added.
The Local and Proud series feature crewnecks and hoodies in a variety of sizes ranging from $30 to $45. Orders can be placed by sending a message through the Trendless Apparel Facebook page (customers should prepare for a short wait for the order to be fulfilled and delivered).
Additional information
For more information or to place an order, please visit the Trendless Apparel Facebook page. Also, make sure to follow them on Instagram too.
Play it safe!
We all have a part to play in combating the spread of COVID-19. Residents are encouraged to wear masks in indoor public spaces and practice frequent hand washing and physical distancing. For the latest guidelines and restrictions related to COVID-19, please visit the Eastern Ontario Health Unit website.
#exploreCornwallON
Looking for other fun things to do in Cornwall? Check out the Explore section of our website for other fun-filled activities to keep you busy. Better yet, consider extending your stay with a night at one of our great accommodations!
Article by Kevin Lajoie
www.CornwallTourism.com