Cornwall Rocks on Canada Day weekend
June 23, 2019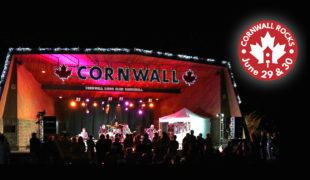 Cornwall is going to be rocking this Canada Day weekend!
The festivities will be getting underway early with Cornwall Rocks, a new two-day music event on Saturday, June 29th and Sunday, June 30th in Lamoureux Park – leading into the free Canada Day celebration in the same location on Monday.
The two-day event will feature a mix of local artists, emerging performers and tribute acts dedicated to some of rock music's biggest names.
Gates open at 1 pm each day and attendees can expect a full slate of music to go along with food vendors and a beer tent (operated by the Optimist Club of Cornwall).
A weekend pass is only $10 (plus applicable fees online) while a Sunday pass can be purchased at the gate for only $5. Passes can be purchased in advance at the Civic Complex Box Office or Benson Centre or online at Ticket Pro (click here to purchase online). Passes can also be purchased at the event gate. Admission is free for children 12 & under!
On Stage Entertainment
The Cornwall Rocks will offer a variety of performers to suit every taste!
Saturday's lineup includes:
9:30 PM  The Blushing Brides
The world's longest and most successful tribute to the music of the Rolling Stones, having played over 4,000 shows since 1979.
8 PM  Heroes of the Highland
A high-energy Celtic rock band based in Cornwall.
6:30 PM  Slightly Seattle
An Ottawa-based tribute band covering the '90s grunge rock bands we all know and love.
5 PM  Andrew Cassara
An Ottawa-based singer songwriter with a musical sound in the vein of Maroon 5 and Justin Timerblake.
3:15 PM  Gravel Hill
A country rock band originating from Cornwall.
2 PM  Ugly Funkling
An experimental groove band with Cornwall and Ottawa roots.
Sunday's lineup consists of:
6:30 PM  Capital Beatles
One of Canada's greatest tribute acts to the one and only Beatles.
4:30 PM  Owen Barney
A Toronto-based country artist who is rising up the charts and garnering a loyal following.
3 PM  Grace Willison
A young singer-songwriter from Long Sault who records and performs original and popular pop, rock and country music.
2 PM  Mr. C and the Hometown Horns
When attending a gig with these guys, prepare to wear your dancing shoes! Blues, swing and Rock & Roll will be on the setlist!
Canada Day
The Canada Rocks series will be a warm-up for Cornwall's annual free Canada Day celebration in Lamoureux Park on Monday, July 1st.
This year's Canada Day event will feature children's activities, food vendors, a fireworks display at approximately 10 pm and a full day of live entertainment.
This year, beloved Cornwall rockers Barstool Prophets will headline the Canada Day celebration in Lamoureux Park along with talented Cornwall songstress Melanie Brulée!
Related: Barstool Prophets headline Cornwall Canada Day
Canada Day Entertainment
9:30 PM  Barstool Prophets
8:15 PM  Melanie Brulée
6:15 PM  Kasador
4:45 PM  Five Guys and a Box
3:15 PM  The Riot Police
1:45 PM  Junkyard Symphony
12 PM  Opening Ceremonies
For the full breakdown on Cornwall's Canada Day celebrations, visit www.CornwallCanadaDay.ca.
Additional Events
Looking for other fun things to do in Cornwall? Make sure to check out our Events page for info on upcoming events in the area!
Stay with Us!
Planning to explore Cornwall? Extend your stay at one of our many great accommodations! For a listing of local accommodations, click here.
Additional Information
Planning a visit to Cornwall? Cornwall Tourism can help. Email us at info@cornwalltourism.com to request a copy of our Visitor Guide or contact us at (613) 936-0842. You can also stop by our seasonal Visitor Information Centre inside the Cornwall Community Museum in Lamoureux Park. The Museum is located at 160 Water Street West, just steps away from the children's splashpad and play structure. Free parking is available immediately north of the Museum along Water Street.
The seasonal Visitor Information Centre is open seven days a week (8:30 am to 4:30 pm) through the summer months.
Follow Cornwall Tourism on Facebook
Follow Cornwall Tourism on Twitter
Article by Kevin Lajoie
www.CornwallTourism.com