Cornwall Tourism forms new partnership with Akwesasne Travel
November 22, 2021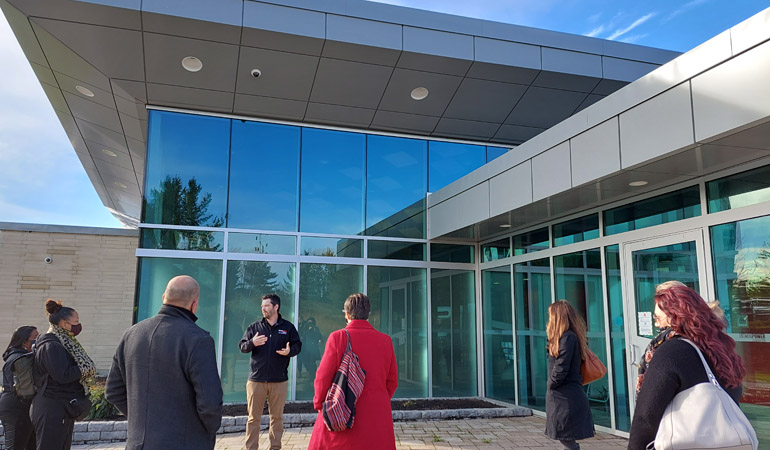 Cornwall Tourism and Akwesasne Travel are working in unison to showcase the rich culture and heritage of the area and raise the region's collective profile as a visitor destination.
The two tourism offices, with the assistance of Regional Tourism Organization 9 (RTO 9), recently collaborated and hosted their first joint familiarization tour highlighting unique historical, culinary and cultural experiences in Akwesasne and Cornwall. Known more commonly as a 'fam' tour, the two-day event was attended by a group of media members, influencers, tour operators and tourism stakeholders and it provided them with a chance to see and experience the region first-hand.
The timing of the 'fam' tour coincided with the launch of a series of new in-person cultural tours by Akwesasne Travel and ongoing efforts by Cornwall Tourism to highlight new and emerging experiences in Cornwall.
During the two-day tour, participants enjoyed a tour of Rurban Brewing, a sampling of Downtown Cornwall's rich food scene with Cornwall Food Tours and a paranormal investigation at the Historic SDG Jail before spending the night at the recently-renovated Ramada by Wyndham on Brookdale Avenue. The second day included visits to Saunders Hydro Dam Visitor Centre and Lamoureux Park followed by a guided tour of Mohawk culture and history at the Native North American Travelling College on Cornwall Island, a sampling of traditional Mohawk food and a hands-on lesson in the art of Mohawk basket making with Carrie Hill of Chill Baskets.
"Our region is rich in culture and history and we are thrilled to be working in unison with Akwesasne Travel to collectively raise the profile of our area as a visitor destination," said Kevin Lajoie, Tourism Officer with the City of Cornwall. "From outdoor adventure and dining to culture, attractions and everything in between, there's an amazing array of one-of-a-kind experiences waiting to be discovered in Akwesasne and Cornwall."
Collaboration is key in the recovery of the tourism sector and the new partnership is a tangible step in the immersion and accessibility of Indigenous tourism experiences in cities. From a visitor standpoint, Cornwall and Akwesasne complement each other well with an ideal mix of services, amenities and educational offerings to give guests a complete experience.
"To see all the work our team, our businesses and our community have put into this finally come to life is beyond words. I cannot wait to see how our cultural businesses flourish from this initiative. While we educate each other to understand the importance of the Indigenous tourism 'family,' we are seeing the creation of partnerships that enhance not only Akwesasne but our entire region as well," said Penny Peters, Tourism Industry Development Manager with Akwesasne Travel.
Cornwall Tourism and Akwesasne Travel hope to undertake additional 'fam' tours in 2022 with media and tourism stakeholders as tourism recovery efforts continue.
RTO 9, a regional organization representing much of eastern Ontario, played a key role in developing and securing participation in the tour.
"RTO 9 is thrilled to have partnered with Cornwall Tourism and Akwesasne Travel to bring attention to new product offerings for this region. It was a real pleasure to work with both organizations to help showcase these unique tourism products and this wonderful area to national and local media outlets," said Steve Weir, Marketing and Communication Manager at RTO 9.
About Cornwall Tourism
A division of the City of Cornwall's Economic Development Department, Cornwall Tourism oversees destination marketing efforts, visitor services and tourism product development efforts for the City of Cornwall.
For additional information, please check out our Contact Us page or call or text 613-938-4748.
About Akwesasne Travel
Akwesasne Travel is the official Destination Marketing and Management Organization (DMMO) for the Mohawk Territory of Akwesasne which straddles the U.S. / Canada border along the St. Lawrence River, trisected by New York State and the provinces of Quebec and Ontario.
The organization has recently launched new in-person cultural tours including A Tour of Mohawk Life, an immersive experience at the Native North American Travelling College on Cornwall Island.
For additional info on Akwesasne Travel and the tours, please click here or call (518) 358-4238 or email info@akwesasne.travel.
About RTO 9
Representing much of eastern Ontario, RTO 9 is an independent, industry-led not-for-profit organization responsible for working with tourism partners to enhance and grow the tourism products, marketing activities and investment in the region.
For additional information on RTO 9, please click here.
Additional information
For additional information on Alight at Night, check out the Alight at Night website or look for updates on Twitter, Instagram and Facebook.
Upper Canada Village is located at 13740 County Road 2, a short distance west of Cornwall.
#ExploreCornwallON
Looking for other fun things to do in Cornwall? Check out the Explore section of our website for other fun-filled activities to keep you busy. Better yet, consider extending your stay with a night at one of our great accommodations!
Got a question?
Got questions? Need recommendations? We're here to help! Call or text us at 613-938-4748 or email us at info@cornwalltourism.com and we'll be pleased to help you with any questions you may have!
Also make sure to check us out on Facebook and Instagram for updates and more great reasons to visit Cornwall!