Eastern Ontario Garlic Festival returns to Lamoureux Park
September 13, 2023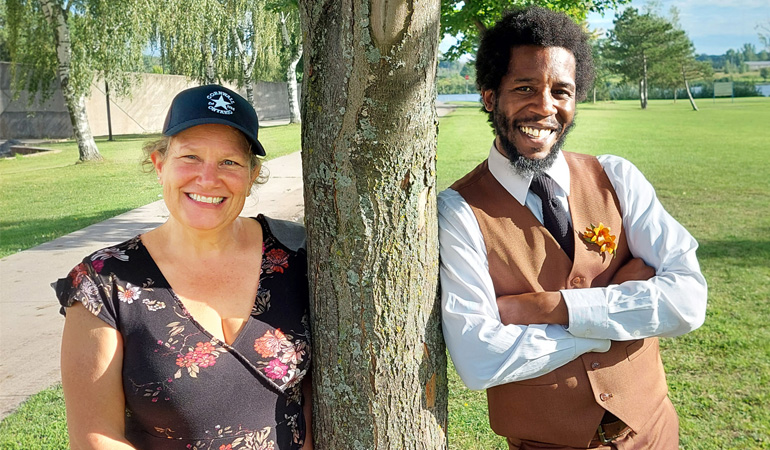 Celebrate all things garlic at the Eastern Ontario Garlic Festival this Saturday, September 16th in Lamoureux Park.
The annual event returns from 11 am to 5 pm with vendors, live music, food, drink and other activities to enjoy in Cornwall's waterfront park on the banks of the St. Lawrence River.
Admission is free with donations being accepted at the entrance for Baldwin House.
Over 20 vendors will be scattered along the pathway to the west of the Cornwall Civic Complex for patrons to discover, and there will be food and drink to enjoy as well.
Cornerstone Organics, Tom's Pantry, Simply Baked Catering will be on site with delicious food to enjoy on site or take home. Meanwhile, chefs Phil Cameron and Jesse Bell will collaborate on preparing a beautiful Tapas service laced with garlic and produce from local farmers and food producers. There will be vegetarian and meat lover options to choose from along with delicious salads and dessert.
Meanwhile, Les Vergers Villeneuve and Blueberry Farm along with Microbrasserie Cassel Brewery and Broken Stick Brewing Company will have their wines and craft beer chilled and ready to serve. All non-alcoholic drinks including hot and cold teas and coffee will be served by A Cup of Kindness Tea Company.
"The setting is outstanding, the day's weather is forecasted to be glorious and the scent in the air will be garlic!," said organizer Brenda Norman of Kozroots Community Empowerment Projects. "It's going to be an event that you don't want to miss. There will be amazing music, delicious food, garlic in every form and beautiful items from our vendors."
Saturday's gathering will mark the ninth year for the festival and plans are already taking shape for even bigger celebrations in 2024 and beyond.
"We're looking forward to our 10th anniversary in 2024 and we have some exciting plans in store – stay tuned for details," Norman added.
Additional information
For additional information on the Eastern Ontario Garlic Festival, including updates on vendors and other activities, please check out the festival Facebook page.
#exploreCornwallON
Looking for other fun things to do in Cornwall? Check out our Event Calendar for other upcoming activities to keep you busy. Better yet, consider extending your stay with a night at one of our great accommodations!
Got a question?
Got questions? Need recommendations? We're here to help! Call or text us at 613-938-4748 or email us at info@cornwalltourism.com and we'll be pleased to help you with any questions you may have!
Also make sure to check us out on Facebook and Instagram for updates and more great reasons to visit Cornwall!