Eastern Ontario Garlic Market returns to Lamoureux Park
September 25, 2021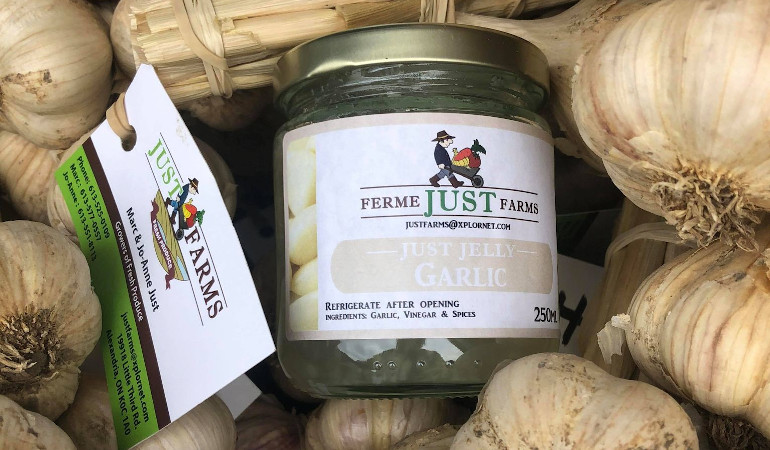 On Sunday, September 26th, the Eastern Ontario Garlic Market will welcome garlic growers from across the region to Lamoureux Park.
Featuring garlic in every form from Just Farms Garlic Jelly to Black Magic Powder from Bonville Garden, Lamoureux Park will be garlic galore! Delightful, tasty garlic bulbs for cooking and growing await locals and visitors alike. Come out and make it a day in Cornwall on a day filled with all sorts of things to do including the Apples & Art Studio Tour.
Now in its seventh year, the Eastern Ontario Garlic Market is being hosted by the Cornwall Waterfront Farmer's Market (CWFM) in Cornwall's scenic waterfront park from 10 am to 2 pm.
The event is produced by Kozroots Community Empowerment Projects (KCEP) in partnership with the Eastern Ontario Agri Food Network and it's one that garlic lovers look forward to each year. Visitors will have the chance to speak with growers to learn everything they would want to know about growing and eating garlic, as well as purchasing garlic seed to grow their own.
Thirteen garlic growers will be ready to supply patrons with everything garlic, while the regular weekly market vendors will have bounties of local fresh produces from the counties! Vendors include bakers, artisans, prepared and preserved food artisans, community organizations and activities including the Cornwall New Horizons Band who will take the stage to entertain. As always, the Baldwin House will welcome you to the market. Donations are welcome to support their work.
Come enjoy a cup of tea, coffee, or a cold drink at the Market Waterfront Café with A Cup of Kindness and pick up a bite to eat from our food vendors featuring garlic in their menus: Melted Mayhem amazing grilled cheese, Marrow and Spice's Incredible Garlic Hamburger, Thai Khmer Cuisine's specialties, always laced with garlic, and Raw Kitchen using freshly chopped garlic in their clean entrees.
The Cornwall Waterfront Farmer's Market runs from 10 am to 2 pm every Sunday until October 31st when it will host the Harvest Harmony with some Halloween Fun for everyone.
A winter farmers' market is in the works so stay tuned. October Vendor Applications are open too!
Additional information
For more information on the Eastern Ontario Garlic Market and the Cornwall Waterfront Farmers' Market, please visit either their website www.cornwallwaterfrontfarmersmarket.ca and follow them on Facebook and Instagram.
Got a question?
Got questions? Need recommendations? Cornwall Tourism is here to help! Call or text us at 613-938-4748 or email us at info@cornwalltourism.com and we'll be pleased to help you with any questions you may have!
Also make sure to check us out on Facebook and Instagram for updates and more great reasons to visit Cornwall!
Play it safe!
We all have a part to play in combating the spread of COVID-19. Residents are encouraged to wear masks, practice frequent hand washing and physical distancing, and stay home if not feeling well. For the latest guidelines and restrictions related to COVID-19, please visit the Eastern Ontario Health Unit website.
#exploreCornwallON
Looking for other fun things to do in Cornwall? Check out the Explore section of our website for other fun-filled activities to keep you busy. Better yet, consider extending your stay with a night at one of our great accommodations!