Escape Tours launching multi-day bike tours in Cornwall
May 27, 2021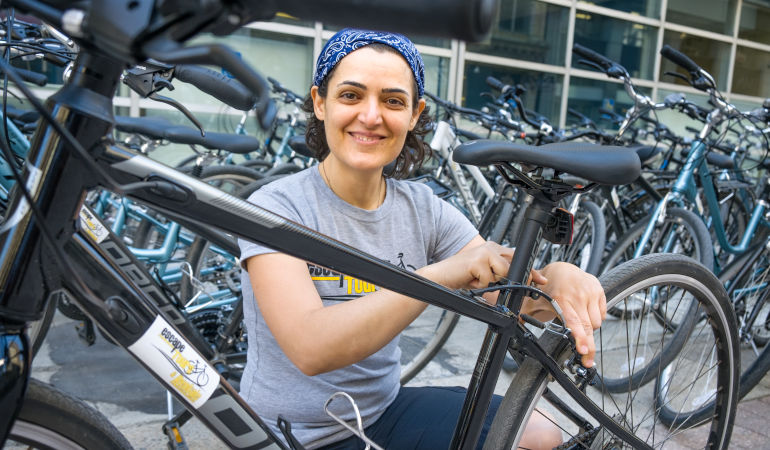 For Maria Rasouli, a bike ride is much more than just an outing. It's a ticket to freedom, a chance to explore your surroundings in a whole new way.
"A bike ride is an experience that gets you connected to the outdoors so you can fully appreciate nature and culture. It allows you to see beautiful places in a completely different light," she said.
Passionate about biking, she has made it a mission to share that sense of two-wheeled joy and freedom with others. She founded Escape Tours and Rentals seven years ago and began offering tours and rentals in and around the Ottawa region to a growing following of customers. In the process, Escape has grown to become the top-ranked bike rental and tour company in the nation's capital.
And now, Rasouli's love for cycling has taken a right turn to Cornwall. The entrepreneur is planning to expand and launch a multi-day bike tour in Cornwall this summer, giving cycle tourists a chance to enjoy one of the best parts of the Waterfront Trail – a scenic 40-kilometre, traffic-free stretch between the city and Upper Canada Village – while taking in local landmarks, attractions, restaurants and other hidden gems over two days.
"I discovered the trails in Cornwall and on to the Long Sault Parkway and Upper Canada Village in 2013 and immediately wondered why more locals don't know about it or travel to this destination. The trail is safe, scenic, and flat and there are interesting stops in between to learn about the history of the region or grab a bite. This is a perfect recipe for anyone who likes bike touring," Rasouli said.
With the surge of interest in cycling in light of the pandemic, the idea once again bubbled to the surface for Rasouli and she started to put the plans in place to make it a reality. She's hoping to launch the new Cornwall tour as soon as pandemic regulations are loosened and travel restrictions are removed.
"With it being a 1-2 hour drive from Ottawa and Montreal, it's really a perfect getaway right in our backyard," she added.
The multi-day Cornwall bike tour will give participants a chance to cycle through history along the St. Lawrence Seaway, passing through Upper Canada Village and the Long Sault Parkway – a series of islands that replaced a number of inundated communities known as the Lost Villages – before heading on to Cornwall for an overnight stay. Both days feature 37 km of cycling on moderate trails right along the river's edge – making it a great option for cyclists of all ages and abilities.
Additional information
For more information on the Cornwall multi-day bike tour, please check out the Escape Tours and Rentals website or contact Rasouli at info@escapebicycletours.ca or 613-608-7407. You can also use the Contact Us form on the Escape Tours and Rentals website to request more information.
It's time to … get rolling!
Whether you're looking for a fun family ride or a challenging off-road adventure, Cornwall is a great destination for your next cycling outing.
Cornwall's section of the Waterfront Trail is one of the best. Enjoy dedicated trails right along the St. Lawrence River with easy access to restaurants, shops, attractions and more!
Check out the Cornwall Tourism Cycling Page for all you need to plan your next cycling adventure, including maps, parking options, itineraries and more.
Play it safe!
We all have a part to play in combating the spread of COVID-19. Residents are encouraged to wear masks, practice frequent hand washing and physical distancing, and stay home if not feeling well. For the latest guidelines and restrictions related to COVID-19, please visit the Eastern Ontario Health Unit website.
#exploreCornwallON
Looking for other fun things to do in Cornwall? Check out the Explore section of our website for other fun-filled activities to keep you busy. Better yet, consider extending your stay with a night at one of our great accommodations!
Got a question?
Got questions? Need recommendations? We're here to help! Call or text us at 613-938-4748 or email us at info@cornwalltourism.com and we'll be pleased to help you with any questions you may have!
Also make sure to check us out on Facebook and Instagram for updates and more great reasons to visit Cornwall!