Focus Art Fall Art Exhibition now underway at Cornwall Square
November 18, 2022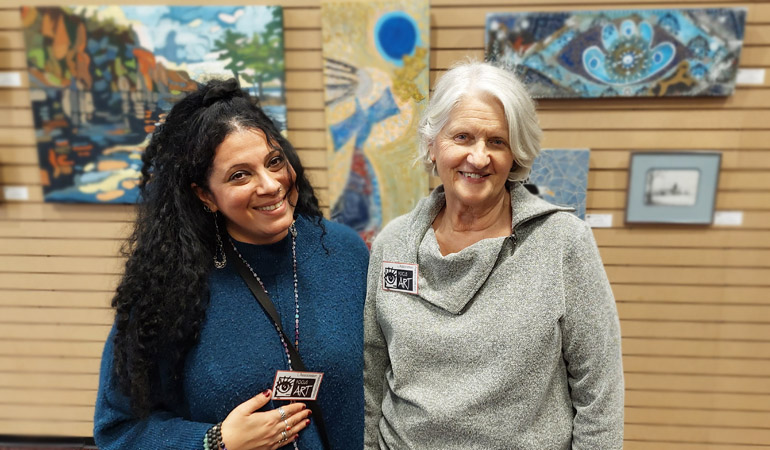 Over 100 beautiful art creations are now on display for the public to enjoy at the Cornwall Square through the month of November.
The annual Focus Art Juried Fall Art Exhibition is back for another year featuring the work of 39 different artists from the region.
"The quality of the work really is amazing," said Focus Art member and participating artist Elaine Arkwright. "There's a great variety of work for people to see. The exhibit is a great way to make art accessible for people to enjoy in a popular public space."
Residents can stop in and view the work – and vote for their favourite in the People's Choice Award – over the course of the next two weeks. The show is located inside the old GameStop space on the second floor of the shopping centre and admission is free.
In addition to viewing the beautiful work on display, visitors can also purchase raffle tickets for a chance to win a painting by popular local artist Pierre Giroux. Giroux is the creative mind behind the Historic Cornwall Walking Tour plaques that can be seen throughout the Downtown, Le Village and waterfront areas of Cornwall. Tickets for the raffle are $5 for 1 and $10 for 3.
The raffle winner, as well as the juried winners from the exhibit, will be announced on Thursday, December 1st.
Show hours
The exhibition runs Thursday, Friday, Saturday and Sunday, both this week and next, during the following hours:
Thursday/Friday: 10 am – 6pm
Saturday: 9:30 am – 5:30 pm
Sunday: 11 am – 3 pm
About L'Association Focus Art Association
Focus Art is a not-for-profit organization dedicated to supporting artists and increasing the visibility of the visual arts in the Cornwall region.
You can find out more about Focus Art online on their official website or on their Facebook page.
#ExploreCornwallON
Looking for other fun things to do in Cornwall? Check out the Explore section of our website for other fun-filled activities to keep you busy. Better yet, consider extending your stay with a night at one of our great accommodations!
Got a question?
Got questions? Need recommendations? We're here to help! Call or text us at 613-938-4748 or email us at info@cornwalltourism.com and we'll be pleased to help you with any questions you may have!
Also make sure to check us out on Facebook and Instagram for updates and more great reasons to visit Cornwall!