Golf courses, marinas to reopen Saturday with modified rules
May 14, 2020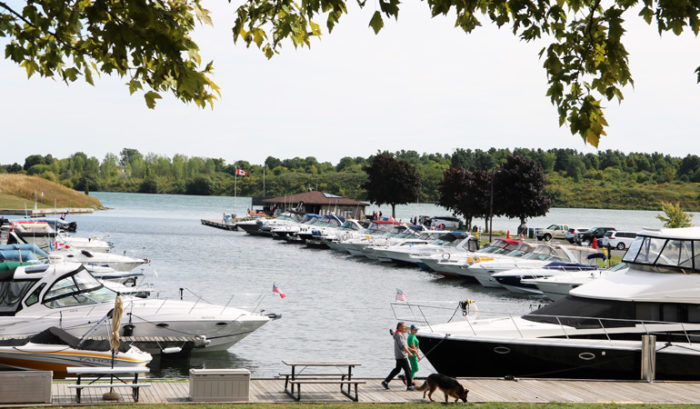 On Thursday, the provincial government paved the way for the reopening of a number of seasonal businesses and services as public health indicators in the fight against COVID-19 continue to show progress.
As of Saturday, May 16th, golf courses, marinas, boat launches and other seasonal businesses will be allowed to reopen their doors, albeit with it added safety measures in place.
Read on below to find out what to expect at some Cornwall locations. Please note the measures are new and evolving and as such, they could change.
Marina 200
Cornwall's waterfront marina will begin welcoming boaters on Saturday for the 2020 boating season, which extends to October 6th.
"Everything is pretty much cleaned and ready to reopen," said marina coordinator Tara Quesnel.
The marina has implemented additional cleaning and safety measures at the facility and guests are reminded to continue practicing physical distancing, frequent hand washing and staying home when feeling ill. Visitors to the marina should only attend with members of their household.
For additional information on the marina and to rent a boat slip, contact Quesnel at tquesnel@cornwall.ca (please note space is limited).
For more info on Marina 200, please click here.
Lamoureux Park boat launch
The boat launch in Lamoureux Park is available to boaters. Boaters who park their trailers at the Lamoureux Park boat launch must pay for parking. Permits are available at the payment machine on-site. Boaters may also purchase a permit online.
The City of Cornwall has purchased new docks for the boat launches at Lamoureux and Guindon parks. Unfortunately, the delivery of the docks from the United States has been delayed. To ensure boaters may still launch safely, temporary docks have been installed.
Archie's
The tradition continues at Archie's, one of Cornwall's favourite summer hangouts.
As of Saturday, the driving range and Par 3 course will be open at Archie's, from 10 am to 7 pm (hours subject to change).
There will be no rental equipment available. Visitors must bring their own clubs or purchase some at Archie's. They have both new and inexpensive used equipment for men, ladies and kids.
Small, medium and large baskets will be available for the driving range (no time limit as originally planned).
Reservations will be taken for the Par 3 (call 613-932-8255 for info). The flagpins must remain in the hole at all times and the cups will be raised one inch above grade.
Currently, the mini putt and footgolf will remain closed.
The Archie's ice cream stand will be open as of Friday from 12 pm to 8 pm and visitors are reminded to main physical distance. A maximum of two people per household will be allowed in line at one time.
For more info on Archie's please click here.
Summerheights Golf Links
"The golf course is in great shape. It's going to be pristine," said Summerheights proprietor Rory MacLennan.
Summerheights will open to golfers on Saturday with a number of modifications and enhanced safety measures in place.
Tee times will be accepted as of Friday and golfers should call (613-938-8009) or book online in advance.
Golfers must have a tee time in advance and they are asked not to arrive any more than 15 minutes prior to their tee off time. Groups will be placed in foursomes and the window between tee times will be extended to 10 minutes.
Small foam noodles will be placed at the base of flagpins and it will be deemed holed out when a ball hits it.
The clubhouse and bar will remain closed for the time being however takeout may be available from the restaurant.
MacLennan said the course has implemented additional training for staff and cleaning and safety measures to ensure the safety of visitors.
For more info on Summerheights, please click here.
Other Recreational Amenities
Cornwall's recreational path network, including the Waterfront Trail, is open and accessible to the public. City parks are open as well, however play structures and outdoor gyms remain closed. Residents are welcome to walk and bike while maintaining a safe distance of 2 metres. Indoor municipal recreation facilities remain closed.
Play it safe!
The health and safety of residents remains a top priority. Please remember…
– Residents should only access recreational facilities with other members of their household.
– Residents should maintain a safe distance of 2 metres between yourself and other residents at all times.
– Residents should wash their hands before and after coming into contact with commonly touched surfaces like hand rails and gates.
– Residents who are ill, who have COVID-19 symptoms, or who have been advised to self-isolate should not use public spaces.
For more information on public safety measures around COVID-19, please visit the Eastern Ontario Health Unit website.