LOCAL LOVE: Shop the Blocks returns
November 12, 2020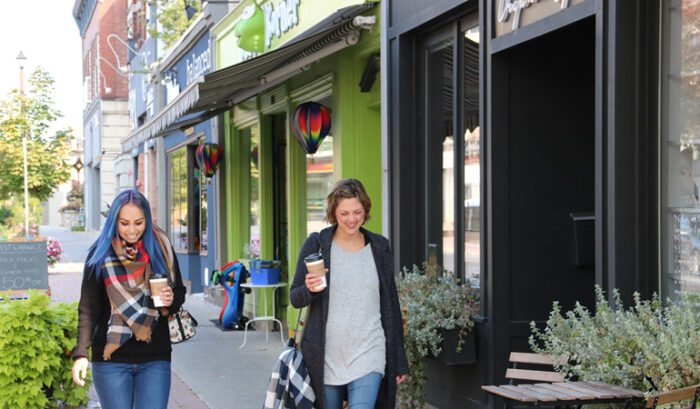 The popular Shop the Blocks event in Downtown Cornwall is back with a major twist.
The usual one-day event will be replaced this year with a five-week long shopping experience, running from Tuesday, November 17th to Tuesday, December 22nd.
Come Tuesday, shoppers can pick up a Shop the Blocks bingo card at participating vendors and register it at www.DowntownCornwall.com or by calling the Cornwall and Area Chamber of Commerce at 613-933-4004. Once registered, participants will be entered into weekly draws where prizes will be awarded by participating vendors. Customers are encouraged to fill in their bingo card by making purchases at each participating business. For every spot filled in on the bingo card, the customer will earn an entry in the grand prize draw of a Discover Downtown package valued at over $500.
"We look forward to hosting Shop the Blocks in a different way this year," said Chris Munro of Life's Little Pleasures, one of the event organizers. "This event is looked forward to year after year and is supported by our wonderful community. Shop the Blocks is an opportunity to shop, dine and take in new collections, new menus, art showings and more."
Fellow event organizer Louise Bazinet-Gendron of Studio 101 said Shop the Blocks is important not just for Downtown Cornwall but the entire community.
"It gives Downtown businesses an opportunity to work as a team. Together we are stronger. Together we showcase our beautiful, historic Downtown," she said. "In these troubled times, it's more important than ever for the community to support and encourage local merchants all over the City."
Participating stores
How it works
1. Get your bingo card at one of the participating businesses listed above.
2. Register your card at www.DowntownCornwall.com or by calling 613-933-4004.
3. Once registered, you'll be entered into weekly draws for prizes from participating businesses.
4. For any purchase you make at a participating business, you will get a sticker on your bingo card.
5. Submit your filled in bingo card by December 31st to be entered into the grand prize draw for a Discover Downtown package valued at over $500. To submit your card, take a photo of it and email it to contest@cornwallchamber.com or drop it off at one of the participating businesses.
6. Customers will receive one grand prize entry for every sticker on their bingo card – so make sure to fill it up!
Discover Downtown grand prize
The Discover Downtown package is sponsored by Choose Cornwall and features:
– A one night stay in the Governor's Suite at Chesley's Inn
– Dinner at Schnitzels European Flavours
– An escape room experience at Rush Hour Escapes
– Breakfast at Spinner's Diner
– Over $100 in spending money to be used at any Downtown business
The Technology Innovation Program (TIP) is also a proud sponsor of Shop the Blocks.
Additional information
For additional information on Shop the Blocks, please contact the Cornwall and Area Chamber of Commerce at 613-933-4004.
Play it safe!
We all have a part to play in combating the spread of COVID-19. Residents are encouraged to wear masks in indoor public spaces and practice frequent hand washing and physical distancing. For the latest guidelines and restrictions related to COVID-19, please visit the Eastern Ontario Health Unit website.
#exploreCornwallON
Looking for other fun things to do in Cornwall? Check out the Explore section of our website for other fun-filled activities to keep you busy. Better yet, consider extending your stay with a night at one of our great accommodations!