Marina 200 bike rentals offer a ride to remember
May 25, 2021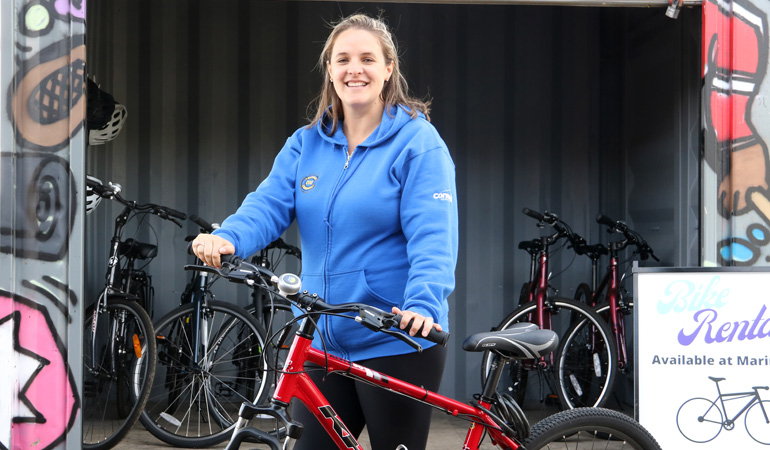 Cornwall's traffic-free, waterfront-lined cycling trails have helped make the city a preferred cycling destination.
The scenic Riverside Trail – part of the larger Waterfront Trail network extending across Ontario – stretches over 40 kilometres from Cornwall all the way to Upper Canada Village, with countless attractions, outdoor spaces and landmarks along the way.
With such a beautiful offering at your doorstep, it only made sense to offer visitors and residents the tools to fully enjoy it. Cornwall's Marina 200 did just that last season with the launch of a bike rental program at its scenic facility along the Cornwall waterfront just east of the Cornwall Civic Complex – a perfect place to park and head out on the trail for a day of adventure.
A pilot of sorts, the bike rental program was launched in mid-summer 2020 once the pandemic guidelines were loosened and travel restrictions were eased. And as expected, it didn't take long for interest in the venture to get rolling.
"We saw a lot of interest in the bike rentals and it continued to grow as the summer went on," said Marina 200 Coordinator Tara Quesnel. "There were some rentals from local residents but we also welcomed quite a few visitors from other parts of eastern Ontario and Quebec as the summer went on."
Rental info
The bike rental service has officially launched for the 2021 season and it's expected to continue to grow in popularity as more visitors and locals look to take advantage of the beautiful waterfront.
Each bike is suitable for people between 5' and 6'. Bike rentals include a helmet, lock and map of local cycling trails. The rentals are available daily from 8 am to 6 pm.
Bike Rental Rates
One Hour – $10 (tax included)
Four Hours – $25 (tax included)
Full Day – $35 (tax included)
Bikes can be reserved by calling the marina at 613-932-8301. Public parking is available in the Complex parking lot overlooking the marina.
T-Shirts, water bottles and other merchandise is also available for purchase at Marina 200, along with drinks, ice-cream and other refreshments.
The marina regularly caters to out-of-town boaters throughout the season, and some of them have become natural customers as well.
"There are many visiting boaters who take advantage of the bike rentals to explore our amazing waterfront or even run some errands," Quesnel added.
With its extensive network of trails and its recent designation as a 'Silver' Bicycle Friendly Community, Cornwall is definitely on a roll when it comes to cycling. The waterfront bike rental service only adds to that positive momentum around cycling.
Related: Cornwall becomes a Silver Bicycle Friendly Community
Additional information
For additional information on bike rentals at Marina 200, please call 613-932-8301 or visit the Cornwall Tourism Cycling Page.
It's time to … get rolling!
Whether you're looking for a fun family ride or a challenging off-road adventure, Cornwall is a great destination for your next cycling outing.
Cornwall's section of the Waterfront Trail is one of the best. Enjoy dedicated trails right along the St. Lawrence River with easy access to restaurants, shops, attractions and more!
Check out the Cornwall Tourism Cycling Page for all you need to plan your next cycling adventure, including maps, parking options, itineraries and more.
Cycle & Stay packages
Wind down from your cycling adventure with a stay in one of our safe and comfortable accommodations at a preferred rate! Best of all, they're bicycle-friendly and located just a few pedals away from the Waterfront Trail! Our accommodation partners have implemented enhanced cleaning standards to ensure the health and safety of visitors. Enjoy a complimentary breakfast as well as a voucher for room service!
Enjoy a room for as little as $149 per night along with a dinner voucher and a complimentary grab and go breakfast!
For more information on the Cycle & Stay packages, please click here.
Play it safe!
We all have a part to play in combating the spread of COVID-19. Residents are encouraged to wear masks, practice frequent hand washing and physical distancing, and stay home if not feeling well. For the latest guidelines and restrictions related to COVID-19, please visit the Eastern Ontario Health Unit website.
#exploreCornwallON
Looking for other fun things to do in Cornwall? Check out the Explore section of our website for other fun-filled activities to keep you busy. Better yet, consider extending your stay with a night at one of our great accommodations!
Got a question?
Got questions? Need recommendations? We're here to help! Call or text us at 613-938-4748 or email us at info@cornwalltourism.com and we'll be pleased to help you with any questions you may have!
Also make sure to check us out on Facebook and Instagram for updates and more great reasons to visit Cornwall!