NEW TASTES: Rudy's Pizzaria adds a slice to Cornwall's delicious pizza scene
January 14, 2021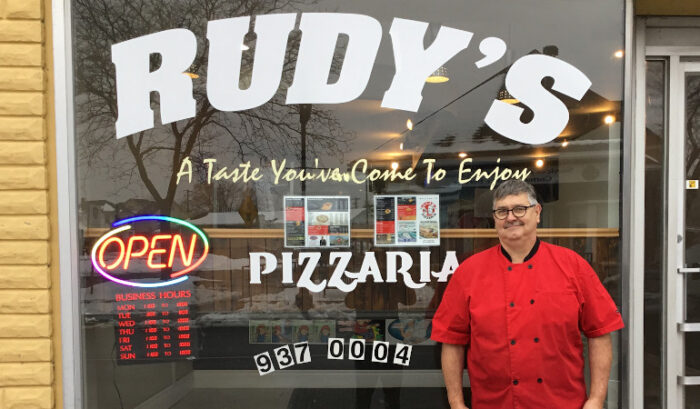 There's a new arrival to Cornwall's beloved pizza scene – and they're ready to carve out their own slice of followers.
Rudy's Pizzaria has officially opened its doors on Montreal Road in Cornwall's Le Village district, offering an assortment of burgers, wraps, pasta, salads and appetizers to go along with their namesake pizza.
The other part of the restaurant's namesake is the owner and chef himself, Rudy Deschamps, a longtime cook who brings more than 40 years of restaurant experience to the table.
Mr. Deschamps had been working at his son Joshua's popular restaurant, the Martintown Restaurant, until it tragically caught fire last summer. While the younger Deschamps works to rebuild his establishment, the elder Deschamps decided to venture out on his own and open the pizzeria at 335 Montreal Road.
That experience, together with a focus on quality, homemade food, will be reflected in every dish served up at Rudy's – including the pizza.
"We're very much on par (with Cornwall pizza), if not better," said son Joshua.
The pizzeria's selection of pies has everything a Cornwall pizza lover could expect and then some. They even have a signature pizza – the Rudy Special.
"It's a hungry man's pizza, basically a meat lovers (pizza) and a vegetarian (pizza) combined. Pepperoni, bacon, sausage, ham, tomatoes, olives, onion and mushrooms," Deschamps said.
In light of the provincial lockdown, the new pizzeria is open only for delivery and takeout at this point.
Rudy's Pizzaria is located at 335 Montreal Road and can be reached at 613-937-0004.
World-famous Cornwall pizza
Cornwall pizza is truly in a league of its own. Old-fashion pizzerias abound in the city, with a dedicated legion of fans scattered across the country.
Check out our Cornwall pizza page to learn more about one of Cornwall's greatest culinary exports!
Play it safe!
We all have a part to play in combating the spread of COVID-19. Residents are encouraged to wear masks in indoor public spaces and practice frequent hand washing and physical distancing. For the latest guidelines and restrictions related to COVID-19, please visit the Eastern Ontario Health Unit website.
#exploreCornwallON
Looking for other fun things to do in Cornwall? Check out the Explore section of our website for other fun-filled activities to keep you busy. Better yet, consider extending your stay with a night at one of our great accommodations!
Article by Kevin Lajoie
www.CornwallTourism.com