Orange Shirt Day being held on September 30th
September 19, 2023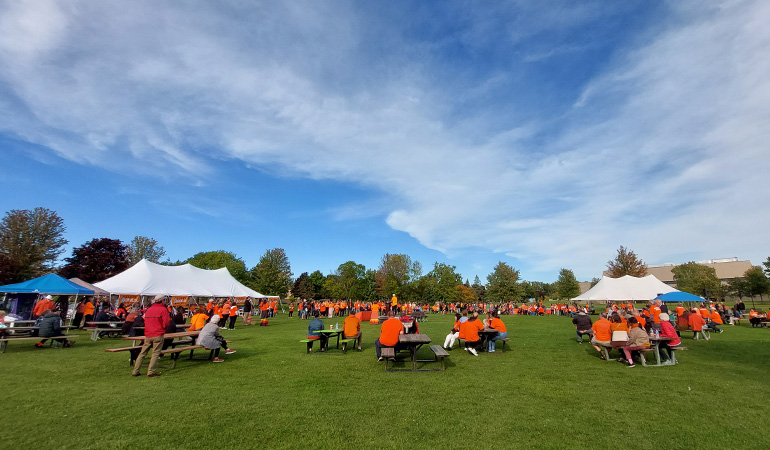 Orange Shirt Day is being held on Saturday, September 30th.
The day honours the victims and survivors of Canada's residential school system. The day also honours survivors' families and communities who have had to face intergenerational trauma.
Public commemoration of the tragic and painful history and ongoing impacts of residential schools is a vital component of the reconciliation process.
The Mohawk Council of Akwesasne, in collaboration with the Native North American Travelling College, the City of Cornwall and the Children's Aid Society of SD&G, will be hosting an event of reflection and learning in honour of Orange Shirt Day.
The event will take place on Saturday, September 30th from 1 pm to 4 pm in Lamoureux Park. It will feature traditional teachings, dancing, singings, vendors, traditional food sampling and other meaningful activities in the spirit of reconciliation.
Schedule of speakers & performances
1 pm: Traditional opening and opening remarks
1:15 pm – 2 pm: Residential school survivor speaker
2 pm: Moment of silence
2:05 pm: Sky World song by Karonhianonha Francis
2:10 pm: Inuit singers
2:15 pm – 3:45 pm: Akwesasne Mens Singers with Native North American Traveling College Travel Troup (social songs and dances)
4 pm: Traditional closing
Plus, there will be ongoing presentations throughout the park.
Got a question?
Got questions? Need recommendations? We're here to help! Call or text us at 613-938-4748 or email us at info@cornwalltourism.com and we'll be pleased to help you with any questions you may have!
Also make sure to check us out on Facebook and Instagram for updates and more great reasons to visit Cornwall!