Plan your next trip with the new Cornwall, SDG visitor guides
June 25, 2021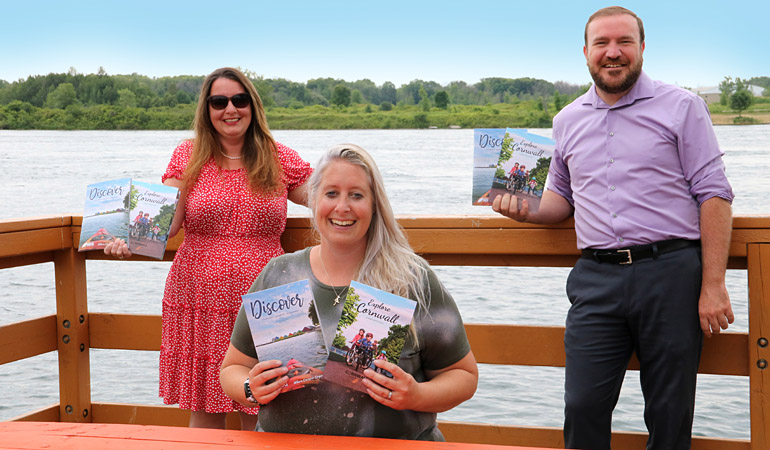 New visitor guides for Cornwall and SDG Counties are being delivered to every home in the region in order to help residents explore and enjoy the amazing offerings in their own backyard.
Stormont-Dundas-South Glengarry MP Eric Duncan has partnered with Cornwall Tourism and SDG Tourism to mail copies of their 2021 visitor guides to every household in the riding in an effort to enourage staycations and patronage at local businesses and attractions.
"The pandemic has prompted many of us to discover or rediscover the fantastic tourist destinations and visitor amenities we have right here in our own backyard," said Duncan. "These guides will help families and others round out their holiday plans and enjoy some activities right here at home."
The envelopes – some 46,000 of them – were stuffed and arranged for delivery by the staff at the Ad Bag warehouse on Campbell Street in Cornwall and they should begin to arrive in local mailboxes next week.
"Our region has so many great things to offer, whether its attractions, outdoor adventure, food and drink and beyond," said Kevin Lajoie, Tourism Officer with the City of Cornwall. "We hope residents find the guides useful and consider sharing them with out-of-town family and friends to help promote all that we have here."
The Discover SDG and Explore Cornwall guides are fully bilingual and are filled with photos and information about unique attractions, amenities and businesses in the region.
"With the pandemic still upon us, many will be choosing to stay closer to home this summer. These guides can serve as a bit of a roadmap for people looking to discover some hidden gems or get reacquainted with some old favourites here in our region," said Tara Kirkpatrick, Manager of Economic Development for SDG Counties.
The 2021 visitor guides will also be available for pick up in public buildings and points of interest through the city and region.
Check them out online!
You can also check out the visitor guides online!
Click here to view the Explore Cornwall Guide
Click here to view the Discover SDG Guide
#ExploreCornwallON
Looking for other fun things to do in Cornwall? Check out the Explore section of our website for other fun-filled activities to keep you busy. Better yet, consider extending your stay with a night at one of our great accommodations!
Got a question?
Got questions? Need recommendations? We're here to help! Call or text us at 613-938-4748 or email us at info@cornwalltourism.com and we'll be pleased to help you with any questions you may have!
Also make sure to check us out on Facebook and Instagram for updates and more great reasons to visit Cornwall!