Poutine Feast brings award-winning poutines to Lamoureux Park
July 30, 2022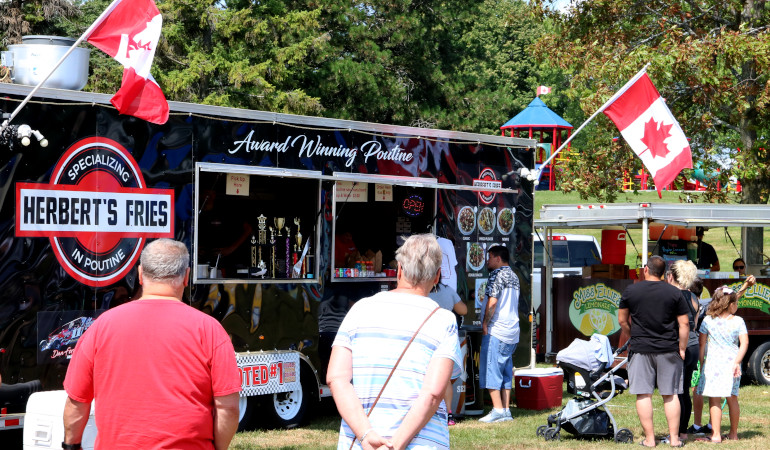 Canada's beloved dish will be in the spotlight as Poutine Feast returns to Lamoureux Park from Thursday, August 4th to Sunday, August 7th.
Touted as Canada's favourite touring poutine festival, Poutine Feast features a collection of food trucks serving up Canada's favourite culinary creation in gourmet fashion.
Along with the traditional poutine in all its glory, foodies will find a nearly endless variety of specialty poutines on offer. From smoked meat and pulled pork to vegetables and lobster, the choice of poutine toppings are sure to satisfy – and surprise – every poutine lover. And with dozens of varieties available, there is sure to be something for everyone, from vegans to meat lovers.
The roster
To help prepare for the feast, event director James Doucet provided a quick rundown of the participating food trucks and some of the must-try poutines they have become known for. The Poutine Feast roster includes:
Herbert's Fries
This food truck has won awards for pretty much every poutine on its menu but the one that really turns heads is the Prego Pleaser, a dish featuring deep fried pickles with ranch dressing and cheese sauce on top of the traditional fries, curds and gravy.
"It looks like a mess but it's incredibly good," Doucet said.
Groovy Gravy
This female-owned food truck offers up a Butter Chicken Poutine that has left poutine lovers craving more.
"Their Tater Tot Poutine is also amazing and it's won first prize (at past events)," Doucet added.
Fat Les's Chip Stand
No stranger to foodies in the Cornwall area, Fat Les's has been turning heads for years with their specialty poutines like the Philly Steak and Smoked Meat. But it's the Bacon Double Cheeseburger Poutine that really put them on the map.
"In Montreal (one year), they won first place out of 24 (food trucks) with that poutine," Doucet said.
Asian Poutine Invasion
This food truck is sure to tantalize taste buds with their General Tao Poutine and their Sweet Suicide Chicken Poutine.
"Everything is made in-house and it tastes amazing," said Doucet.
Upper Deck
The Deep Fried Cheese Curd Poutine is a big crowd pleaser, but nothing quite compares to their Halifax Donair Poutine – especially for those hailing from out east.
"They've won (awards) with that poutine by a landslide," Doucet said. "It's definitely a must-try."
Other foods
While the spotlight is on poutine, it's not the only item for sale at Poutine Feast. Doucet said the poutine trucks will be joined by a number of other food vendors selling corndogs, cotton candy, mini donuts, lemonade and more.
In addition to the food, there will be some mini games and house music for people to enjoy during the event.
The upcoming visit marks the third time that Poutine Feast has touched down in Cornwall and Doucet said it's always a welcome stop on the tour.
"Cornwall is always a great stop and Lamoureux Park is the ideal location for an event like this," he added.
Poutine Feast times
Poutine Feast will run on Thursday, Friday and Saturday from 11 am to 9 pm and Sunday from 11 am to 6 pm.
Additional information
For additional information on Poutine Feast, check out the event website or the official Facebook page.
Get ready to explore
Start planning your visit to Cornwall online! The Cornwall Tourism website is a great resource to discover upcoming events, attractions, accommodations and more!
Make sure to check out our Summer Fun Guide list of festivals and events to fill up your calendar! Also, visit the Explore section of our website for other fun-filled activities to keep you busy. Better yet, consider extending your stay with a night at one of our great accommodations!
Got a question?
Got questions? Need recommendations? We're here to help! Call or text us at 613-938-4748 or email us at info@cornwalltourism.com and we'll be pleased to help you with any questions you may have!
Also make sure to check us out on Facebook and Instagram for updates and more great reasons to visit Cornwall!