Poutine Feast returns to Lamoureux Park from August 3-6
August 1, 2023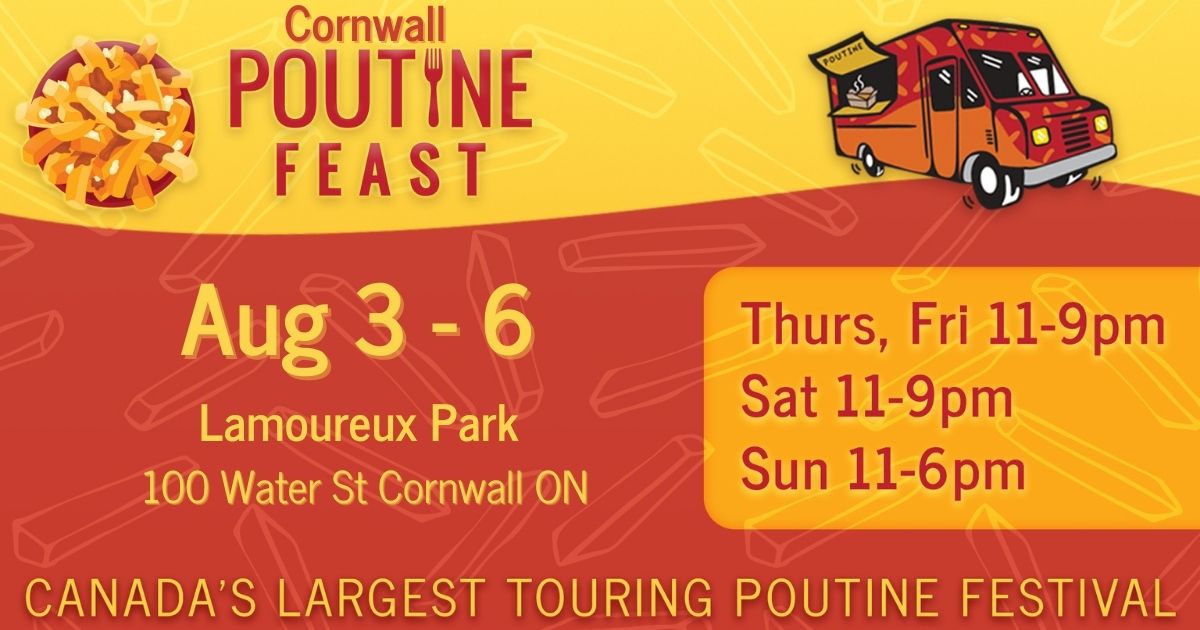 Canada's largest touring poutine festival will touch down in Cornwall's Lamoureux Park from Thursday, August 3rd to Sunday, August 6th.
Poutine Feast will run on Thursday, Friday and Saturday from 11 am to 9 pm and Sunday from 11 am to 6 pm in Cornwall's waterfront park.
There will be five different poutine vendors serving up various takes on the famous Canadian dish. From traditional poutine with crispy fries, fresh cheese curds, and savory gravy to gourmet variations like pulled pork or butter chicken poutine, there is something for every taste bud. Vegetarian and gluten-free options will also be available to ensure everyone can enjoy this iconic dish.
There will also be mini donuts, hand-dipped (gluten free) corn dogs, fresh squeezed lemonade, a candy tent with popcorn & snow cones and some non-food vendors on site as well.
Live music
Visitors can also enjoy a side of live music with their poutine. Local act Parliament of Owls will be playing live on Friday and again on Saturday at 2 pm while Fork in the Road will also be performing live on Friday from 3 pm to 6 pm.
In addition, local folk pop duo The Love Seats will perform on Thursday at 7 pm while Landslide will perform Sunday at 2 pm as part of the city's Arts in the Park series of free concerts.
There will also be some children's games on the lawn in the middle of the festival for families to play with while they enjoy poutine!
Additional information
For additional information on Poutine Feast, make sure to check out their website or Facebook page.
More summer fun
Looking for other great events to enjoy in Cornwall? Make sure to check out our Summer Fun Guide to see the list of other upcoming festivals and events!
#ExploreCornwallON
Looking for other fun things to do in Cornwall? Check out the Explore section of our website for other fun-filled activities to keep you busy. Better yet, consider extending your stay with a night at one of our great accommodations!