Pumpkinferno Returns to Upper Canada Village
August 27, 2023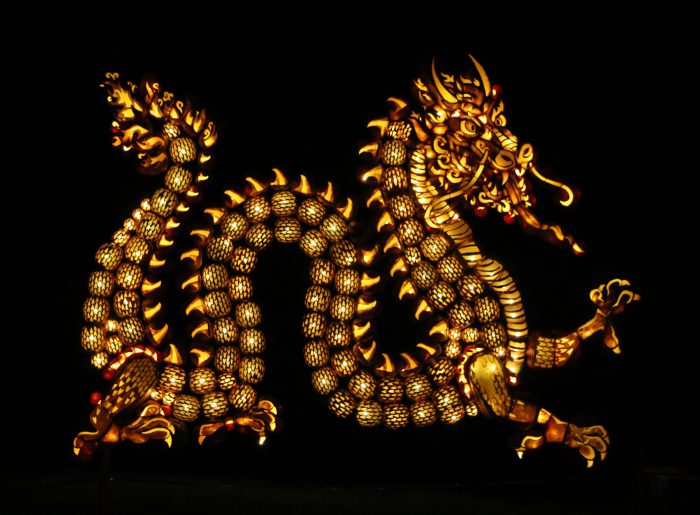 The award-winning event Pumpkinferno returns for its 12th season at Upper Canada Village in Morrisburg, starting Friday, September 29th.
This family-friendly attraction involves a captivating luminary installation featuring over 7,000 handcrafted, glowing artificial pumpkins meticulously arranged along a curated self-tour path through the historic village. Attendees of all ages can expect to be immersed in a magical world of light and artistry, making Pumpkinferno an enchanting experience for everyone.
When the sun goes down, the daily toil of 19th century village life fades away and Upper Canada Village is transformed into an enchanted wonderland with dozens of brilliant pumpkin sculpture exhibits installed throughout the one-kilometre village canvas, all ablaze under the night sky.
The pumpkins have been designed and carved by a talented group of young artists from eastern Ontario. These designers and carvers were selected based on their penchant for design, whether in their field of study or as a personal hobby.
Pumpkinferno dates
Pumpkinferno will operate from Friday, September 29th to Sunday, October 29th.
Times
September 29th – October 15th: 7 pm to 10:00 pm (Wednesday to Sundays)
October 18th – October 29th: 6:30 pm to 10:00 pm (Wednesday to Sundays)
Please note Pumpkinferno is open Thanksgiving Monday, October 9th
Ticket information
Adult (13+ years of age) – $22 (plus HST)
Youth (5-12 years of age) – $20 (plus HST)
Military (with ID) – $17 (plus HST)
Child (0-4 years of age) – Free
Accessibility Night – $22 (plus HST)
Click here to purchase tickets online
Tickets are on sale exclusively online. To secure your desired date & time, purchase your tickets in advance prior to arrival, as a limited number of entries are available per evening and per time slot.
Pumpkinferno has limited capacity and most nights are expected to sell out. Plan to arrive no earlier than 15 minutes before to your scheduled time.
Please note all ticket sales are final as such are non-refundable and non-exchangeable.
Accessibility Nights
Pumpkinferno will be offering Accessibility Nights on October 3rd, 10th and 17th from 7pm-9pm. Guests or groups with limited mobility or sensory processing issues can ride in the comfort of their own vehicles to view Pumpkinferno.
For more information or to book a time, please click here.
Additional information
For additional information on Pumpkinferno and what to expect when visiting, please click here.
#ExploreCornwallON
Looking for other fun things to do in Cornwall? Check out the Explore section of our website for other fun-filled activities to keep you busy. Better yet, consider extending your stay with a night at one of our great accommodations!
Got a question?
Got questions? Need recommendations? We're here to help! Call or text us at 613-938-4748 or email us at info@cornwalltourism.com and we'll be pleased to help you with any questions you may have!
Also make sure to check us out on Facebook and Instagram for updates and more great reasons to visit Cornwall!