Saunders Hydro Dam Visitor Centre opens for summer season
June 9, 2022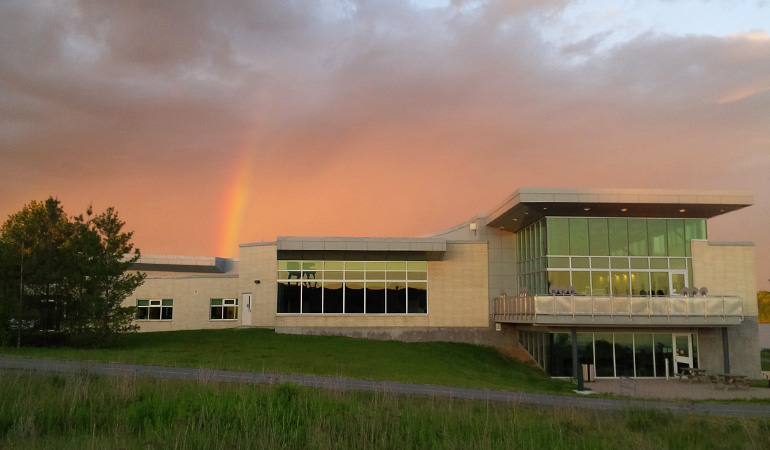 A popular tourism attraction in Cornwall has opened its doors – just in time for the 2022 summer tourist season.
Located at 2500B Second Street West, on the banks of the St. Lawrence River overlooking the R.H. Saunders Generating Station, the visitor centre showcases the rich history of the St. Lawrence Seaway and Power Project as well as the communities and people affected. The centre also features exciting and informative interactive displays that make it a key tourist destination in the Cornwall area.
The centre will be open Tuesday through Sunday from 9:30 am to 5 pm through the summer tourism season, which will conclude on Friday, September 30th.
"We are excited to announce the reopening of the Saunders Hydro Dam Visitor Centre to the public," says Mike Woodcock, plant manager at the R.H. Saunders Generating Station. "At OPG we believe in being a good corporate citizen and neighbour. The visitor centre serves as a safe, inclusive and educational space for tourists, and community members to enjoy."
The visitor centre closed in March 2020 at the onset of the Covid-19 pandemic.
Additional information
For additional information on the Saunders Hydro Dam Visitor Centre, please check out the OPG website or visit the visitor centre's Facebook page.
Get rolling!
The Saunders Hydro Dam Visitor Centre is located right along the Riverside Trail, part of Cornwall's Waterfront Trail which offers majestic views of the St. Lawrence River. It also makes a great stop during a cycling trek!
For more information on cycling in Cornwall, including maps, park and ride options, Cycle & Stay packages and more, please check out our Cycling page.
#ExploreCornwallON
Looking for other fun things to do in Cornwall? Check out the Explore section of our website for other fun-filled activities to keep you busy. Better yet, consider extending your stay with a night at one of our great accommodations!
Got a question?
Got questions? Need recommendations? We're here to help! Call or text us at 613-938-4748 or email us at info@cornwalltourism.com and we'll be pleased to help you with any questions you may have!
Also make sure to check us out on Facebook and Instagram for updates and more great reasons to visit Cornwall!