Snowflake Invitational returns to Cornwall Aquatic Centre
October 30, 2023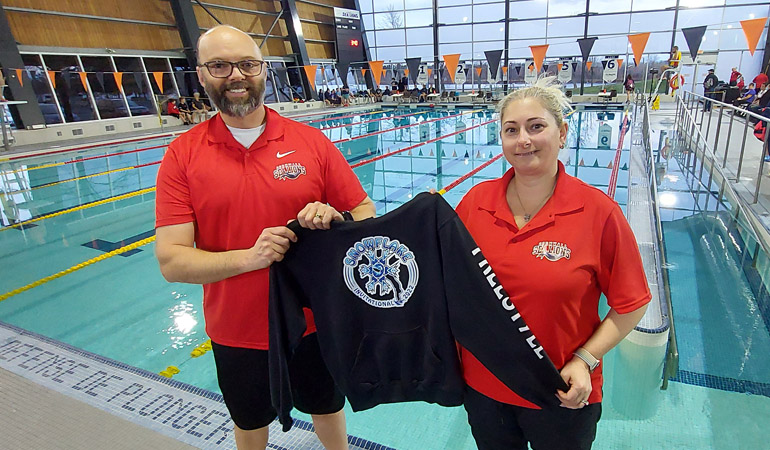 Swimmers of all ages will be in Cornwall this weekend to make a splash at the Snowflake Invitational. The annual swim meet, hosted by the Cornwall Sea Lions, is expected to draw as many as 300 competitors with an additional 400 cheering family and friends.
The atmosphere in the Aquatic Centre is sure to be electric as an additional 150 seats will be added to the swim deck to accommodate spectators from Friday to Sunday.
"Over the years the meet has transformed from a single day meet to a full weekend event," said Chris Marsolais, lead meet manager of the Snowflake.
This will be the 19th edition of the Cornwall meet, which welcomes swim clubs from eastern Ontario and western Quebec. A total of 41 Sea Lions will represent Cornwall in this year's six-club meet. Clubs from Hawkesbury, Brockville and 3 from the Ottawa region will round out the competition.
Swimmers will range from 7-17 years of age and will showcase a variety of different strokes and distances throughout the weekend.
"Watching the kids achieve their times and seeing their development from a young age is one of the best takeaways," added Marsolais.
The Snowflake is classified as an introduction to swim meet.
"It's an opportunity to demonstrate club development in a fully competitive open format," said Marsolais.
Swimmers don't have to qualify to participate but can use it as a steppingstone and gain experience competing.
"We are happy to invite all of the competing swimmers and their clubs to the city. It's a great event," said Tara Quesnel, Supervisor, Aquatics and Programming.
Additional information
For additional information on the Cornwall Sea Lions and the Snowflake Invitational, please check out their website and Facebook page.
About the Cornwall Aquatic Centre
Attached to the eastern side of the Cornwall Civic Complex, the Cornwall Aquatic Centre is the home base for indoor aquatics in Cornwall and features a 25-metre pool, hot tub, toddler pool and two-storey waterslide. For additional information, please click here.
#ExploreCornwallON
Looking for other fun things to do in Cornwall? Check out the Explore section of our website for other fun-filled activities to keep you busy. Better yet, consider extending your stay with a night at one of our great accommodations!
Got a question?
Got questions? Need recommendations? We're here to help! Call or text us at 613-938-4748 or email us at info@cornwalltourism.com and we'll be pleased to help you with any questions you may have!
Also make sure to check us out on Facebook and Instagram for updates and more great reasons to visit Cornwall!