Snowshoe rentals now available at Guindon Park
February 11, 2022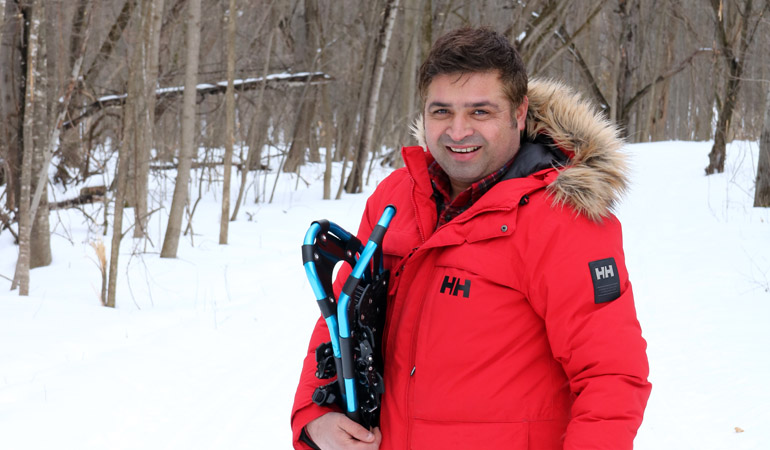 An outdoor adventure company is making it easier for residents and visitors to explore the many winter wonders of Guindon Park with the launch of snowshoe and fat bike rentals.
Boatingery Adventure Trends is launching the new rental service at the massive winter playground on the west edge of the city along Vincent Massey Drive.
"Guindon Park is an ideal location to enjoy nature and physical activity during the winter. Our rental service will allow even more people to access the trails and try a new activity," said Shazad Ahmad, who operates Boatingery along with business partner Imran Haider.
The rental service is located in a pop-up container at the eastern parking lot entrance to Guindon Park (the most easterly of the three park entrances) close to the trail head. Rentals will be offered Fridays to Sundays from 9 am to 5 pm, weather permitting. Customers are encouraged to reserve in advance by calling 514-817-6494 and rental requests can also be arranged on other days in advance. Rentals can also be arranged on the spot subject to availability.
Snowshoe rental fees
$10 per pair for first hour and $5 for each hour after
Special family deal: $30 for a family of 4 for an hour
Fat bike rental fees
$15 for first hour and $10 for each hour after
Call or text 514-817-6494 to reserve
The winter equipment rentals are an expansion for Boatingery from their summer rentals of transparent kayaks at Guindon Park.
"Cornwall is a great place to enjoy the outdoors in all four seasons," Ahmad added. "The kayak rentals were quite popular and we hope to build on that with winter equipment rentals and other possibilities in the future."
About Guindon Park
The vast outdoor space at the west end of Cornwall has been a haven for outdoor enthusiasts for decades with its dozens of kilometres of cross country and nature trails.
In the winter, Guindon Park is home to numerous trails for cross-country skiing, snowshoeing, hiking.
Parking is free and plentiful and a porta potty has also been installed at the east parking lot for the convenience of trail users.
Maps
Guindon Park trail map
Guindon Park interactive trail map
Related story: The many wonders of Guindon Park
#exploreCornwallON
Looking for other fun things to do in Cornwall? Check out the Explore section of our website for other fun-filled activities to keep you busy. Better yet, consider extending your stay with a night at one of our great accommodations!
Got a question?
Got questions? Need recommendations? We're here to help! Call or text us at 613-938-4748 or email us at info@cornwalltourism.com and we'll be pleased to help you with any questions you may have!
Also make sure to check us out on Facebook and Instagram for updates and more great reasons to visit Cornwall!