THE LIST: 25 safe things to see & do this winter
January 7, 2021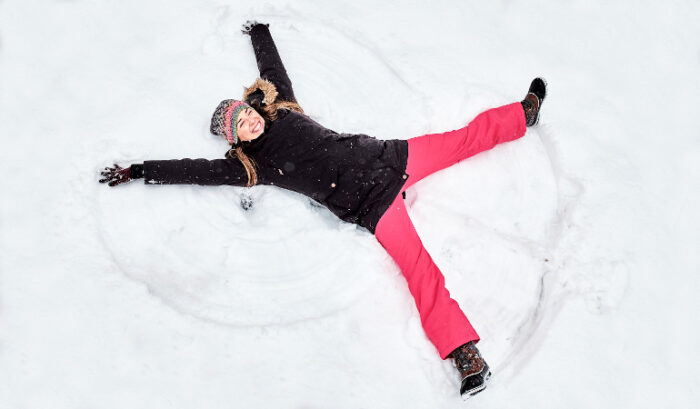 There's snow time like the present to get outside and enjoy winter!
Wintertime is now upon us and there has never been a better year to forego hibernating and embrace the snowy season. Fortunately, here in Cornwall and SDG Counties, there are a tonne of ways to safely enjoy some physical activity and experience new adventures during the cold winter months.
Check out our list of 25 things to do and places to see this winter in Cornwall and SDG Counties and start planning your winter to-do list. Your next wonderful winter adventure awaits!
COVID-19 Safety
Be safe and be sure to follow these simple COVID-19 guidelines:
– Stay home if you're feeling sick
– Keep a distance of 2 metres from you and other winter warriors
– Wash or sanitize your hands often – especially if you're in contact with high-touch surfaces
– Wear a mask when inside (such as while you're using the washroom)
– Remember that outdoor gatherings must have no more than 10 people.
In light of the provincial lockdown, every effort was made to ensure the information provided here is accurate. However, given the circumstances surrounding the pandemic, residents are encouraged to check directly with businesses and attractions for the latest on operating hours and customer policies prior to visiting.
For the latest information and updates on COVID-19 and the shutdown, please visit the Eastern Ontario Health Unit website or the Government of Ontario website.
THE LIST
Things To Do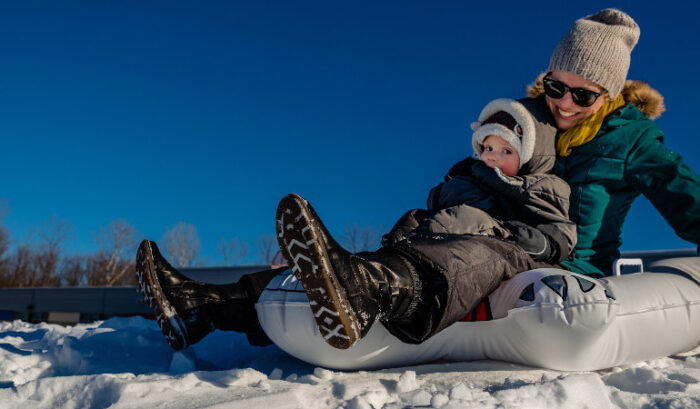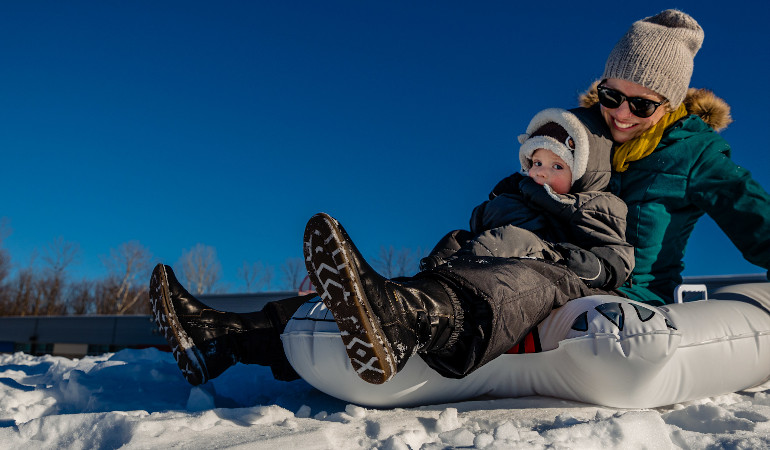 1. Skating
There's nothing more Canadian than lacing up a pair of skates and heading out on a fresh sheet of ice! Cornwall is home to a number of neighbourhood rinks that are perfect for both beginner and avid skaters of all ages. New this year is a new skating rink in Lamoureux Park right beside the clock tower – enjoy a skate in the shadow of one of the city's most iconic landmarks! For more info on rink locations and safety guidelines for visitors, please click here. For an out-of-the-box experience, take a majestic skate through the trees at Countryside Adventures!
2. Snowshoeing
Snowshoeing is a fun, accessible activity that has really taken hold in the area in recent years. Enjoy some physical activity and sightseeing at the same time on one of the many groomed snowshoe trails at Summerstown Trails, Guindon Park, Gray's Creek Conservation Area, Upper Canada Migratory Bird Sanctuary and beyond. Lamoureux Park is another popular destination that's worth exploring on snowshoes!
3. Tobogganing
Feel the rush of speed and the cool air on your face with this favourite Canadian winter pastime! Some great spots to start include Lamoureux Park (east of the splashpad and west of the Cornwall Community Museum), the hill at the west side of Legion Park on Race Street and Snetsinger Park. The east entrance of the Long Sault Parkway is also a favourite locale for tobogganing enthusiasts.
4. Cross-country skiing
Slide away the winter blues and enjoy nature on one of the cross-country skiing trails at Guindon Park, Summerstown Trails or the Upper Canada Migratory Bird Sanctuary.
5. Nature walks
Embrace the beauty of a fresh snowfall with a walk outdoors. The options are endless – Lamoureux Park, Guindon Park, Gray's Creek, the Cornwall Canal and the Upper Canada Migratory Bird Sanctuary offer some great trails and spaces to admire nature and wildlife up close.
6. Fat biking
Enjoy winter on two wheels with fat biking, a winter pastime that's growing in popularity. Guindon Park and Summerstown Trails offer excellent fat biking trails for those seeking some off-road winter cycling fun.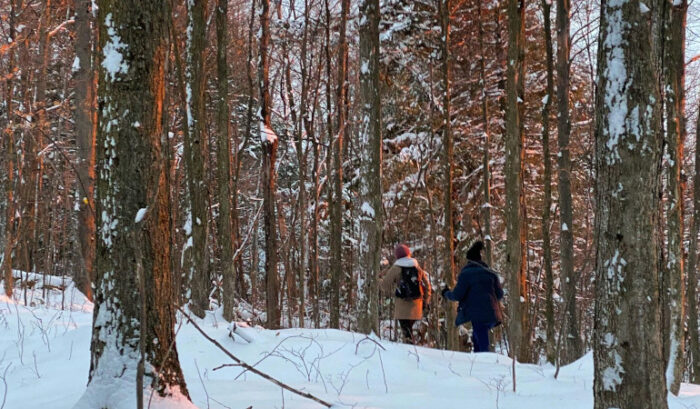 7. Ice fishing
Cornwall is home to a world-class fishery, and that standing extends throughout the year – including winter! Grab some ice fishing supplies and give this popular activity a try. Who knows, you might just get hooked! The boat launch area behind the RCAFA Wing 424 in Lamoureux Park is a popular spot for ice fishing, as is Hoople Bay near Ingleside. Before you head out, make sure the ice is safe and you are up to speed on fishing licences, seasons and limits! Check out our Fishing page to get started.
8. Snowmobiling
Discover the backcountry through a new hobby like snowmobiling. The Cornwall area is part of the Upper Canada Snowmobile Region which has over 3,000 km of groomed, marked trails throughout eastern Ontario. Check out the UCSR website for more information on permits, trails and how to get started with this popular winter activity!
9. Bird watching
Enjoying nature and wildlife go hand-in-hand, and bird watching is a perfect pastime to pair with those outdoor excursions. Bring some binoculars and a healthy dose of patience and you'll be amazed by what you see and hear! The Upper Canada Migratory Bird Sanctuary is an obvious place to start and Gray's Creek is another popular bird watching destination.
10. Photography
Why not try to capture some of winter's beauty while you're out there enjoying it? From sunrises to sunsets, landmarks to nature scenes, the Cornwall area is a photographer's dream even in winter! Some popular spots to snap some shots include the Rotary Eco Gardens in Lamoureux Park, the Cornwall Canal, the Lost Villages Museum and the Lancaster Wharf.
Places To Enjoy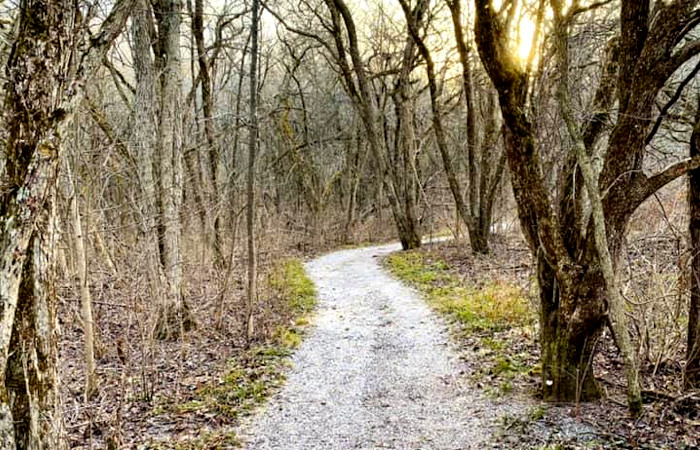 11. Lamoureux Park
Cornwall's showcase waterfront park is a beehive of activity this winter. Along with enjoying scenic views of the St. Lawrence River and the beautiful light display at the clock tower, residents can enjoy a new skating rink (in the works) and tobogganing behind the splashpad. The recreational trail between the Civic Complex and the RCAFA Wing 424 will be salted and cleared for a safe walking experience and the public washroom near the splashpad will be open daily until 5 pm. Snowshoeing is also encouraged! And don't forget to check out the waterfall at the Rotary Eco-Garden – it's a beautiful sight, even in winter! There's ample parking at the Civic Complex and the Cornwall Community Museum to begin your adventure.
12. Guindon Park
Guindon Park is an outdoor lover's paradise on the western edge of Cornwall. There are trails for every interest – cross-country skiing, snowshoeing, fat biking and walking. Please use designated trails – respect groomed tracks for cross-country skiing! The washroom is open until 5 pm daily and parking is free and plentiful! Click here to see the trail map for Guindon Park.
13. Gray's Creek Conservation Area
Hugging the eastern edge of Cornwall, Gray's Creek Conservation is a perfect destination to get away from the hustle and bustle of the city – and it's just minutes away! Gray's Creek includes 6.4 km of meandering trails that are open year round, allowing users to enjoy nature in all its seasonal settings. It's a great place to snowshoe, hike or walk the dog! The roadway is closed to traffic however parking and access to the conservation area is available via the entrance on County Road 2.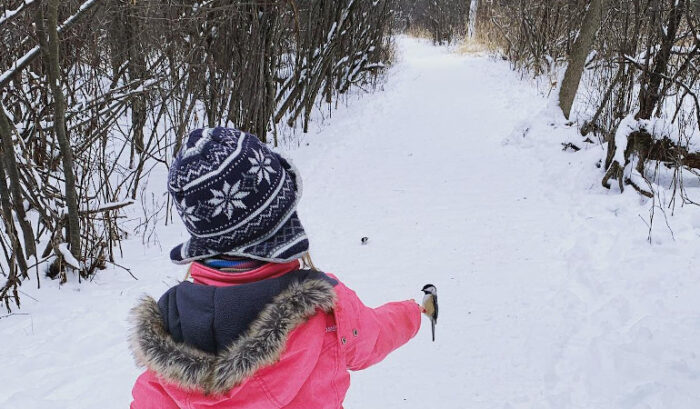 14. Countryside Adventures
Enjoy a majestic 3 km skate through the forest – and much more – at beautiful Countryside Adventures in Moose Creek! This family-friendly destination is open during the lockdown with some adjustments to regular operating practices.
For tickets and additional information, check out the Countryside Adventures website.
15. Upper Canada Migratory Bird Sanctuary
A visit to the Upper Canada Migratory Bird Sanctuary near Morrisburg is like a visit to a winter wonderland. Walk, ski, snowshoe and experience nature on the well-maintained trails. And, of course, there's bird watching. You'll be so close the birds will eat out of the palm of your hand – literally! Click here for more information on the bird sanctuary.
16. Cooper Marsh
This cherished wetland is part of the larger Charlottenburgh Marsh – one of the most significant wetlands in all of Ontario. There are a number of trails to explore while basking in nature and soaking in the fresh winter air. Click here for maps and more info.
17. Summerstown Trails
Located east of Cornwall, Summerstown Trails is the perfect place to connect with nature and find some inner peace. The massive outdoor space features over 20 km of cross-country ski trails, 20 km of snowshoeing trails suitable for all levels and another 10 km of fat biking trails for both beginners and experts. Or set out on foot and explore nature in all its glory! Click here for maps and more info.
18. Glengarry Trails
Take a walk – or snowshoe – on the wild side at the Glengarry Trails in North Glengarry. These all-season trails offer 13 km worth of outdoor adventure including several trail loops and one straight trail that is shared with the Glengarry Snowmobile Club in the winter. Click here for maps and info.
19. Charlottenburgh Park
Charlottenburgh Park is another popular winter playground you will want to visit. The site is great for hiking, snowshoeing and cross-country skiing and there is magnificent scenery to accompany your adventure. Click here for more information.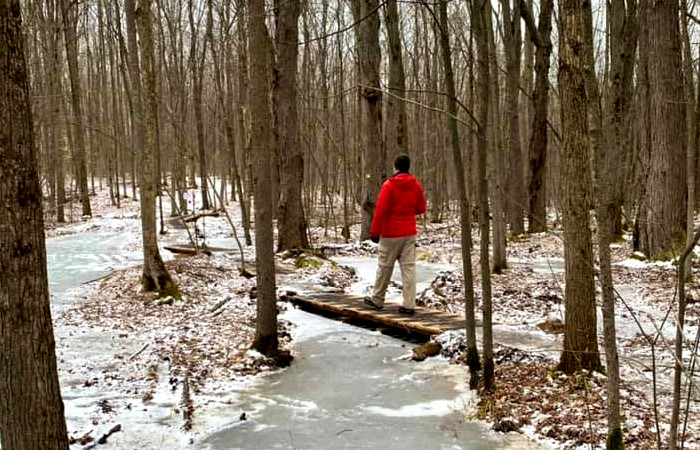 20. Warwick Forest Conservation Area
Beautiful in any season, Warwick Forest Conservation Area in Berwick is a close-to-home paradise for the outdoor enthusiast. With 6 km of trail to explore, you will definitely want to return to this site time and again! Click here for more info.
21. Two Creeks Conservation Area
The 4.5 km trail at Two Creeks Conservation Area near Morrisburg is a perfect place to hike, snowshoe and cross-country ski while being surrounded by nature at every turn! Click here for more info.
22. Robert Graham Conservation Area
Practice your nature photography skills along wilderness trails winding through Robert Graham Conservation Area in Glen Stewart. The mature sugar maples and conifer plantations provide habitat for deer, rabbits, woodpeckers, wild turkeys and more! Click here for more info.
23. Oschmann Forest Conservation Area
The Oschmann Forest Conservation Area near Morewood takes you through a diverse woodlot with Maple, Oak and even Butternut trees. Keep an eye out for the heritage sugar shack, which was used by the Oschmann family until the early 2000's to collect and boil tree sap into delicious maple syrup! Click here for more info.
24. Big Ben Ski Centre
Cornwall's Big Ben Ski Centre is now open for the season! Big Ben offers one-on-one skiing and snowboarding lessons as well as affordable lift tickets. The centre is open Monday to Friday from 5:30 pm to 9 pm and Saturday and Sunday from 10 am to 4 pm. Click here to visit the Big Ben Facebook page for regular updates!
25. Lost Villages Museum
Located just west of Cornwall, the Lost Villages Museum isn't officially open during the winter season but it's still worth a visit. The heritage buildings laid out in this beautiful park have been moved and restored from the Lost Villages and surrounding townships. In addition to their natural beauty, they help tell the story of an important chapter in our area's past – the inundation of a number of communities as part of the massive St. Lawrence Seaway project of the 1950s. For more information on the museum, please click here.
Play it safe!
We all have a part to play in combating the spread of COVID-19. Residents are encouraged to wear masks in indoor public spaces and practice frequent hand washing and physical distancing. For the latest guidelines and restrictions related to COVID-19, please visit the Eastern Ontario Health Unit website.
#exploreCornwallON
Looking for other fun things to do in Cornwall? Check out the Explore section of our website for other fun-filled activities to keep you busy. Better yet, consider extending your stay with a night at one of our great accommodations!
Article by Kevin Lajoie
www.CornwallTourism.com
Photos by Lee Ladouceur, Ang Waterton, Jennifer Gibeau, Sylvie O'Rourke, Richard Pilon, Amy Besner, Gina Dragone and Katie Andrews.