The Wilderness ready to Rock the River
September 28, 2021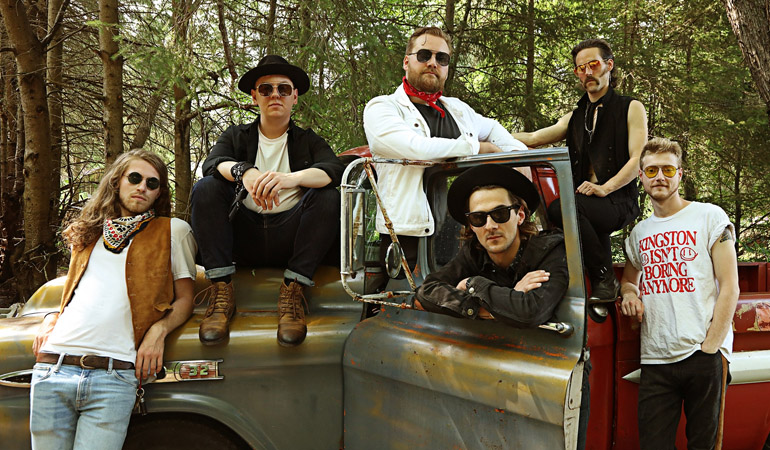 The Craft Shack is set to Rock the River in Cornwall with one of the mightiest emerging bands on the music scene.
Kingston-based sextet The Wilderness will headline the Craft Shack's latest outdoor social at Pointe Maligne, 'Rock the River,' on Saturday, October 16th in what is sure to be an epic night of live music on the waterfront. The international rockers will be joined on stage by local favourites The Chesterfields for an exciting one-two punch of live music.
"This will showcase the Cornwall waterfront like never before," said Ian Bentley of Bentley Hospitality, the owner of the Craft Shack and the popular outdoor social events at Pointe Maligne. "Rock the River is the start of something that we can look forward to. Our hope with Bentley Hospitality is to change the social landscape in our area. We intend to push the industry as far as possible to bring unique ideas to life season after season."
After a busy few months of hosting popular Summer Social events at Pointe Maligne with the Craft Shack, Bentley decided to take things to the next level with The Wilderness.
"We've been talking since May. The band's plans for a European tour changed and things quickly fell into place for the Cornwall show," Bentley added.
Having played over 400 live shows over the past six years alone, The Wilderness are described as "the next big band you haven't heard." The band's indie rock fusion sound has earned them comparisons to Bruce Springsteen, Mumford & Sons, The National and The Lumineers.
A truly international band composed of a Brit, two Americans and two Canadians, The Wilderness formed in 2015. Following the release of an EP (Seminary Road) and several singles, The Wilderness finally released their long-awaited debut LP ​Until Tomorrow​ in 2020 featuring the singles ​"Pick You Up​," "If I Have To Die"​ and ​"Graveyard" followed by their live EP Live at the Bathouse featuring the new single "Fire and the Wolves." The group have been busy in the studio this summer working on material for a new EP slated for release in 2022.
Joining The Wilderness onstage are The Chesterfields, a Cornwall-based quintet who have quickly established a reputation for their lively sets that are guaranteed to get people out of their seats. With a song list that spans six decades of smash hits, The Chesterfields aim to keep crowds happy and moving with songs they want to hear.
In addition to the live music, attendees will also be able to enjoy a mix of great food and drink. The Craft Shack will be offering craft beer from Kingston's Fine Balance Brewing Company, Toronto's Bellwoods Brewing Co. and Oakville's Cameron's Brewing Co. in addition to other alcoholic beverages. Food from Thai Khmer, Weenies on Wheels and Mexicali Rosa's will also be available on site.
Ticket information
Tickets are $30 each and are available online. Please note tickets are limited so don't delay! The event is rain or shine.
Click here to purchase tickets
Vaccination policy
All patrons eligible for a vaccine who are attending Rock the River must be fully vaccinated (apart from proven medical exemptions) and will be required to prove status at the gates either via a digital or printed copy. A negative Covid test completed 48 hours prior to October 16th will be accepted.
Make a night of it!
Special rates are available at the Best Western Parkway Inn and Conference for $119 with ticket purchase. Call 613-932-0451 to make a reservation!
Additional information
For additional information on the event, please check out the Craft Shack website or look for updates on Facebook and Instagram.
Got a question?
Got questions? Need recommendations? Cornwall Tourism is here to help! Call or text us at 613-938-4748 or email us at info@cornwalltourism.com and we'll be pleased to help you with any questions you may have!
Also make sure to check us out on Facebook and Instagram for updates and more great reasons to visit Cornwall!
Play it safe!
We all have a part to play in combating the spread of COVID-19. Residents are encouraged to wear masks, practice frequent hand washing and physical distancing, and stay home if not feeling well. For the latest guidelines and restrictions related to COVID-19, please visit the Eastern Ontario Health Unit website.
#exploreCornwallON
Looking for other fun things to do in Cornwall? Check out the Explore section of our website for other fun-filled activities to keep you busy. Better yet, consider extending your stay with a night at one of our great accommodations!