Visitor info centre opens for summer season
June 30, 2022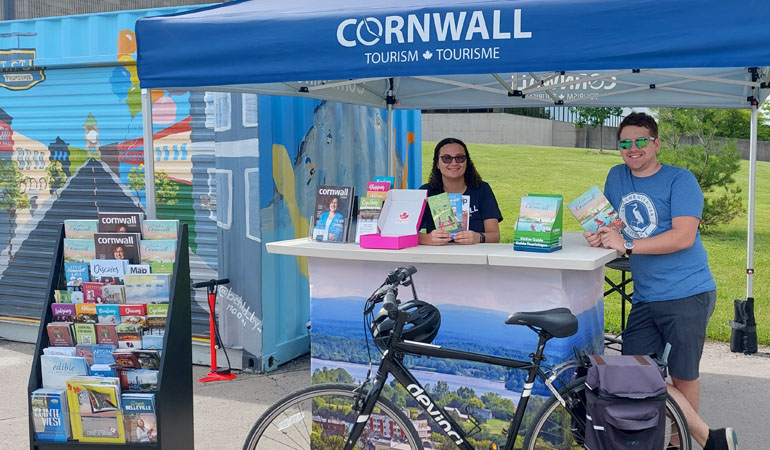 The Cornwall Tourism pop-up visitor info centre is now officially open for the summer season.
Located at the bright pop-up container in front of the Cornwall Civic Complex (100 Water Street), the visitor info centre will be open 7 days a week from 9 am to 5 pm, from Friday, July 1st to Friday, August 26th.
Visitors and residents can stop by and pick up the latest editions of the Explore Cornwall Visitor Guide or Cornwall Living magazine as well as maps and other tourism information. Cornwall Tourism staff will also be happy to provide recommendations on things to see and do in the city and region.
"The pop-up visitor centre is in an ideal location given its proximity to Lamoureux Park and the Riverside Trail," said Kevin Lajoie, Tourism Officer. "It's a convenient place to be for cyclists who are heading out on the trail or other visitors exploring the waterfront."
In addition to the visitor centre, Cornwall Tourism staff will also be visible this summer along the Riverside Trail and other parts of the city. Staff will be roaming on bicycles to greet visitors and provide information. Cornwall Tourism will also have a presence at a variety of festivals and events throughout the city this summer.
"We have already seen an uptick in visitors exploring the city over the last couple of weeks and we expect to see even more of that as summer continues on," Lajoie added.
On inclement weather days, Cornwall Tourism staff will be working inside the Cornwall Civic Complex. Visitors can obtain service at the front entrance.
After hours & group support
Cornwall Tourism is available to help after hours too! Visitors can text 613-938-4748 anytime to access the Cornwall Tourism text message service and staff will endeavour to respond as quickly as possible.
Groups looking to visit Cornwall are encouraged to email info@cornwalltourism.com for direct support.
Get ready to explore
Start planning your visit to Cornwall online! The Cornwall Tourism website is a great resource to discover upcoming events, attractions, accommodations and more!
Make sure to check out our Summer Fun Guide list of festivals and events to fill up your calendar! Also, visit the Explore section of our website for other fun-filled activities to keep you busy. Better yet, consider extending your stay with a night at one of our great accommodations!
Got a question?
Got questions? Need recommendations? We're here to help! Call or text us at 613-938-4748 or email us at info@cornwalltourism.com and we'll be pleased to help you with any questions you may have!
Also make sure to check us out on Facebook and Instagram for updates and more great reasons to visit Cornwall!