5 things to do in Cornwall this Family Day
February 13, 2023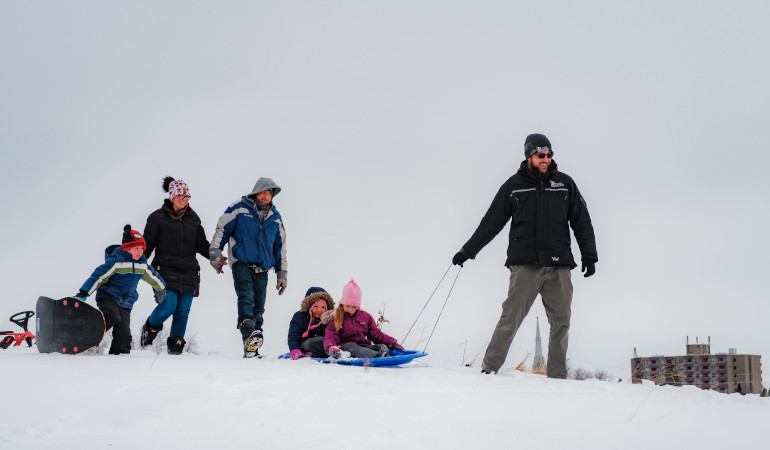 Family Day is the perfect opportunity to shake off the winter blues and spend some quality time with your loved ones.
Fortunately, there's no shortage of fun things to do in Cornwall to keep you and your family busy this Family Day!
Whether it's taking in some live theatre or a hockey game, making a splash at the Aquatic Centre or enjoying some outdoor adventure, there's no shortage of family fun to keep you entertained for the holiday.
Check out our list of 5 things to do in Cornwall this Family Day and get ready for a day of fun!
1. Game On!
It's become a bit of a tradition for the Cornwall Colts to host a Family Day game at the Cornwall Civic Complex. This year, the Colts will host the Navan Grads on Monday for a Family Day faceoff starting at 2 pm. With the Colts battling for a playoff spot, the matinee contest promises to be an exciting game for hockey fans of all ages.
Tickets are available at the Aquatic Centre entrance prior to the game.
2. It's showtime!
Cornwall's beautiful Aultsville Theatre will be filled with The Sound of Music on Family Day as the Seaway Valley Theatre Company presents the beloved musical for all to enjoy.
Featuring a trove of cherished songs, The Sound of Music has won the hearts of audiences worldwide, earning five Tony Awards and five Oscars. The inspirational story follows a cheerful aspiring nun who serves as governess to the seven children of the imperious Captain von Trapp, bringing music and joy to the household. But as the forces of Nazism take hold of Austria, Maria and the entire von Trapp family must make a moral decision.
The Family Day performance will begin at 1:30 pm and tickets are going fast so it's best to grab yours online in advance (click here to purchase online).
If you can't make it on Family Day, no worries. There will also be a 1:30 pm show on Sunday and evening performances (7:30 pm) next Thursday, Friday and Saturday.
3. Serving up fun
The Kinsmen Club of Cornwall is ready to serve a fun-filled day of activities on Monday.
The Kinsmen Family Day festivities will start with a free pancake breakfast from 8 am to 10:30 am in Salon B of the Cornwall Civic Complex. That will be followed by free public skating from 10 am to 12 pm at the Ed Lumley Arena and a free family swim at the Aquatic Centre from 1 pm to 2 pm.
Please note capacity restrictions apply for the public skate and swim.
4. Big fun at Big Ben
Celebrate Family Day with a full slate of free activities at Cornwall's hidden winter gem, Big Ben Ski Centre.
From 10 am to 5 pm on Monday, families will be able to enjoy everything Big Ben has to offer for free! That includes skiing and snowboarding, ice skating and nature trails on site.
If you haven't been to Big Ben in a while, it's definitely worth the visit!
5. Adventure outdoors – or in!
Take advantage of Family Day to enjoy some fresh air and great scenery with a walk in Lamoureux Park or a hike or snowshoe through Guindon Park or Gray's Creek. Or embark on the Raisin Region GeoAdventure and try to find hidden caches in Cornwall and surrounding area.
If indoor fun is more your thing, why not gather your family and friends and try your luck at escaping from one of the two awesome escape rooms at Cornwall's Rush Hour Escapes (book a time online at www.rushhourescapes.ca).
Or, bowl the day away at Nativity Bowling (reservations required, 613-933-0590) or enjoy a matinee movie in Cornwall's landmark Port Theatre.
#ExploreCornwallON
Looking for other fun things to do in Cornwall? Check out the Explore section of our website for other fun-filled activities to keep you busy. Better yet, consider extending your stay with a night at one of our great accommodations!
Got a question?
Got questions? Need recommendations? We're here to help! Call or text us at 613-938-4748 or email us at info@cornwalltourism.com and we'll be pleased to help you with any questions you may have!
Also make sure to check us out on Facebook and Instagram for updates and more great reasons to visit Cornwall!