Arts in the Park returns for 2022 season
June 27, 2022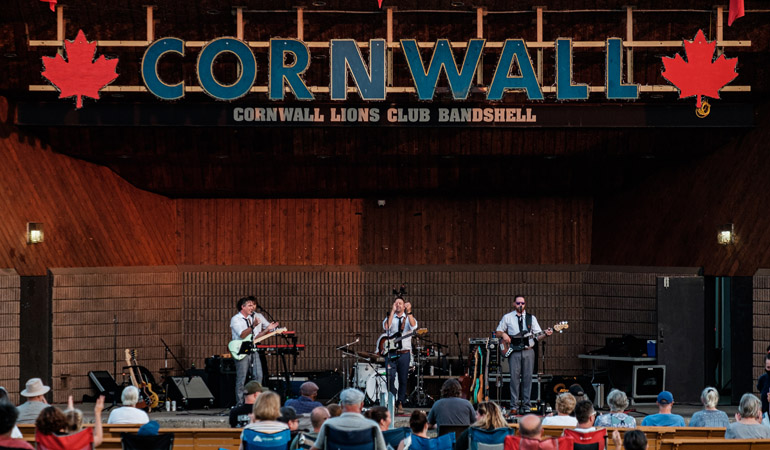 Arts in the Park is back for another season – and it promises to be a great one.
The annual concert series returns with a lineup of 26 free concerts and an outdoor movie on select nights in June, July and August. All shows begin at 7 pm (weather permitting) at the Lions Club Bandshell and there is ample free parking at the nearby Cornwall Civic Complex.
"Last year's Arts in the Park was one of the most well-attended we've ever seen and we're hoping to build on that success this year," said Lorne Taillon, Supervisor of Recreation & Programming with the City of Cornwall. "We've put together a lineup that covers a variety of musical styles and genres. There's definitely something for everyone."
Now in its 37th year, Arts in the Park has become a mainstay of Cornwall's summer events calendar.
"It's a family-friendly activity that everyone can enjoy," Taillon added. "Bring some lawn chairs or a blanket and relax and enjoy some great music right on the waterfront."
Arts in the Park schedule
* Please note all shows are weather permitting and subject to change
June
Tuesday, June 28 – Hadrian's Wall
Wednesday, June 29 – Bruce & Guy
Thursday, June 30 – Shake the Tree
July
Tuesday, July 5 – Landslide
Wednesday, July 6 – Seaway Winds
Thursday, July 7 – The Shiners
Tuesday, July 12 – Fork in the Road
Wednesday, July 13 – Seaway Winds
Thursday, July 14 – Yvon Leroux Band
Tuesday, July 26 – Michael Taiger
Wednesday, July 27 – Seaway Winds
Thursday, July 28 – The Social Distance Band
August
Tuesday, August 2 – Carey B Grant & The Catalytic Converters
Wednesday, August 3 – Steve Gravel Band
Thursday, August 4 – Sweetfield
Monday, August 8 – Cody Arms
Tuesday, August 9 – Ruby Tuesday Dixie Band
Wednesday, August 10 – Revival
Thursday, August 11 – Switchgear
Monday, August 15 – Castles
Tuesday, August 16 – The Tommy Heatley Trio
Wednesday, August 17 – Grace & Eric Willison
Thursday, August 18 – Subtle
Sunday, August 21 – Melodies & Memories with Virginia Dipierro (2 pm show)
Wednesday, August 24 – Whiskey on Tap
Thursday, August 25 – Movie Night (film to be announced)
Additional information
For additional information on Arts in the Park, please visit the City of Cornwall website.
Summer Fun Guide
Looking for other great festivals and events to attend? Make sure to check out our Summer Fun Guide list of festivals and events to fill up your calendar!
#ExploreCornwallON
Looking for other fun things to do in Cornwall? Check out the Explore section of our website for other fun-filled activities to keep you busy. Better yet, consider extending your stay with a night at one of our great accommodations!
Got a question?
Got questions? Need recommendations? We're here to help! Call or text us at 613-938-4748 or email us at info@cornwalltourism.com and we'll be pleased to help you with any questions you may have!
Also make sure to check us out on Facebook and Instagram for updates and more great reasons to visit Cornwall!