Cline House Gallery presents Fish out of Water exhibit
July 15, 2022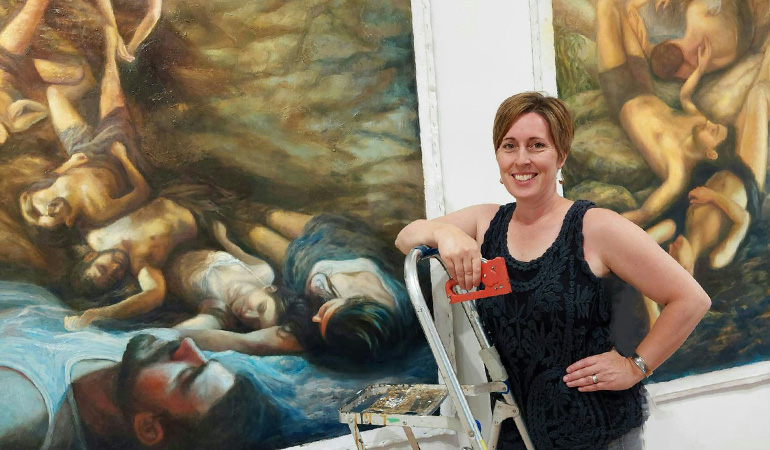 The Cline House Gallery has welcomed Toronto-based artist Monika Rosen to Cornwall for a solo exhibition of paintings.
The exhibition, named Fish out of Water, will be featured at the Cline House Gallery from July 14th to August 27th and will explore touch, reflection, and longing through large to intimate oil paintings and monotypes.
"Rosen's large-scale, multi-figurative work on these themes began pre-pandemic and soon felt both disquieting and therapeutic in her uprooted life, which began to see more landscape with less people in it," said Emily MacLeod, the City of Cornwall's Visual Arts Coordinator.
Thus, a more rigorous en-plein-air practice was born, as well as quiet, intimate, and single-figure works. Fish out of Water merges this cross-disciplinary collection at a time when we are all a little patchwork within ourselves and without, navigating new currents but speckled with beauty.
The official opening of the exhibition, which will allow for residents to meet Rosen, will take place on July 14th at 7 pm.
Rosen completed her Bachelor of Fine Arts at Queen's University and her Master of Fine Arts at the New York Academy of Art. She has also held multiple artist-in-residence positions in Manchester (UK), Assisi (Italy), and St. Andrews By-The-Sea (Canada), allowing for the collaboration with local municipalities by way of Open Studios, community talks, workshops and exhibitions.
The gallery is open Thursday to Saturday from 10 am to 4 pm. The gallery is located at 204 Second Street East in Downtown Cornwall.
Summer Workshops at the Cline House Studio
July 19 — Betty Healey of Cornwall presents "Other Worlds"- an acrylic exploration in textured canvas and alternative painting tools.
July 23— Linda Norton of Williamstown presents "Deco Botanicals"- loose decorative florals in watercolour.
August 13— Alice Melo of Kingston presents "The Fox and the Bee"- acrylic painting step by step.
August 27/28— Monika Rosen of Toronto presents, "Painting from the Imagination".
July 9 – August 24 — Wednesday Art Attack Workshops with Miss D, ages 11-16.
Additional information
For additional information regarding current and future exhibitions and workshops, please visit the Cline House Gallery website or visit them on Facebook and Instagram.
Get ready to explore
Start planning your visit to Cornwall online! The Cornwall Tourism website is a great resource to discover upcoming events, attractions, accommodations and more!
Make sure to check out our Summer Fun Guide list of festivals and events to fill up your calendar! Also, visit the Explore section of our website for other fun-filled activities to keep you busy. Better yet, consider extending your stay with a night at one of our great accommodations!
Got a question?
Got questions? Need recommendations? We're here to help! Call or text us at 613-938-4748 or email us at info@cornwalltourism.com and we'll be pleased to help you with any questions you may have!
Also make sure to check us out on Facebook and Instagram for updates and more great reasons to visit Cornwall!