Cornwall hosting Little League Junior Provincial Baseball Championships
July 19, 2022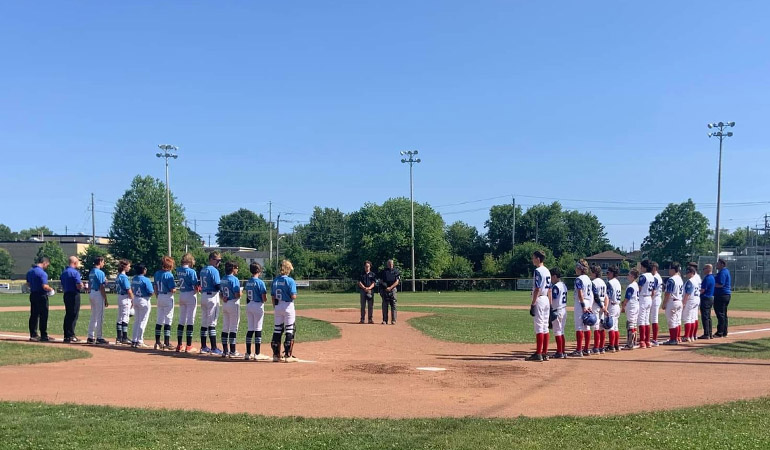 Cornwall will be playing host to the Little League Ontario Junior Provincial Baseball Championships this week at Legion Park.
The tournament, which gets underway on Tuesday, July 19th, will feature feature five 14U teams including the hometown club and district champions Cornwall River Rats. They'll be joined by the South Ottawa Blues, Oakville Whitecaps, Upper Ottawa Valley River Cats and East Nepean Eagles.
"It's been a challenging and dramatic two years to get everything going but everything's coming together nicely," said Kyle Bergeron, President of Cornwall District Minor Baseball.
In the case of the hometown River Rats, it's an opportunity to win their first provincial title since 2007 on their own field.
"(Cornwall) has a highly competitive team that has the potential to go far," Bergeron added.
The winner will move on to the Little League 14U Nationals later this summer in Alberta.
Take in the action!
All of the tournament games will be held at Lutt Bergeron Memorial Field at the corner of Marlborough and Race streets in Legion Park.
"It's free to show up at the park and watch the action so we would encourage people to come out and enjoy some great ball," said Bergeron.
Round robin action will take place Tuesday through Saturday with games starting at 11 am and 2 pm each day. In the event of rained out games, they will be played on Sunday.
Barring any weather delays, the semi-final game will be held on Sunday at 5 pm and the final will take place Monday at 5 pm.
Click here to see the full schedule
About Cornwall District Minor Baseball
Cornwall District Minor Baseball exists to help children learn baseball skills in a supportive and fun environment. For more information on the organization, please visit their official website or check out their Facebook page.
Get ready to explore
Start planning your visit to Cornwall online! The Cornwall Tourism website is a great resource to discover upcoming events, attractions, accommodations and more!
Make sure to check out our Summer Fun Guide list of festivals and events to fill up your calendar! Also, visit the Explore section of our website for other fun-filled activities to keep you busy. Better yet, consider extending your stay with a night at one of our great accommodations!
We're here to help
Got questions? Need recommendations? We're here to help! Call or text us at 613-938-4748 or email us at info@cornwalltourism.com and we'll be pleased to help you with any questions you may have!
Also make sure to check us out on Facebook and Instagram for updates and more great reasons to visit Cornwall!